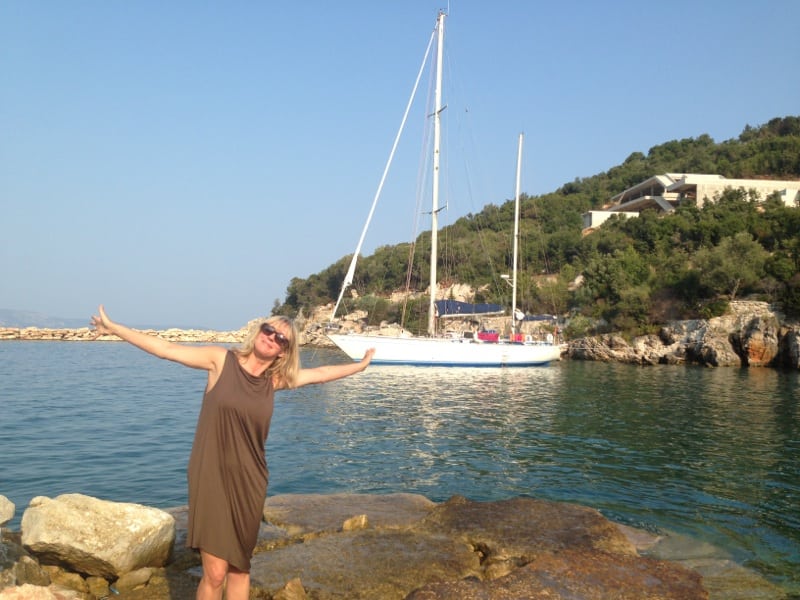 Deborah Rayner was recently named Senior Vice President of International Newsgathering, TV and Digital for CNN. We asked her what she likes to do during her spare time. What followed was an epic nautical tale worthy of publishing in its entirety. In her own words:
"Eighteen months ago, on holiday in the south of France, my friend Sue Turton (of Al Jazeera) and I made the slightly irresponsible decision to buy a boat. It was particularly reckless on my part because a) I had barely any sailing experience whatsoever, and b) the boat in question – called Scaramouche – was a 60 foot, 27 tonne vintage ketch – profoundly unsuitable for beginners, and in need of some serious TLC.
I was excited to 'mooch' about with a friend one weekend while Sue – a very experienced sailor – was on assignment; arriving at night, there were a few key things I hadn't noticed…
There was no mainsail, the batteries were fried to a crisp, the throttle was stuck, and the shower was filled with grimy brown water. We assembled a small army of skilled and not so skilled local helpers and friends, parted with quite a few Euros, and scrubbed, drained, fixed and replaced until she was seaworthy.
After pottering around various bays without venturing too far, I decided to go for a longer trip. Ignoring the fact that Moochie (our nickname for Scaramouche) wasn't insured outside the EU, I abducted a local skipper from Greece and set sail for Albania.
On the way we discovered that none of the instruments worked and the boat hadn't yet been registered, but miraculously we still managed to make it unscathed – particularly when, on arrival, we ended up being directed into port by a 7-year-old local girl. I'd reported from Albania years earlier during the revolution and wanted to meet the guy who was my fixer while there. He was a former rebel during the conflict, so imagine my surprise when it turned out he was now Albania's Minister of Coast & Environment, and his daughter was my guide! I was even more surprised to arrive back in Greece without problems when it turned out my skipper was a moonlighting coast guard."
Sadly, my days of mooching around have been hard to come by. Many times a big breaking news story has meant cancelling a trip to the boat. Now moving to Atlanta means I will see her even less – and may actually sell my share in her. Even though my sailing skills remain at the incompetent end of amateurish, I've managed to notch up some unforgettable memories."