What's Driving Metro E's Growth?

Earlier this summer, Verizon conducted a field trial carrying 100 Gig Ethernet traffic on a metropolitan Ethernet (Metro E) infrastructure. Using Alcatel-Lucent equipment deployed in Verizon's Switched Ethernet Services (SES) network, the trial successfully transmitted data over 7.9 miles of field fiber in the Dallas-area network.
Verizon SES is a next-generation offering enabling customers to interconnect their locations within a metrowide network as well as to access private and public wide area networks (WANs) using optical fiber-based access. Ethernet service is well-suited for numerous customer applications, based on its ability to provide point-to-point and multipoint connectivity options combined with multiple classes of service and increments of bandwidths.
The June trial used existing Alcatel-Lucent 7450 switching equipment with new plug-in cards to place native 100 Gig-E traffic on a single fiber, creating the high-speed links.
Among cable operators, Cox Business and Cablevision's Optimum Lightpath have been providing Metro E services for some time. "We're now seeing newer entrants: Time Warner Cable and regional players like RCN," said Taylor Salman, director/global marketing with Ciena. "You'd be hard-pressed to find someone who's not entertaining the idea."
Salman said enterprises traditionally have used telco-provided T1s, but they are evolving and placing more demands on their networks. Their IT infrastructures are becoming more complex; they're applying tons of network applications; they want the ability to have off-site storage; and they have to support lots of traffic.
"From an economic perspective, T1 lines become very expensive," said Salman. "With Carrier Ethernet, as you get into higher bandwidth, the cost per-bit per-second drops dramatically versus a bundle of T1s."
The established Metro E providers in the cable space usually attribute their success to such targeted verticals as finance, healthcare, government and education. In late July, Optimum Lightpath announced yet another new healthcare client, Visiting Nurse Service of New York (VNSNY). The rollout impacts the nation's largest not-for-profit home health organization's more than 140,000 patients in New York City, 3,500 clinicians and 3,000 office staff.
VNSNY's staff and clinicians were leaning heavily on the Internet to use Web-based applications and for secure communication with other healthcare providers from the office and out in the field. As Internet usage grew due to strong demand, there was a desire to expand access to more clinicians and staff. Further, VNSNY was eager to roll out a teleworker initiative and to provide increased support for its 24/7 contact center.
Optimum Lightpath's footprint is the New York City metropolitan area but other cable providers often have a scattered national footprint. This makes it tough to offer Metro E services to enterprises with dispersed offices. These providers usually offer services only in metro areas of their systems, and they're unable to connect national enterprises with locations outside of their own footprints.
Looking At CENX
One trend to address this is the Ethernet exchange initiative CENX, which operates a carrier- and location-neutral Carrier Ethernet exchange. CENX interconnects service providers' Carrier Ethernet networks worldwide with more than 10 million Ethernet service locations. Established in November 2009, CENX operates exchanges in New York City, Los Angeles and Chicago via CENX Market – a Web-based, member-tailored marketplace for service providers to interconnect Carrier Ethernet around the world.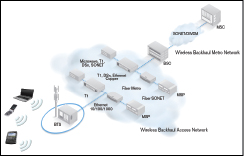 Wireless backhaul network topology (Source: EXFO)By Linda Hardesty
CENX worked extensively with the Metro Ethernet Forum (MEF) prior to its launch. The MEF Ethernet Exchange Committee that worked to provide a framework to the complex technical and business issues around interconnection consisted of Verizon, AT&T, Level 3, Orange, Tata, Cablevision and Cox. Several providers have established a connection with CENX in 2010, including Optimum Lightpath, Verizon, XO Communications, Level 3 and RCN.
CENX also has partnered with EXFO, a provider of testing and service-assurance solutions for network operators, to deploy off-net service-level SLA monitoring for Carrier Ethernet services. Previously, when a service provider needed SLA monitoring to off-net locations via a partner network, its practical choices were to "run blind," with no ability to measure, alarm and report on the Ethernet service quality to these off-net locations; or to deploy expensive customer-premises monitoring equipment at each of these off-net locations, according to EXFO. With the integration of EXFO's service-assurance technology, the CENX System proactively monitors each Ethernet virtual connection from the CENX exchange to off-net Ethernet service locations.
Mobile Backhaul
Verizon's field trials, pushing the speed limits of Metro E coupled with the establishment of CENX, are obvious indicators Metro E promises new, lucrative revenue streams in the enterprise services market. But vertical business services may just be a side benefit of Metro E for some providers. For them, the main attraction is mobile backhaul. "Wireless backhaul is probably the first thing (cable operators) are looking at," said Mannix O'Connor, Hitachi's marketing director. "They have wireless operators coming to them. They're looking at some pretty good revenue streams."
A July 2010 report from Frost & Sullivan, IP/CESR Market Update, in part says "Mobile backhaul and convergence in the metro network are clearly two important drivers of the Internet protocol/Carrier Ethernet switch/router market. In the past couple of years, and especially in 2009, vendors focused on incorporating synchronization in their Carrier Ethernet/IP MPLS solution to address the mobile backhaul market. This, along with Carrier Ethernet operation, administration and maintenance, end-to-end management solutions and service assurance features, has enabled rapid adoption of Carrier Ethernet for mobile backhaul."
F&S Research Analyst Prayerna Raina added, "With significant progress being made in Ethernet synchronization standards and implementation of the same in products, 2011 will be the year for take off for Ethernet and mobile backhaul, delayed mainly by the macroeconomic conditions and solidification of service provider migration strategy."
According to Hitachi's O'Connor, synchronization has been an issue for Metro E, and some have argued that Metro E is unsuitable for wireless backhaul. But he told Communications Technology that Metro E does work for wireless backhaul, and the MEF has completed a wireless-backhaul interoperability agreement, outlining the parameters to build a Metro E wireless backhaul network. As such, that agreement should be available "in the coming months."
"Backhaul is really fueling the Ethernet network buildouts for many operators," said Salman, adding backhaul is pushing Ciena's rise in Ethernet access equipment sales. For backhaul, he added, operators tend to build out an entire metro area at one time whereas, for business services, they tend to build to just one building at a time.
"The backhaul business case allows you to construct that metro infrastructure, then cable can leverage that to get to more businesses," said Salman. "In many cases, cable operators will include the potential revenue associated with enterprises to justify going after backhaul."
Linda Hardesty is associate editor of Communications Technology. Contact her at lhardesty@accessintel.com.