Verizon Business: The Cloud As Rainmaker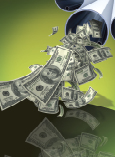 Broadband providers have spent billions upgrading the capacity, reach, reliability and security of their communications networks but, in these tight economic times, how can they generate additional revenues from this massive investment?
Verizon Communications has been cultivating this market for years through its Verizon Business unit, and it's paying off. In the third quarter of 2010, the company's global enterprise revenues totaled $3.9 billion. Sales of such "strategic" enterprise services as security, IT and networking grew 6.9 percent compared with 3Q09, now representing 43 percent of enterprise revenues.
The Reston, Va.-based powerhouse division has married the needs of its customers and vendor partners through its strategy of offering Infrastructure-as-a-Service (IaaS). Key to this strategy is cloud-based solutions, where hardware and software assets are located in the service provider's "cloud," and customers turn up and pay only for those services they need, when they need them. For example, IaaS enables customers to implement on-demand computing via virtual and physical servers, to manage connectivity and network components, to allocate bandwidth dynamically, to access storage resources, to provision backup services and to apply security in a way that customers find compelling…even in these trying economic times.
Why this move to delivering services from the cloud? "Businesses want to consume things differently," says Tony Recine, vice president/product management at Verizon Business. "Capital is difficult to come by. Operating-expense (opex) models, if financially viable, are preferred." Application developers also are looking for new sales models that cloud-based solutions can accommodate.
Technology is an enabler as well. "The data-center structure can now be segregated by customer, can be secured and can be accessed over a converged network solution, which we provide," Recine adds. "Technology has allowed us to build the platform and provide computing power to customers in a shared environment. That cuts down cost. It's a predictable purchase and a good way for customers to consume."
UC&C Partners
What are some of the services that Verizon Business offers via the cloud? The company is partnering with two powerhouses — Cisco and Microsoft — to offer unified communications and collaboration (UC&C) services. "Part of our strategy is to partner with best-of-breed companies and what we think the majority of the market will consume. That's why you see clear partnerships with Cisco and Microsoft," Recine says.
Large businesses now are trialing the Cisco Hosted Collaboration solution from the cloud. "We are offering the Cisco platform and application stack, within the cloud, purchased on a per-use basis. In the past, you had to buy licenses and IT infrastructure," Recine explains. Services include unified voice mail, collaboration, net conferencing, audio conferencing and video conferencing. Verizon Business hosts the Cisco platform and applications in its data centers and provides businesses with access via its global Multi-Protocol Label Switching (MPLS) network.
For medium-sized and small businesses, Verizon Business is launching a similar cloud-based offering with Microsoft Online Services. Microsoft will host the equipment and applications for this offering in its cloud, and customers will access the cloud via Verizon's network offerings. Applications available include Exchange Online, SharePoint Online, Office Live Meeting and Office Communications Online. Customers pay a monthly subscription fee for each user, and they can add and subtract users as needed.
IT Services
Verizon Business was early to recognize the attraction cloud-based services would have for enterprise customers. In mid-2009, it first launched enterprise-class computing as a service (CaaS) for mid- to large-sized businesses. CaaS allows businesses to use a portal to configure a Cisco firewall, to provision physical and virtual servers, to select storage amounts, to choose operating systems and to provision applications — all behind the network in a secure enterprise environment, according to Joe Crawford, executive director/IT solutions at Verizon Business.
CaaS is popular with businesses that have dynamic computing requirements or that need a global test and development environment. "We've sold quite a bit of this offering to companies that have a project in another part of the world," says Crawford. "If you're a company in Asia and you'll be helping a U.S. entity to develop an application, the sooner you can get infrastructure turned up, the sooner you can start billing your customer." According to Verizon, what in the past may have taken a company 14 days to acquire data center space, then procure hardware and provision secure networking connectivity, businesses can accomplish via the Verizon Business portal in four or five hours. Once work is finished, companies quickly can tear down those resources and their associated costs.
CaaS currently is available from Verizon's centers in Maryland, The Netherlands and Hong Kong. "In the first half of the year, we'll be implementing new sites," says Crawford. The planned expansion includes centers in San Jose, Calif.; London; and Canberra, Australia; as well as CaaS data centers in Miami and Culpepper, Va. (planned for the first quarter) to serve U.S. government customers. The expansion will more than double the reach of CaaS. The company also plans to expand its cloud-based storage services this year.
The variety of connectivity options Verizon offers also popular with customers. Businesses can connect to CaaS via their own private networks and via Verizon's private MPLS network as well as the public Internet. The service's flexible accounting also helps IT departments better-manage computing assets.
"If a company needs to match costs with revenues or tie cost centers to a certain project, we can build our computing as a service offering to meet those needs," Crawford says. "Customers can tag resources — specific servers — to a project and bill out to Project A or Project B based on what they used. If you are a central IT department providing services to multiple entities in your company, the ability to tag those resources is pretty important."
Verizon recognized that small and medium-sized businesses would also find this flexible, pay-as-you-go computing model attractive. In Fall 2010, it added "CaaS SMB" to its cloud-based computing offerings. Small businesses need only a credit card to access a Web-based console and customize server, storage and network resources needed to manage a Web presence or to support company applications.
"Small businesses can get access to enterprise-class systems, like Cisco firewalls, that they might not be able to afford on their own," explains Crawford. Additional benefits include no minimum commitment or contract, server pricing starting at $0.04 per minute, fully redundant architecture, server cloning for backup protection, hardware load balancing and built-in security.
Security Services
When it comes to delivering security services, Verizon Business is a recognized powerhouse. The company has received numerous accolades from such analyst groups as Gartner, Frost & Sullivan and Forrester for its comprehensive portfolio of managed security solutions. While the lion's share of today's security service revenues comes from enterprise-based engagements, "the majority of our road map going forward is focused on cloud-enablement of security services," says C.J. Spallitta, Verizon's executive director/security solutions.
Currently, the company offers two cloud-based security services – e-mail scanning and Web scanning. Dubbed "CleanPipe," businesses purchasing Verizon's network-access services can use the enterprise portal to deploy those services in the cloud. "Essentially, you have a pipe, and you can enable e-mail and Web scanning to look for viruses, malware and Trojan horses — all in the network before they get to you," says Spallitta. The advantage is that the scanning takes place far from the enterprise perimeter. Businesses that don't purchase Verizon's network access can buy the e-mail and Web scanning as discrete services.
In the first quarter of this year, Verizon Business will add cloud-based firewalling to its security-services portfolio and, in the second quarter, it will begin offering intrusion detection (see related story on page 20 of this issue). The company will provide signature-based intrusion detection from vendors, but with its own twist: analyzing reputational data.
"We'll be doing some proactive things based on all the data traffic on the backbone," says Spallitta. "If we see Client A's IP address mingling with a known malicious host, we will alert the client. They can ignore it, make a change or have us make a change."
Spallitta believes one of Verizon's strengths is that it can offer both enterprise-based security solutions and cloud-based solutions. "In the last quarter, we've started to see mixtures," Spallitta points out. "A client may want a dedicated on-prem security infrastructure at its headquarters or at the data center but, for its small offices or sales branches, we can put that security function in the cloud." Customers benefit because all the security monitoring and log data feeds through Verizon's event-correlation engine for analysis, regardless of where the piece of technology sits.
Verizon Business also has a new cloud-based, single-sign-on service planned for the first quarter or for early in the second quarter. It is working with Novell (now in the process of being acquired by Attachmate) to develop the solution. The service will enable employees of business customers to use their credentials to log onto a portal once, and then the system will pass those credentials on to any other system to which employees need access, says Spallitta.
A cloud-based log-management service also is planned for the second quarter. "We want to push everything to the cloud, or deliver everything as a service," he adds.
Differentiators
Verizon Business serves tens of thousands of business customers worldwide, including 96 percent of the Fortune 1000 as well as businesses with 20 or more lines. So what sets it apart from its competitors?
Global reach is a key differentiator. "There are very few carriers that have the extensive managed-services capabilities, in terms of being able to operate in as many countries, that we do and very few that have capacity in terms of data centers and computing resources around the world that we have," comments Vice President/product management Recine. "We also think we are unique and best-in-class in terms of our security offering."
The company's focus on cloud computing and its flexible networking offerings also distinguishes it from other enterprise-service providers. "When we look at our global MPLS network, we think we are ahead of others relative to our capabilities to provide bandwidth on demand," Recine adds.
The flexibility of its enterprise portal also is appealing to customers along with being a competitive differentiator, Recine believes. Customers can do their own moves, adds and changes via the portal, and they have transparency into network performance. And they can throttle their network bandwidth requirements on demand.
"We also believe that we are ahead of most or at least very competitive in the rollout of IPv6 on both our public and private networks," says Recine, adding that he expects the upgrade to IPv6 to be complete early in 2011. Late last year, Verizon Business also launched an IPv6 consulting service to help businesses with that migration.
This ability to offer professional services is another strength, adds Spallitta: "Our professional services team can bridge the gap between the defined product offering and a company's internal software and systems."
Delivery of IaaS via the cloud isn't a passing fad for Verizon Business. It has integrated this strategy into all of its enterprise service lines and, in 2011, business customers will continue to see more offerings available from the cloud. Verizon believes this approach will resonate not only with medium-sized businesses that historically are more attracted to the economic benefits of cloud-based offerings but also with the very largest of Fortune 100 companies.
"Customers are looking at every single avenue to optimize their IT infrastructure," says Recine. "We are starting to see customers, even the biggest of big, looking to further optimize their IT infrastructure by outsourcing things that are more task-oriented or things that can be provided as a service model. That's been a bit of a surprise, and a welcome surprise."
Jennifer Whalen is a freelance writer specializing in broadband communications and a former editor of Communications Technology. Contact her at jwhalen@whalencom.biz.