Tom Wheeler Talks 'TV Everywhere'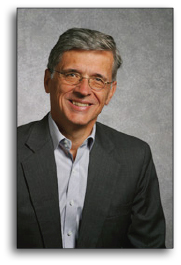 Tom Wheeler is no stranger to the video world. Prior to joining investment firm Core Capital in 2005 as a managing director, he racked up nearly three decades of working in the telecom policy and business-development space. Wheeler founded multiple companies offering cable, wireless and video communications services; and he served as president of the National Cable Television Association (NCTA) from 1979 to 1984. After several years as CEO of various technology start-ups, including the first company to offer high-speed data to the home and the first digital video delivery service, he was asked to lead the Cellular Telecommunications & Internet Association (CTIA), where he was CEO until 2004.
Today, Wheeler's interests also include the Open Mobile Video Coalition, which includes in its membership more than 900 TV stations, including public television stations, and 16 of the top 20 station groups, all banded together to "foster open competition in the development of products and services advancing mobile digital television." He talked with Communications Technology Editor Debra Baker about the advent of "TV Everywhere" and where the initiative is heading.
Communications Technology: What is the state of "TV Everywhere" today, and how do you fit in?
Wheeler: Television formerly was a linear medium that relied on a dedicated appliance. The digital world changed that. Digital is all about ubiquitous information sources, diverse delivery pathways and a common platform.
Video isn't TV anymore. Television was a unique technology that moved atoms across a unique network to a unique device. Digital video, in contrast, is a technology that moves bits. Thus, while "TV Everywhere" is a name that has been applied to a specific cable-sponsored initiative, it reflects the competitive world in which cable is just going to be one of the delivery choices. Insofar as how I fit in – I'm but an observer and a venture capitalist who is looking for opportunities in the space.
While 'TV Everywhere' is a name that has been applied to a specific cable-sponsored initiative, it reflects the competitive world in which cable is just going to be one of the delivery choices.
You have years of experience in both the cable and wireless arenas. From where is the new innovation coming?
Both areas and, if the broadcasters can get things together for mobile digital television (DTV), from them as well.
Are there any remaining technology barriers to entry when it comes to streaming or downloading video content on any device a subscriber wishes?
The development of Internet Protocol (IP)-based video technology can always be tweaked, but the technology breakthroughs have been made. The issues aren't technology-determined. In many ways, it is very reminiscent of the early days of cable, where it was all about access to content and access to delivery.
What are some of the options for delivering "TV Everywhere" in a cable universe (using such devices and technologies as Roku, Sling, Boxee, cloud-based apps, infrastructure upgrades, etc.)? How do those options change in an IP universe – such as AT&T's U-Verse or Verizon FiOS?
The IP universe isn't tied to any delivery mechanism. The very concept of IP is that it is ubiquitous content, across multiple delivery paths, to a common digital device.
What about price? Are video providers realistic about how much extra cost a customer will bear to extend a subscription to a wireless device?
What makes you think it will be mutually exclusive? Consider the "what if," for instance, where a cable customer decides to cut the cord and buy a la carte the programs he or she wants and have them delivered to a tablet device? Digital is all about creating choices, and consumers will slice and dice those choices as fits their economic realities.
What effect will such services as Google TV and Apple TV have on how more traditional carriers formulate their "TV Everywhere" plans?
It's far bigger than that. When every DTV comes equipped with an Ethernet port (or Wi-Fi), then it's plug and play.
It appears that advertising as it relates to "TV Everywhere" doesn't bother most subscribers. What have you seen regarding new revenues coming from this kind of marketing?
Perhaps this may actually be the much-anticipated Holy Grail of truly targeted advertising. There is a real possibility that the future value-add of delivery networks will not be the conduit they provide, but rather the information that their knowledge of what goes over the conduit and to whom provides to help others deliver a better product for each consumer (subject to appropriate privacy protections).
Are investors backing the concept of "TV Everywhere?"
Again, "TV Everywhere" is a specific cable initiative. Investors are definitely backing the idea of alternative delivery choices for video.
When will "TV Everywhere" reach the monetization stage…or will it?
Again, understanding that this is broader than the cable initiative, it already has. Wireless subscribers pay monthly fees for services such as MobiTV. Even though Qualcomm's FLOtv wasn't ultimately successful, it was collecting money from consumers. Netflix has redefined its business around delivering content other than on shiny discs, and its stock price has soared.
Some public-interest groups (for example, Free Press and Public Know-ledge) have spoken out against the idea of big operators pushing the "TV Everywhere" initiative due to a perceived "chilling effect" they might have on smaller players trying to get into that business. Is there any danger of competition suppression?
I guess this is what the whole net-neutrality debate is all about, isn't it?
What is the one thing broadcasters, telcos and cable providers need to know about mobile TV?
That the power to "bring it to me" anywhere transforms the viewer experience. In addition, it also helps answer your monetization question since mobile subscribers are more accustomed to paying for a service than (it would seem) are normal Web consumers.