The Wireless Analysts' State Of The Industry
The wireless competitive playing field is level and cut-throat, with more players suiting up to add to the service-provider mix and more users willing to switch if given the right price/service offer (now that rules about contracts have been relaxed somewhat).
Worldwide, mobile broadband-enabled subscriptions are mounting up and will hit the 1 billion mark sometime this year, says ABI Research. At the end of 2010, there were more than 5 billion mobile subscribers around the world, with one in five of those having access to mobile broadband. Another 28-percent spike (6.6 billion new wireless connections) is expected by 2016, with 40 percent (twice the current percentage of users) being mobile-broadband-enabled.
The research group notes that, despite many markets reaching saturation with penetration levels in excess of 100 percent, there still is a lot of business out there for wireless carriers. "With the proliferation of mobile broadband, it has become increasingly common to have multiple mobile connections per user," comments ABI Research associate Fei Feng Seet. "The main motivation is the desire to stay connected everywhere, with more high-speed 4G wireless networks lighting up and a huge increase in the popularity of social connectivity."
Carriers in China and India now are in the top five when it comes to mobile network operators measured by subscriptions, pushing Verizon Wireless into sixth place. As of 3Q10, China Mobile alone accounted for 11 percent of all global subscribers.
Data, Data Everywhere
The upcoming global 4G networks, be they Long Term Evolution (LTE) or WiMAX, will be solidly data-oriented, even as voice continues to be the commodity "killer app." And data bandwidth is being consumed in record amounts by both business and consumer users. Some carriers already have tiered pricing in place, while others continue to offer what may become unsustainable "all you can eat" plans. Cable companies have said they are going to take the spectrum hogs by their twirly tails via network-management systems that monitor usage, and others – like the former Sunflower Broadband (read the November 2010 issue of Communications Technology) were offering tiered pricing from the get-go.
AT&T and Verizon Wireless now offer tiered data plans, with pricing based on the amount of data used rather than a standard fee for unlimited usage. For carriers that haven't instituted such plans, it's going to be hard to put the genie back into the bottle.
In a recent survey of wireless customers, Md.-based ChangeWave Research found that only 7 percent of individual respondents said they subscribed to a tiered pricing plan offered by their carriers. Another 7 percent said they were "very likely" to switch to such a plan, should one ever be offered. On the flip side, 31 percent of respondents said it was "very unlikely" that they would buy a tiered-pricing plan.
And just how much data did these respondents think they needed on a month-to-month basis? Here's the breakdown:
Less than 200 MB – 13 percent
200 MB-500 MB – 15 percent
500 MB-1 GB – 17 percent
1 GB-2GB – 13 percent
2 GB-3 GB – 7 percent
3 GH-5GB – 6 percent More than 5 GB – 2 percent
For the record, 28 percent had no idea how much data they needed monthly.
Things are a little different on the corporate wireless side. ChangeWave polled nearly 800 people involved with IT spending in their organizations. First, a little about their carriers of choice: Verizon Wireless and AT&T each garnered 33 percent of the enterprise-provider pie, and that percentage hasn't changed in a year. Following behind is Sprint/Nextel (11 percent), T-Mobile (3 percent), Rogers/Fido (Canada) (1 percent) and "Other" (16 percent).
Most companies are "somewhat satisfied" overall with their corporate wireless providers (52 percent), but 14 percent are "somewhat unsatisfied," and 3 percent are "very unsatisfied." However, only 9 percent said they were "somewhat likely" to change service providers within the next six months, and 80 percent said they were "unlikely" to churn.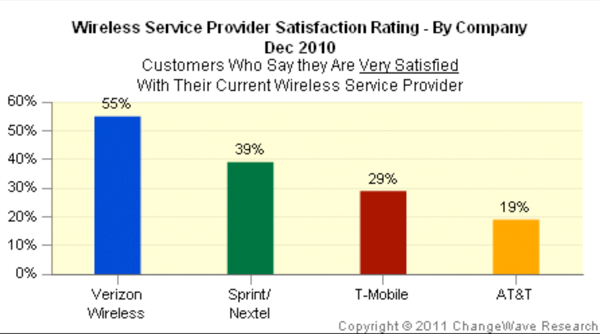 FIGURE 1: More than half of ChangeWave's respondents who are Verizon Wireless subsubs were "very satisfied," while fewer than 20 percent could say the same about AT&T.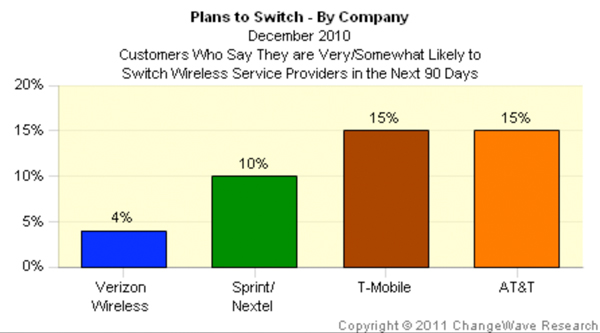 FIGURE 2: Respondents to ChangeWave Research's recent poll ranked Verizon Wireless low on their list of service providers to re-evaluate.
Berg Insight, which tracks the worldwide number of shipped consumer-electronics devices with wireless connectivity, says new units shipped grew to 22 million in 2010 compared with 11 million in the previous year. "Notebook computers" still is the largest category of gear equipped with wireless connectivity but tablets, e-readers and personal navigation devices continue to grow. In the next five years, Berg says shipments of connected consumer electronics devices are forecasted to grow at a compound annual growth rate (CAGR) of 65.2 percent, reaching 271 million in 2015.
"The sheer availability of affordable devices with embedded connectivity has exploded during the last year, with substantial price reductions on connected personal navigation devices and popular e-readers, such as the Amazon Kindle and Barnes & Noble's Nook," explains Johan Svanberg, a senior analyst at Berg Insight. He adds the Apple iPad caused the market for Internet tablets to take off, and more than 17 million tablets sold worldwide in 2010 (of which 3.9 million had wireless connectivity).
Current Survey Dec '10
Previous Survey Sep '10
Previous Survey Jun '10
Previous Survey Mar '10
Previous Survey Dec '09
Previous Survey Sep '09
Previous Survey Jun '09
Verizon
48%
35%
31%
27%
31%
24%
20%
AT&T
7%
16%
21%
18%
21%
28%
32%
Sprint/Nextel
6%
8%
8%
7%
3%
6%
4%
T-Mobile
4%
6%
4%
5%
3%
4%
5%
Rogers/Fido
2%
0%
2%
2%
1%
2%
4%
Don't Know/Other
32%
35%
32%
39%
41%
35%
35%
Once again, Verizon Wireless was the top choice for those ChangeWave respondents who indicated they were likely to switch carriers soon.
In fact, Deloitte predicts that, in 2011, more than 50 percent of computing devices sold globally will be smartphones, and enterprises will purchase more than 25 percent of all tablet computers this year."The tablet and smartphone era is fantastic," says Marcelo Claure, CEO and founder of Brightstar, a global wireless service provider. "Unlike earlier waves of wireless sales spurts primarily fueled by design innovations, this is more about applications, graphic user interfaces and lifestyles." As new products and technologies are introduced into the market, some will come with connections to wireless networks as part of the package, while others won't. Some will be sold through traditional channels, and others will use new channels. It is part of the convergence of technologies that has many companies scrambling to reinvent themselves. In the tablet wars, Claure expects that market competition will send prices lower, driving mass consumption; and that at least a few competitors will hold their own against Apple, but winners will be few.
"This is a firefight," he notes.
Network Clogging
And it appears the growing number of Google Android smartphones is threatening to clog existing wireless networks.
A recent report from Arieso, a provider of mobile-network-management software solutions, finds subscriber adoption of smartphones – as well as the even larger amounts of data generated by laptops – is placing a strain on mobile infrastructures. The problem for carriers is complex as they seek to balance revenues against the large capex/opex their expanding 3G and 3.5G cellular networks rack up.
"The report notes that smartphones are set to overtake computers as the most used device for surfing the Web, and I think this is something that few in the cellular industry could ever have predicted when the first 3G networks were rolled out back at the turn of the century," says Dan Joe Barry, vice president at Napatech, a network-acceleration specialist. "It really took until just three or four years ago, when the first mobile broadband dongles started appearing, before the mobile carriers realized they had a potential moneyspinner on their hands."
As the Arieso report indicates, the adoption of mobile data has far exceeded expectations and, because there are natural limitations to the bandwidth wireless networks can provide, this is causing a headache for mobile carriers. Napatech's Barry believes there's a clear opportunity for wireless carriers to establish pricing models that are fair both to subscribers and carriers. By building smarter networks and billing solutions, he says mobile carriers have the opportunity to charge customers on a usage basis, but also provide superior customer service by allowing the ability to purchase bandwidth on demand.
"In this way, mobile carriers avoid the death spiral of increasing bandwidth and traffic costs but flat revenues as landline Internet access providers are experiencing today," he explains. "Most mobile carriers are actually rationing demand through data-capping today, but this does not provide a satisfying user experience – quite the contrary! With better network intelligence based on real-time data, carriers can respond proactively to user needs and ensure better usage experiences while at the same time providing a platform for more intelligent management of network resources."
Upward Mobility
Moving forward, Dell'Oro Group research says enterprise wireless LAN (WLAN) market revenues are expected to increase more than 75 percent compared with 2010 levels in the next five years, and this growth is forecasted to propel the overall WLAN market to $7.5 billion by 2015.
"The WLAN market rebounded quickly from the economic recession, with 2010 revenue levels easily surpassing those of 2008 and 2009," comments Loren Shalinsky, senior analyst/WLAN research at Dell'Oro. "The growth in the number of Wi-Fi-enabled devices and the desire for untethered access to data is driving the expansion of the WLAN infrastructure. Service providers continue to expand their affiliated network of hot spots, and IT departments continue to build out new WLAN infrastructure and upgrade previous installations to accommodate users' desires."
Shalinsky continues, "WLAN product introductions persist, as WLAN chipsets optimize their cost structure and enhance their feature sets, providing some of the necessary enhancements that WLAN vendors can capitalize upon."
In addition, Dell'Oro says the overall mobile-infrastructure market is expected to grow from $34 billion in 2010 to $42 billion in 2015.
"The growing use of mobile devices such as smartphones and tablets will continue to challenge operators and vendors for years to come," notes Stefan Pongratz, a Dell'Oro financial analyst. "We believe this increase in data demand will require operators to continue investing in their 3G/3.5G networks throughout the entire forecast period. While we have seen several successful LTE launches, and we expect LTE revenue to see strong growth, we believe WCDMA networks will carry the majority of the traffic throughout the forecast horizon. In addition, we anticipate some recurring 2G investments in fast-growing markets such as China and India to deal with the large 2G installed base."
The research firm also predicts WCDMA revenues will grow from $16 billion last year to nearly $30 billion in 2015. LTE revenues are expected to grow from $350 million in 2010 to almost $7.7 billion in 2015.
Slow But Happy
However, any attempt to sell mobile broadband as an alternative to fixed broadband are likely to fail in European and U.S. markets because there is a strong (and correct) perception among wireless subscribers that mobile broadband is slower, less reliable and more expensive than fixed broadband, according to U.K.-based telecom, media and IT adviser Analysys Mason. Where consumers have a choice between fixed and mobile broadband, mobile broadband should not be sold as the primary means of access, but rather as a complement.
"The positive message for service providers is that customers have realistic expectations for mobile broadband and are not taking it to be a direct equivalent to fixed broadband," says Tom Rebbeck, research director at Analysys Mason. "To sell mobile broadband as a substitute for fixed broadband would mean cutting prices while providing a poorer service – something that is unlikely to be satisfactory in the long term. About 13 percent of mobile broadband subscribers are already planning to drop the service. By comparison, less than 1 percent of subscribers intend to abandon their mobile voice service."
The factors that might attract consumers not currently considering mobile broadband – price reductions and network improvements – would be costly to implement. Prices already are low in many markets and, given the cost pressures assigned to mobile broadband, it is unlikely operators will reduce them further.

– Compiled by Debra Baker