The Three Faces Of Home Security And Management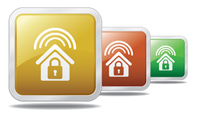 As broadband providers seek opportunities for new revenues, many are turning to home security and management. Time Warner Cable, Massillon Cable TV and Verizon have launched such services, although each has taken a different path.
What's driving this? Penetration of broadband Internet, wireless sensor innovations, development of feature-rich applications and proliferation of smart mobile devices have combined to spur interest.
Time Warner Cable (TWC) has been in the legacy home-security business for 30 years, serving about 30,000 customers in Syracuse and Albany; and in Charlotte, N.C. The operator had considered growing that business, "but every time we took a pencil to it, there were things that weren't a perfect match," says Keith Burkley, senior vice president/IntelligentHome products and services at TWC.
"As IP-based solutions began to develop in home security and management, we took harder look," he explains. "We found that the skill sets of our technical force were beginning to match with the new solutions."
Development of new wireless sensors also meant faster installation times. "Our techs weren't having to spend multiple hours in the home doing customized wiring," Burkley adds.
Jim Johnson, executive vice president and general manager at iControl Networks, notes that the business case also is better understood. "For the most part, a home-management platform has to be focused on home security," Johnson says. "So far, everyone who has tried to create a business case around home management or energy management alone has had a hard time getting approval."
TWC is using iControl's "OpenHome" software to power its IntelligentHome service. The service features 24/7 security protection; interactive video monitoring; home management, including remote monitoring, scheduling and control of security, lighting, doors, cameras, etc.; and energy management. Subscribers can access the service from smartphones, computers or in-home touch screens.
Several other service providers are deploying OpenHome, including ADT, Comcast, Rogers Cable and Swisscom. "ADT was the first to aggressively get into this space," says Johnson, adding ADT markets the broadband solution as "ADT Pulse."
"The cable companies have been the second to get into this space, and we see the telcos and wireless companies coming next," he predicts.
TWC's IntelligentHome
TWC now offers IntelligentHome in three markets: upstate New York (Albany, Syracuse and Rochester); Charlotte, N.C.; and Los Angeles. The service sells for $39.99 a month to high-speed data customers, and double-play subscribers pay $33.99 a month. Installation and equipment starts at $99, which includes the control panel, two window and door sensors, and one motion detector. Customers can purchase additional sensors, cameras, etc.
The operator is targeting its residential subscribers. Burkley believes the service has potential for businesses but in the future: "Now, our emphasis is totally residential."
The key in-home device is the iControl touch screen, explained Chris Williams, senior director/Products and Technology for Time Warner Cable. It functions as the main keypad for the security service and home and energy management applications.
The touch screen, which features 24-hour battery backup, communicates with the broadband network and the in-home wireless sensors. It does this via three antennas:
>> Wi-Fi: Connects the control panel to the broadband network via the subscriber's cable modem and connects IP video cameras;
>> Cellular: Provides back-up connectivity during power outages; and
>> ZigBee: Communicates with the battery-powered wireless sensors, motion detectors, lighting modules, smoke detectors and other low-power home devices
Williams notes the Wi-Fi connection used is not the same as the subscriber's wireless home network: "It's a managed SSID from the service provider. It's non-broadcast and encrypted. You can't see it, and you can't log into it."
Critical Components
There are two other critical components to the IntelligentHome service. The first is the OpenHome application, which TWC hosts at its NaviSite cloud. The software integrates the service's security, monitoring and home-management functions. It also supports the IP video camera control; text messaging and email alerts; and the remote control of security, the thermostat, door locks and lighting.
In addition, the software allows customers to create event-based rules for triggering such actions as video-clip storage and image capture. Subscribers can install as many as six cameras, they can view streaming video from one camera at a time or they can store 15-second clips or still images based on pre-established rules, Williams points out.
The second critical component is TWC's emergency-response center (ERC) and automation software. Because of its legacy security business, the cableco already operates an ERC, Burkley says. This 24/7 center, which is UL-listed and maintains a five-diamond rating from the Central Station Alarm Association, hosts the automation software that receives the iControl alarms, and it displays those alarms to monitoring personnel, who then dispatch emergency-response teams.
Safeguard Security
You don't have to be big to capture home-security revenues. Massillon Cable TV, which serves 45,000 customers in Ohio, has been offering "Safeguard Security" for more than a year.
"We had been looking for new businesses, and there are several things about security that fit our DNA," says Robert Gessner, president at Massillon Cable TV. "We've always been good at low-voltage wiring." The advent of modern security systems that go beyond "break a contact and ring a bell" and leverage the power of the broadband network made the service attractive as well.
"We also have the ability to offer service outside of our traditional footprint," Gessner adds. "There's no reason we can't offer security monitoring and installation where we don't provide broadband service. Customers just need a phone line."
Targeting Traditionals
This approach is different from that of many broadband providers that are targeting their high-speed data customers with solutions that leverage wireless sensor technology and control panels that communicate with the broadband network. While Massillon does offer broadband-based systems, it also targets customers who have a traditional system installed. It can do this because it purchased local company Safeguard Security and its expertise in wired technology.
Why the merger? Gessner notes that roughly 20 percent of U.S. homes have a security system.
"But it's not like phone or TV. The security market grows slowly, about 1 percent a year," he points out. "If we were going to launch this brand-new product and ignore the old technology, then we'd have to be content with our share of 1 percent a year of growth. If we could find a way to capture someone else's market share, then we could go after the existing 20 percent who already have a predisposition to security services."
By acquiring Safeguard, Massillon gained personnel experienced with many different security vendors' products, control panels, wired and wireless sensors, and telephone return paths. This expertise means the cableco can provide monthly monitoring service to customers who purchased their in-home systems from another provider.
"There are many ways this is different from cable TV. The sales cycle is different. Security is based on a trigger point," says Gessner. Something happens, a customer goes to the phone, and the first company that makes an appointment gets the job. "We also learned that a lot of the sale takes place at the home," he adds.
An experienced security installer can help customers identify which doors and windows need sensors, and where to put cameras, motion detectors, etc. "Another way this is different from cable is that we charge customers for everything. We sell them the hardware and, if it breaks, they have to repair it," Gessner says.
Massillon doesn't offer a low-priced installation and base equipment package that it offsets with higher monthly monitoring rates. According to Gary Lyon, Massillon's security manager, a low-end residential installation runs $400, and equipment and installation fees can range from $800 to $1,200, depending on the products chosen. Monthly monitoring charges are lower, however. Existing customers can bundle Safeguard with other services for as low as $15.95 a month, while the service sells for as low as $19.95 a month to customers outside the company's service area.
Commercial Security
Massillon's acquisition of Safeguard means it can offer commercial services.
"You need to have someone with credentials to offer commercial security," Gessner explains.
Adds Lyon, "Because we have experience with existing hardwired systems and commercial systems, we can serve any business around here," noting Massillon can supply alarm monitoring, access control, Internet tracking, key fobs, cameras, onsite DVRs for video storage and more. He admits, however, that, without experience, providing security to businesses could be difficult.
"To get into a large commercial security job without experience would be a nightmare. It could soon turn into an expense rather than a profit," Lyon says.
"There's a real learning curve for the bid process," adds Gessner.
Unlike TWC, Massillon doesn't operate its own central monitoring station. Rather, it contracts with Comporium for alarm monitoring. Comporium operates a 24/7 UL-approved central station that features redundant systems, backup generators and UPS for emergency power along with multiple people on site, explains Gessner: "We don't have enough customers to afford that."
Personal Services
In addition to home security, Massillon now sells a personal emergency service called MedAlert that targets seniors or people with medical conditions. At $23.95 a month, MedAlert costs a bit more than home security, but the price includes rental of the in-home console and one wireless transmitter. Customers wear the transmitter, which at the touch of a button signals the console to call the emergency monitoring center.
The console supports two-way voice and acts as a speakerphone, allowing users to talk to monitoring personnel until emergency responders arrive. "The service has taken off with the baby-boom population aging," Lyon says.
"MedAlert has some terrific benefits," adds Gessner. "It's easy to understand, easy to install, and Medicaid may fund it. It's a slightly different business model, but a very good product."
Smart Homes: Everyone Wants One
Increasing demand for broadband-enabled home security and control systems will drive U.S. revenues for smart-home systems and services to $7.6 billion in 2012, according to research firm Strategy Analytics.
According to analysts, more than 8 percent of U.S. homes will own at least one smart-home product or service by the end of this year; the most popular are self-controlled and self-monitoring systems like video cameras, motion sensors, lighting and thermostats. Strategy Analytics predicts that IP-based security systems and services will account for nearly one-third of the $24.3 billion (total) smart-home market in 2017.
"The proliferation of both fixed and mobile broadband connectivity, coupled with service provider need to develop additional revenue generating units (RGUs) to offset declining growth in traditional businesses, is driving adoption of a broad array of smart-home systems and services," says Bill Ablondi, director/Smart Home Strategies.
U.S. Smart Homes Systems/Services Market Forecast
Source: Strategy Analytics Inc.
| | | | |
| --- | --- | --- | --- |
| | 2011 | 2012 | 2017 |
| Smart Home Hardware | $3 billion | $4.8 billion | $13 billion |
| Smart Home Services & Installation Fees | $1.9 billion | $2.8 billion | $11.3 billion |
| Total Smart Home Revenues | $4.9 billion | $7.6 billion | $24.3 billion |
A Life-Style Approach
Spurred by increased penetration of broadband Internet and the proliferation of mobile devices, Verizon also launched a home-monitoring service. Rather than focusing on security, the telco has taken a life-style approach with its Home Monitoring and Control Service, explains Ann Shaub, Verizon's director of connected home services. The service, which went commercial last fall, is available everywhere the carrier offers broadband Internet, and it sells for $9.95 a month. It does not, however, include 24/7 monitoring by an emergency-response center.
The service gives customers the ability to interact with their homes even if they are away. They can watch remote cameras, control their lights, change their thermostats, open doors, and monitor entry and exit to the home from their computers, mobile phones and via FiOS TV.
"It plays into what we think of as the borderless lifestyle. I can have my life and react with my life, whether at home or away," Shaub says.
According to Shaub, most customers purchase the basic home monitoring kit for $69.95, which includes the gateway, one indoor camera and one indoor light module. Customers can purchase additional accessories, the most popular being cameras, remote door locks, and door and window sensors. Most of them self-install the products, although Verizon partners with InstallerNet, should customers want a contractor installation or should they want to add energy monitoring and thermostat control (for which Verizon recommends a professional installer).
Actiontec supplies the wireless gateway, which sits behind the customer's FiOS router or DSL gateway. It uses the subscriber's home Wi-Fi network to communicate with the IP video cameras; and it uses Z-Wave to communicate with the wireless lighting modules, sensors, thermostats, and other monitoring and control devices installed by the customer. The brain behind the service is Motorola's "4Home" service-delivery platform, which Verizon hosts in its cloud.
Rules-Based Management
One of the most popular features of these new broadband-based home-management services is that users can customize "rules" for different activities in their homes. Both Motorola's 4Home application and iControl's OpenHome application have powerful rules engines that allow customers to program such automatic functions as turning on lights at certain times; alerting via email or text if there's no motion detected in an elderly parent's room in the morning; recording a video when someone approaches the door; sending a text message or photo when someone enters the house; or turning the thermostat up or down, etc.
Shaub says she's pleased with how quickly users grasped the rules concept and the idea of the different devices triggering off of one another.
"The average person has between three and four modes set up," she says. Verizon also is seeing sustained use of the service.
"We're not seeing early use, and then it going quiet. Customers are actively using it and buying more accessories," Shaub comments, adding smartphone access to the service also has been popular.
"Between 50 and 60 percent of the transactions are done using a smartphone," Shaub says. "We thought it would be high, but that was a pleasant surprise."
Advice From Providers
While home security and management are well-suited to today's broadband networks, it can be challenging to launch such services. Massillon Cable TV's Gessner suggests companies wanting to compete with traditional security services find personnel experienced in those systems. He also advises operators to be mindful of the longer sales cycle and the "over the threshold" nature of the sale.
"We have a separate sales person, and all the leads go to him," explains Gessner. "He knocks on the door and consults with the customer in the home."
TWC's Burkley tells broadband operators to be prepared for the plethora of local and state regulations that govern security services: "The regulatory environment is pretty dramatic. Many municipalities have different rules and regulations. There's not a lot of standardized regulations."
Burkley believes operators must always remember these services deal with the "life safety" of the residents.
"When technicians leave, they need to have secured the home properly, and the customers need to know how to use the product," he concludes. "You always have to consider life safety…and make sure you can achieve that goal."
Jennifer Whalen is a freelance writer and a former editor of Communications Technology. Contact her at jwhalen@whalencom.biz.