The Market: Meeting and Beating the FTTH Challenge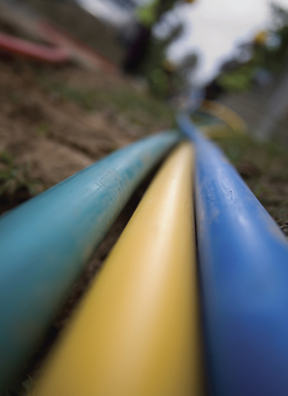 The convergence of the current economic turndown and the emergent timing of the DOCSIS 3.0 rollout have combined to create an almost perfect storm mitigating against the widespread adoption of fiber to the curb (FTTC) or fiber to the home (FTTH) by MSOs. And that despite significant decreases in the cost of implementing fiber and in direct contradiction of would-be industry gurus who two to four years ago were predicting a near-term MSO stampede to fiber to the end user (FTTx).
According to estimates by research house RVA LLC, only a tiny 0.9 percent of the installed FTTH base in the United States is attributable to cable operators. In contrast, 76.9 percent of the nation's installed base belongs to the incumbent telcos, the lion's share going to Verizon, against which MSOs are waging a running battle in state after state as Verizon begins to look more and more like a giant cable provider (according to some industry experts). Indeed, only a total of 29 MSOs have so far publicly admitted to actually stringing fiber all the way to homes, although rumors abound of stealth projects (primarily test beds).
The most recent of the slim stack of cable-industry announcements was in early August by South Pittsburgh, Tenn.-based Trinity Communications. Trinity said it had deployed in two rural Tennessee counties – Marion and Sequatchie, but that deployment hardly will make a dent in the statistics. The two Tennessee counties combined have a population of just a little more than 40,000 and a grand total of fewer than 19,000 homes, of which only 3,000 got the new fiber.
What Costs?
MSOs had a valid argument when they pointed to the high cost of a fiber deployment until relatively recently. However, that disadvantage has been steadily decreasing.
The cost of deploying fiber all the way to a home, in a greenfield situation, hovers around "$1,200 to $1,300 to get the home passed, connected, and everything else," estimated Richard Loveland, director of marketing for wireline access at Alcatel-Lucent. That's down from estimates as high as $2,000 per home only two or three years ago. Loveland also estimates that fiber just to the node, in a greenfield situation, should cost an MSO just about the same as a competitive local exchange carrier (CLEC) would spend.
"If you're talking greenfield, most of the cost is burying things in the ground. Operationally, if they're not ready to do something different that DOCSIS, there's not that much difference" in cost," he continues. "You just have to put a box on the house."
And for that last jump, from the node to the curb and home, the cost of fiber versus coax is now "an incremental $100 or less," estimates Dave Russell, solutions marketing director at Calix. The biggest cost, he explains, is about $150 for a micronode (one that serves only a single home) and an architecture some say clouds the difference between the terms "fiber to the curb" and "fiber to the node."
"These days (running fiber to the home) is getting pretty comparable to running coaxial cable," Russell says. "Obviously, fiber splicing is more expensive than putting in coax." Calix has been disclosed as a supplier at four of the 25 MSOs that have revealed whose hardware they are using. Alcatel-Lucent is joined with them on two of those four projects.
"The placement of the fiber to the subscriber is going to be the same per-foot cost for the telco or the cable-TV provider," agrees Fiber to the Home Council President Joe Savage. "What they do with it may have incremental cost differences," he adds, pointing to the different technologies that can be used to deliver a signal over fiber.
Trinity is not revealing the cost of its FTTH deployment, saying only that its decision to use RF over Glass (RFoG) is cost-effective. "In our system, population density is low and spread out, so the RFoG cost model and return on investment is very attractive to us," said Trinity President James Gee in a prepared statement. "Once the backbone is in place, we can simply drop a fiber to the residential or small business customer, install the RFoG ONU (optical network unit) and they're set."
Trinity is using RFoG hardware from Arris, in what is Arris' first announced major RFoG win for the equipment it brought to market early last year.
It should be noted that Trinity, given the rural nature of its customer base, can charge top dollar for its services, a key issue in return on investment. It's getting $100 a month for 10 Mb/s broadband and a similar amount for its top-tier cable-TV offering.
To Overbuild Or Not
While FTTH in a greenfield situation now is a close contender in cost to a hybrid fiber-coax (HFC) solution, obviously if there's already fiber to the node and then coax to the home ( i.e., HFC), doing an overbuild clearly is a different story. An incremental difference of $100 or less can perhaps be made up in less than a year by selling increased functionality or content. But for a cable operator to foot the entire $1,200 to $1,300 per home for an overbuild obviously is more problematic.
"If a cable company has a decent system and it can move to DOCSIS 3.0, there's not a lot of incentive to overbuild," says RVA President Mike Render. "They're in a pretty good position for a few years, so there's been very little overbuilding of decent HFC systems."
"Doing an overbuild in an area which has a good HFC plant obviously would not be cost-effective," agrees Calix's Russell.
Savage points to what may be the ultimate financial consideration that is retarding overbuilds: "The cable industry is extremely sensitive to capital investment, primarily because they've always been a very-heavily-in-debt set of companies. If they have to put in additional capital investment, it impacts their stock prices. Most investors are not happy to hear about another round of investment in the cable plant."
Still, at least some MSOs already are going the overbuild route, and Savage hints of various unannounced projects by MSOs that "will invest in fiber all the way to the end user and not mention that they've done it" in order not to upset investors.
Indeed, seven of the 29 MSO fiber installs mentioned previously are FTTH overbuilds; and seven are replacing coax, which has essentially the same cost as overbuilding. Tellingly, though, a majority of those carriers doing overbuilds or replacements consider themselves CLECs as well as MSOs. In addition, "sometimes, if they (the MSO) are competing with a CLEC" with advanced offerings, the MSO will overbuild to be competitive. "They'll overbuild AT&T or an old Verizon property," Russell continues.
He adds, "The one I find most interesting is a phone company that will go out and buy a small cable operator so that they have a headend," pointing to a few cases in which a CLEC bought such entrée into the MSO world.
Identity Crisis
If that sounds like an identity crisis in the making, that's hardly news. After all, the biggest telco around with a massive FTTH installed base is Verizon and "if you look at the Verizon model, it's similar to a MSO," argues Loveland at Alcatel-Lucent.
And at Calix, Russell says of five MSO customers he has, actually only one of them is for the delivery of cable TV. The other four are thrusts by MSOs into pure business broadband, in direct competition with telcos. The technology these cable customers are using usually is nearly identical to what the telcos have to offer, and that technology of choice is passive optical networking (PON).
"In business deployments, they (MSOs) like the idea of PON, because they can still do RF video plus T1, metro Ethernet and transparent LAN," Russell explains. "It gives them a very nice, broad array of tools for business customers. In some cases, the cable operators may have embraced PON as much or more than the large telcos."
"Most of the guys who have actually done PON are using it for business services," Loveland concurs. Of course, there's more than one way to skin a PON and "cable guys are looking at various technologies for PON," he continues. The one caveat, he adds, is that "they want to make sure that they've got DOCSIS capabilities in it."
DOCSIS 3.0: Good Enough
And therein lies a major rub in the deployment of fiber beyond the node by the cable industry: the fact that most MSOs still are in the earlier stages of deploying DOCSIS 3.0. "There's a feeling that they need to complete their DOCSIS 3.0 rollout, rather than consider fiber at any cost," says Russell. "At least for residential applications for the next few years, they want to finish the DOCSIS 3.0 rollout."
Picking up on that idea, Loveland says MSOs "believe that DOCSIS 3.0 will take them quite a way in their service offering," especially when the competition is DSL rather than FTTx because DOCSIS 3.0 can dish up competitive speeds.
"If they're competing with a DSL solution, they're generally in good shape," estimates Render. That means that MSOs "aren't under too much pressure to roll out FTTH itself," Russell says.
Still, while MSOs believe DOCSIS 3.0 is "good enough to last a while," Loveland says fiber still is better. "Is DOCSIS 3.0 able to do as much as fiber?" he asks, and then he answers his own question: "I don't think so."
Indeed, the cable industry can look at one of the seminal battles between DOCSIS and FTTx to begin to see what it's up against when considering whether or not to do a FTTH overbuild in any given locale. In Lafayette, La., for example, there's been a half-decade battle between the municipality and Cox Communications over the right of the city to offer its own fiber service to residents. The city finally won the right to build its system, which prompted Cox to choose Lafayette as one of the first places to roll out DOCSIS 3.0. The city had the advantage with a new fiber network, and Cox would have had to do a costly overbuild while still amortizing the cost of its old network.
What Cox now is offering using DOCSIS 3.0 is 50 Mb/s downstream broadband, the same top-speed downstream as the Lafayette Utility System is offering over its fiber. However, Cox has only 5 Mb/s upstream, while Lafayette's offering is symmetrical, with 50 Mb/s. And to compete, Cox has been forced to slash its pricing to $90 per month, $50 less than it had hoped when it rushed to roll out DOCSIS 3.0 before Lafayette could steal its customers. Still, Lafayette is charging only $58 for its service and, by law, it can't subsidize the service with tax revenues.
Meanwhile, Savage is even more aggressive in his opinion of why fiber already is a better buy. "They (MSOs) are going to come out and trumpet DOCSIS 3.0 for as long as they can," he says. "All of the larger MSOs are saying 'DOCSIS is great, that's all we need.' But still, you don't have the capacity of fiber to the home and the clarity of video. They'll do things like split nodes so that, instead of passing 500 houses, they'll pass 250."
That, of course, means twice as many nodes, with the attendant additional cost. Just how much that cost is becomes a highly variable factor depending on the installation. However, it does figure into the overall estimates that, on average, FTTH now is only a matter of $100 of so more than a HFC installation.
The Housing Bust
In the current U.S. economic situation, where there used to be 500 new homes to pass, nowadays there might only be 250. Even more likely, given the current recession, there are none. And it's this situation, even more than the cost of fiber, that has had a direct effect on the rollout of FTTH by MSOs because it's the greenfield projects where the majority of MSO FTTx activity has taken place.
Re-stating the obvious, Russell says "there's just not that many new homes being built." Adding a more hopeful note, researcher Render believes "the housing starts will come again" – although he's not predicting when the recession will end. But when it does, Render says, "as new developments really start to come on board again, we'll see a lot of cable companies start to deploy" FTTH.
Meanwhile, it could be argued that the recession has given the MSO industry time to catch up on DOCSIS 3.0 deployment and perhaps eke some years of extra life out of the technology. It also will give the industry more time, at least several years, to develop a distinctly MSO-oriented set of standards for future fiber deployment.
Those standards, moreover, are not expected to simply be based on the current RFoG, which would imply the delivery of some future version of DOCSIS, but over fiber instead of coax. "You're really bringing fiber to the home, but you aren't changing any of the plant capabilities," Loveland says, analyzing RFoG.
"In understanding when cable will move this transition technology of RFoG to a true kind of PON architecture, you do need to keep in mind the next-generation standard" that eventually emerges, Russell adds. And to win MSO acceptance, any fiber standard that emerges "has to take place at Cable Labs and within the industry," he points out.
He continues, "The standard that the cable industry seems to be gravitating toward is PON. I think you'll see (MSOs) pushing in the PON space for greater interoperability. They'll want to have the kind of interoperability that they enjoy with DOCSIS."
Russell also thinks that, at least in this one area, there's a common interest between the MSO and telco segments: "I see both telcos and cable pushing for greater plug-and-play interoperability, which will bring down costs and increase deployment."
Stuart Zipper is a freelance writer based in Denver. Contact him at stuart@thezippers.org.