Survey Sez: Networks Control Mobile Video Quality
According to a recent survey of mobile phone users, 74 percent of respondents hold operators "most responsible" if video stalls, buffers or takes too long to start when streaming over their mobile networks.
The survey, conducted for Mobixell Networks by OnDevice Research, also found that, in light of the sharp increase in mobile video consumption forecast for the coming years, this revelation should raise serious concerns among operators as they find it more and more challenging to help ensure a satisfying mobile video experience for consumers who have increasing expectations.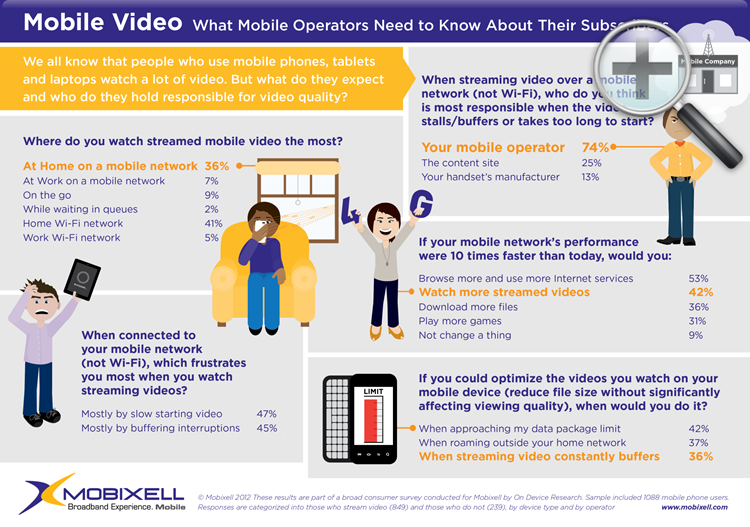 Consumers themselves predict a dramatic increase in their data usage as mobile networks move from 3G to 4G/LTE. The survey found that 91 percent would browse and use more Internet services, watch more streamed videos, play more games or download more files if their network performance was 10 times faster than it is today.
As mobile video consumption rises faster than the rate of network capacity expansion, network congestion is more likely to lead to an increase in both browsing interruptions and inconsistent video streaming. The survey found that slow browsing speed would cause 43 percent of respondents to consider switching operators, while another 24 percent said buffering and poor video quality would cause them to consider switching. Further, 47 percent of mobile viewers say they are frustrated when video takes too long to play; and 45 percent are most put off by non-continuous, interrupted play.
"This survey highlights the importance that mobile subscribers attribute to video quality and the steps they would consider taking when it is unsatisfactory," says Noam Green, vice president/Marketing at Mobixell. "New mobile devices and 4G networks will further inflate mobile data demand and, therefore, congestion in the coming years. To continue to meet user expectations for continuous, no-buffer video, operators are embracing video optimization with real-time congestion prediction."
All indications point toward "always on, always there" mobile devices becoming the preferred way for mobile subscribers to stream video, even when wired broadband or Wi-Fi connections are available. In fact, 36 percent of survey respondents claimed that, even at home, they stream video using their mobile network.