Summit: Still Standing Tall
Those attending the 30th annual CTAM Summit should not take the event for granted. A few years back, some NCTA exec committee members, looking to reduce costs and time commitments, argued that Summit should be shuttered or at least absorbed into the National Show. This scrutiny may have strengthened CTAM. With cable facing off against the telcos, it's a good thing, too. Three years ago, at an executive retreat of the NCTA, the organization's leadership began addressing a topic that had been fodder for numerous in-the-hallway-type conversations during the past decade; namely, that cable had far too many associations and annual meetings, and that each one was helping to tie up expensive corporate resources. The NCTA executive committee's belief that there were too many nonessential meetings and organizations ultimately led to major shake-ups, including: shuttering the Western Show, folding of Cable in the Classroom into NCTA and retooling the Kaitz Foundation. But at the 2003 retreat in Newport, R.I., one idea brought the discussion to a fever pitch. Three executive committee members noted that the NCTA was facing eroding attendance at its annual national convention. Its show was teetering at the break-even level and even threatening to run in the red. The three executives—Jim Robbins of Cox, Steve Burke of Comcast and Insight's Michael Willner—presented the radical solution of folding the highly successful CTAM Summit into the National Show, or at least moving it to the same city either just before or just after the NCTA's annual show, according to a senior executive familiar with the negotiations. An Expensive Party for Cable? While Summit had earned a reputation for quality and topical sessions, it also was known to generate robust annual revenue for CTAM. These men saw the move as a way to enhance the allure of the National Show, while reining in what they felt were runaway travel expenses at their respective companies. At one point in these discussions it was touch-and-go as to whether the CTAM Summit would survive, sources say. Working against the organization was the long-held belief by some CEOs that CTAM's conferences were just one big party. "It was ugly," the senior executive says. "There was a lot of anger, and there was a point at which I thought we were going to shut down" Summit. While Summit ultimately made the cut, the same cannot be said for CTAM's Digital Conference. Like the National Show, the CTAM Digital Conference was an annual spring event—one that, due to the industry's burgeoning interest in digital products, had grown in status and attendees. The NCTA board decided the Digital Conference had become a competitor to National and deemed it expendable. CTAM then merged it into Summit. CTAM president and CEO Char Beales says the NCTA's decision on the Conference was logical and inevitable. "We had been having the discussion internally for some time," she says. "That conference had always been about ancillary parts of the business—pay-per-view, on demand and broadband. But those were not ancillary anymore. They were mainstream, and we found our Digital and Summit conference planning committees wanting to do sessions on the same topics." Proving what doesn't kill you makes you stronger, the high-level scrutiny that nearly squashed Summit instilled in CTAM a firm resolve to remain relevant. It also helped CTAM's leadership stay committed to a long-term strategic plan it had developed a few years prior. That plan has led to one significant change in the organization already, and is about to bring about a second. First, in June 2005 CTAM closed ranks by changing its bylaws and became, once again, a true cable organization (see "Putting the `C' Back in CTAM," July 25, 2005, CableWorld). Second, CTAM's leadership, working with CEO feedback and internal mechanisms for monitoring shifting industry values, began searching for a new time slot for Summit. The goal was to distance Summit significantly from the National Show and turn it into an indispensable industry event. That process is under way, and though no dates have been announced, it is expected that by 2010 the contractual commitments CTAM has made to venues and hotels will have been satisfied and Summit will be relaunched as a fall conference. A source familiar with the NCTA negotiations on Summit's future—Beales calls them "a dialogue"—says that the CTAM chief distinguished herself, during the process and after, when she made special visits to the CEOs, soliciting their requests and concerns. "I think when all was said and done, the CEOs came away with a newfound respect for Char," one executive says, "and because of that I truly think CTAM is as strong as it's ever been." Then and Now The Cable and Telecommunications Association for Marketing is a unique organization, and not merely to cable. One would be hard-pressed to find a parallel group in any other major U.S. industry. Established in 1976 as a loosely knit umbrella organization through which marketers in the then-fledgling industry got together to compare notes and network, in the three decades since CTAM has evolved into something else altogether. Today CTAM plays several critical roles: It is the linchpin for national cooperative marketing efforts, and it is also helping to build a national database that will ultimately allow MSOs across the country to track cable subscribers who have moved. The MSOs could then send marketing materials to the subscribers in their new locations. CTAM has also become cable's educator. Among its educational initiatives is CTAM U, launched at the Kellogg and Medill Schools at Northwestern in 1997 and now housed at the Harvard Business School. The B-school-type course for industry executives lists among its alumni Charter's Eric Brown, who serves as SVP, operations, for the MSO's West division, and Charles Bartolotta, SVP of customer operations at Mediacom. As for CTAM's role as a nesting place for co-op marketing initiatives, Time Warner Cable SVP of strategy and development and former CTAM chairman Kevin Leddy says, "We need to look like a national platform. We have two major satellite competitors out there who are national, and now two enormous, emerging telcos. And if we don't learn how to cooperate better as MSOs, those competitors are going to pick us apart." The answer, Leddy says, is to have CTAM bring the MSOs together and coordinate their messages into a single voice. "Now, more than ever, we need CTAM as a place to come together and discuss the important issues," he adds. Summit '06 As summer takes root throughout the Northeast, the cable industry is set to descend upon the home of the Red Sox, Cheers and Samuel Adams beer. The 2006 CTAM Summit, themed "The New World—Welcome to Your Future," will bring 3,000 cable marketers to the Hynes Convention Center in Boston who'll run a fine-tooth comb across such percolating topics as monetizing portable content and competitive segmentation. "The committee this year focused on such themes as new management, new marketing and new media, and we sought to build sessions that would provide answers to the key questions we were able to raise under each of those themes," says Cablevision EVP, product management and marketing, Patricia Gottesman, a planning committee co-chair. Summit co-chair and Fox Cable Networks president Lindsay Gardner adds, "Our goal was to create a slate of sessions that presented multiple opportunities to look at any one issue—especially the most burning ones. That's one thing that CTAM has always done as well as anyone in this industry." CTAM today is a far cry from its humble roots as an annual group hug of industry marketers. But as it enters its fourth decade, one thing remains constant, Beales says. CTAM has always been and will be driven by what's best for its members, particularly MSOs. "Our charge going forward is to provide first-class educational and networking opportunities, to facilitate cooperative marketing and to be a bridge between marketing and technology as this industry continues to develop new products." Forged by Fire NCTA SVP, communications and public affairs, Rob Stoddard, acknowledges CTAM may have been challenged by the CEO scrutiny it received a few years back. Still, he says, it remains the standard against which cable industry special-interest trade associations are judged. "In light of Char's face time with the CEOs, and how she continues to navigate CTAM through some rocky shoals, she continues to rise in stature in the eyes of the industry's leadership," Stoddard says. "And CTAM is that much stronger as a result." CTAM Timeline: A Snapshot of CTAM's Evolution 1976 The Cable Television Association of Administration and Marketing is incorporated. The first-ever CTAM annual conference is held in Atlanta.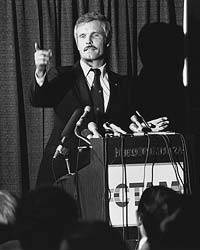 1980 Ted Turner is awarded the association's highest honor, the Grand Tam. 1982 Char Beales is elected to the CTAM board of directors. CTAM shifts from an all-volunteer to a paid staff and opens its headquarters in Atlanta. 1983 CTAM launches the Awards for Excellence in Cable Marketing. 1985 CTAM relocates to Washington, D.C.; names Vic Parra executive director. CTAM of the Rocky Mountains becomes the first CTAM local chapter. 1990 The first CTAM Pay Per View Conference is held in Orlando, Fla. 1991 The Awards for Excellence in Cable Marketing are renamed The Mark Awards. 1992 Char Beales is hired as president and COO. CTAM publishes text versions of key conference presentations under the banner, CTAM Quarterly Journal. 1993 CTAM relocates to its current home in Alexandria, Va. 1994 The CTAM Pulse is launched by the organization's research department. 1995 CTAM and NCTA join forces to create and roll out cable's On-Time Guarantee initiative. The CTAM board adopts a new official long-form name, Cable & Telecommunications: A Marketing Society.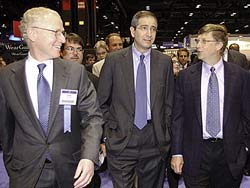 1996 Microsoft founder Bill Gates keynotes the CTAM National Marketing Conference in Boston. CTAM of the Rocky Mountains hosts the first SkiTAM, a benefit to aid the U.S. Disabled Ski Team. 1997 The CTAM Marketing Hall of Fame is launched, with MTV's seminal campaign, "I Want My MTV!" the first inductee. The first class of CTAM U convenes on the campus of Northwestern University. 1998 The CTAM board adopts the organization's third long-form name, and its second in three years: the Cable and Telecommunications Association for Marketing. 1999 The annual CTAM National Marketing Conference is re-christened the CTAM Summit. 2000 Having outgrown available facilities, the CTAM Summit is held in the Hynes Convention Center in Boston, the first time the annual event is not held in a hotel. 2005 The largest CTAM Summit ever is held in Philadelphia, attracting more than 3,100 attendees.