Back to January 2006 Issue
January 2006 Issue What is the next generation network? SCTE Chairman Yvette Gordon-Kanouff says flexibility, efficiency, interoperability and scalability are key landmarks on this fast-evolving landscape. By Yvette Gordon-Kanouff, Seachange Our industry is booming. In the last 10 years, we've gone from the concept of launching digital broadcast to launching cable modems, on-demand TV, telephony, wireless and more. Standards are coming at us fast and furious, but what's even more adventurous is what's yet to come. With industry-led Next Generation Network Architecture (NGNA), Time Warner-led Interactive Services Architecture (ISA), Comcast-led Next Generation On Demand (NGOD) and other key initiatives for open standards and network flexibility, we're truly heading toward one pipe that will intelligently manage, control and juggle all of the services that we can imagine. Before considering ISA and NGOD, let's review some of these other initiatives, many of which fall under the general heading of bandwidth (data capacity or throughput) efficiency. Although an article of this length can't possibly do justice to each of these topics, it is nonetheless useful to survey the entire landscape and identify the numerous activities driving tomorrow's networks. Bandwidth efficiency The cable industry has always had the option to split nodes, or even upgrade frequencies, but there are significant ongoing industry efforts to make better use of existing bandwidth. All-digital. One of the most discussed means of gaining bandwidth efficiency is removing analog altogether and delivering all-digital channels to subscribers equipped with digital set-tops or TV sets. The gain is obvious—each 6 MHz can carry 10 or more digital channels in comparison to a single analog channel. Converting networks to all digital is filled with challenges, from customer acceptance to cost; therefore, the logical transition is to first implement digital simulcast, where analog channels are simultaneously carried in the digital tier. Even though this requires more bandwidth in the interim, it allows a graceful transition for customers and operators. More digital channels leads to the next step of common management across applications. Why separate digital offerings into the traditional concept of channels at all? Even if digital transmissions are modulated into channels at the edge of the network, couldn't all applications be managed as one big intelligent Internet protocol (IP) network? This is exactly what our next generations will hold, while continuing our IP networks to the edge and MPEG to the home. Modular CMTS/universal QAM. The "edge," typically remote hubs where quadrature amplitude modulation (QAM) modulators and upconverters reside, will become consistent across services, with everything upstream becoming a smart network managed by switches and software. Services that are separated today will share backbone transport and traditional channel bandwidth to the home. Although today's modems are fixed on a particular channel, other applications can still share in that bandwidth. In the case of cable modem termination systems (CMTSs), the current equipment architecture will have to be split into separate components, allowing the edge to be consistent with other services, such as broadcast TV and video on demand (VOD). This separation is sometimes called a modular CMTS (M-CMTS) to allow the use of universal QAM modulators. A more unified edge also allows for more unified network management. Switched digital video. Sharing video QAM modulators with DOCSIS data is a great plan, but the common starting point for sharing bandwidth is between VOD and broadcast video. The edge QAM modulators for these two services already have the same architecture, which makes it possible already to offer a significant amount of content, but use system bandwidth only for what is actually being viewed. This sharing of bandwidth brings on the need for some set-top box and management software changes that enable the switching as needed. Resource and policy management. As we look toward being able to use bandwidth more effectively, it makes sense to be able to share it based on business rules and actual usage. But what we need is the same unmatched quality of service (QoS) that we have for video today in mixing the bandwidth. The PacketCable Multimedia (PCMM) initiative has been put in place to add QoS to our DOCSIS infrastructure. Application managers and policy servers manage QoS based on various client applications, and policies are implemented for priorities, QoS requirements and network use. With cable modem QoS, clients communicate with an application manager, which in turn talks to a policy server. The client may have requested QoS outright, or the application manager may have requested QoS based on the application itself. The policy server then talks to various application managers and CMTSs, juggling and passing on the appropriate QoS needs. Policy servers may in the future tie in with intelligent resource management software that can manage the various applications beyond DOCSIS traffic including their signaling, bandwidth paths, their priorities, content priorities, content security, system and network resources, and more. Stat-muxing and advanced codecs. A commonly discussed means of bandwidth efficiency is statistical multiplexing, or stat-muxing. Many advanced QAM modulator products not only modulate, but also have the additional capability to manipulate the various input streams. In some cases, such manipulation involves splicing for advertising insertion or play-listing, transcoding or stat-muxing. Video streams often have different characteristics at any point in time, so more bandwidth can be allocated to those streams with high scene changes vs. those that have little change descriptions in the MPEG stream. Typically, stat-muxing will increase bandwidth efficiency by 20-60 percent. At any trade show today, attendees can see incredible demonstrations of content running in our traditional MPEG-2 compression side-by-side with an advanced algorithm at a fraction of the bandwidth. Launching new codecs isn't easy with a large base of MPEG-2 set-tops, but it is certainly a consideration as a means of bandwidth efficiency in the future. Also under consideration are technical efforts such as transcoding content according to the requesting device's ability, making advanced codecs a likely part of our future bandwidth efficiency planning. DOCSIS 3.0. Another area closely tied to bandwidth efficiency is DOCSIS 3.0. As a part of the CableLabs NGNA effort, DOCSIS 3.0 will allow us to logically bond multiple channels to allow not only transport efficiency, but also more data throughput to businesses or homes. Many times DOCSIS 3.0 is mentioned in conjunction with the M-CMTS; it might be that these projects are launched together, but they are actually separate efforts. Although the ability exists to go to hundreds of megabits per second, current thoughts are that DOCSIS 3.0 modems will be between 50 and 100 Mbps. A two-way 100 Mbps modem will provide new opportunities for cable in the commercial services arena, especially as high-end telephony-based offerings are targeting speeds in the 30 Mbps range. Another major benefit is that DOCSIS 3.0 will support IPv6, whereas our networks today use IPv4. Having received significant attention internationally, IPv6 supports more IP addresses than IPv4 and enables our networks to grow. We will have the option to upgrade entire networks to IPv6 or to possibly allow switches to keep IPv4 stand-alone islands for certain services, enabling a more staggered implementation. With the expansion of DOCSIS and the implementation of DOCSIS set-top gateways (DSGs), we will see the ever-increasing need for IP addresses. Other next-gen efforts No discussion of next-generation network plans will get very far without a focus on standards, interoperability and scalability. Every cable operator and manufacturer recognizes that these items are core to our future. Here's an overview of several industry efforts in these areas. NGNA. Cox unbold, Comcast and Time Warner started a project called the NGNA. The idea was to collect, monitor and drive forward the needs of our next-generation networks. Several of the projects that are key to our next-generation needs are now appropriately major CableLabs projects. Many people believe that NGNA is DOCSIS 3.0, but several CableLabs efforts including DOCSIS 3.0, the M-CMTS and downloadable security are parts of NGNA, which continues to look at various next-gen needs. CableLabs and SCTE. Standards and specifications are key to future scalability. They allow various manufacturers to interoperate with common connections and functions, providing the operators with competitive pricing and deployment options. The biggest challenge in developing standards and specifications is continuing to encourage manufacturer ingenuity—the idea being not to take the common denomination of features for a product, but instead define protocols and extensibility parameters. CableLabs is our industry's forum for specifications, with DOCSIS being the premier success. Other projects such as CableHome, PacketCable, OpenCable and Metadata continue to ensure that industry-wide specifications are enhanced and maintained. The SCTE is our industry's forum for standards, with more than 100 American National Standards Institute approved standards in place. As more next-generation projects come on board, including those discussed in the following sections, one thing is certain: They all bring new standards that need to be managed and implemented. Interoperability—ISA Time Warner Cable pioneered interactive TV and VOD with its Full Service Network (FSN) in 1994. Three years later, Time Warner took the information learned with the FSN and created specifications that would enable it to launch digital and VOD with common software, like platforms and financial economies. Time Warner called the specification effort ISA. "After the Full Service Network, we learned that software was—and is—the future of network and back-end flexibility. Therefore, we focused early on open standards through ISA," says Time Warner CTO Mike LaJoie. "This, in turn, allowed many vendors to build products with open interfaces in a timeframe we believed no single vendor could accomplish on their own. ISA confirms the power of open interfaces and TCP/IP client-server technology." Time Warner's Advanced Engineering team, the group that led the ISA development, created a major component called the business management system (BMS), as depicted in Figure 1. The BMS creates a common, open link between different hardware and software vendors. The BMS links application, content management and VOD information with the billing system and the system resource manager (SRM). It enables vendor neutrality and open interfaces.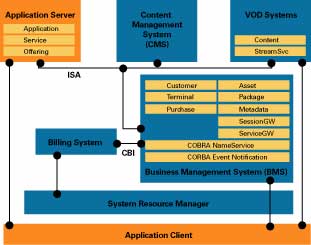 Manufacturing partners of Time Warner can review the set of ISA application programming interfaces (APIs) and fairly easily integrate applications for a Time Warner Cable site. The architecture also enables the easy evolution of individual components, such as the gradual transition of billing systems to being more real-time two-way. Many of the ISA interfaces have been adopted wide-scale. The set-top signaling interfaces, for example, are used by most cable industry implementations across North America. In addition, CableLabs adopted the interface specification that enables VOD delivery and the initial metadata specification for video. Most interesting is how the technology has helped Time Warner accomplish such goals as separating VOD streaming from storage, building a BMS with a vendor other than their server vendors, and launching new services such as Start Over TV. Interoperability—NGOD More recently, Comcast has taken a lead in defining interface definitions, as well. Comcast has named the effort NGOD. (See Figure 2 for numbering and depiction of NGOD specifications.)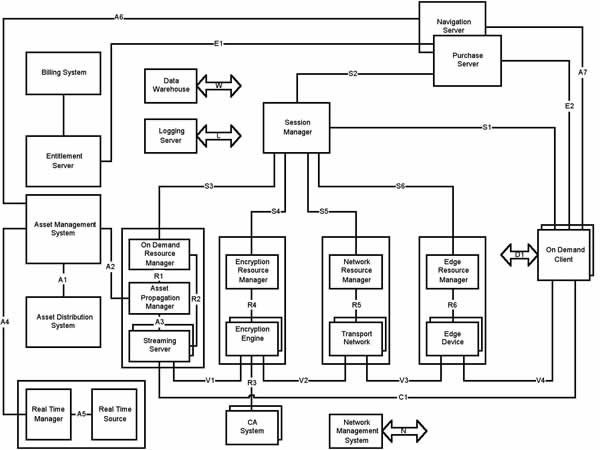 Although the name NGOD includes `on demand,' many of the interfaces actually standardize the interfaces to non-on-demand components. The goal of NGOD is to enable Comcast networks to scale easily. Many next-generation network goals require various network components to talk to each other in one consistent manner. This is exactly what NGOD describes. If each component has the same physical and logical interface to control and access a QAM modulator, for example, then Comcast can easily launch new services that need to access QAM modulators. A bit more complex is the management of all of the applications and network components. Therefore, NGOD also describes components that will manage data capacity, entitlements, advertising management and more. "The key is intelligent resource management, having a control plane that manages these resources," says Comcast CTO David Fellows. "The goal is to have a services delivery platform that enables us to quickly deliver services and offers us flexibility with voice, data and video." Comcast's control plane is an application-enabling platform called Bedrock, developed in collaboration with partners such as JacobsRimmell. Beyond a flexible software platform, what Comcast is focused on is interesting and appealing applications: In October alone, Comcast had 150 million VOD streams, of which 30 million were launched via clicks on their portal application. Next-gen and quad play The popularity of such applications is an appropriate note on which to end this survey. We have focused here on the technology advances in our network components, but the future also rests upon consumer demand for the industry's four core businesses: video, data, voice and wireless. As the Sprint Nextel joint venture with a consortium of cable operators demonstrates, the industry at large is poised to become a genuine quadruple-play service provider. How to manage the handoffs between cable and wireless infrastructures is yet another technical work in progress. The overriding goal, however, is clear: not to have each service remain independent, but rather to mix services across multiple devices. "If we do it right," says Comcast's Fellows, "we can have everything run as one network." Having the right platform, in turn, will allow us to come up with the new, creative applications that we—and our customers—will be enjoying in the future that we're now creating. Yvette Gordon-Kanouff is SCTE chairman of the board and SVP of Corporate Strategy, SeaChange International. Reach her at ykanouff@schange.com For more quotes on the industry's next generation network initiatives, see Backtalk. Sidebar The In-Home Network Whether it is DOCSIS 3.0 or advanced compression algorithms, methods for improving bandwidth efficiency and flexibility reach down into the home, which has become an increasingly complicated endpoint. "It's not just the network and digital rights management (DRM); it's getting content and features from the TV to the PC, from the telephone to the TV to the PC, and more," says Charter Communications CTO Wayne Davis. Managing more digital services at lower cost points has been a persistent theme in this area. Charter, for instance, was an early champion of enabling various conditional access (CA) solutions to help drive down the cost of the set-top box. Much of that effort has now evolved to an industry-wide initiative on downloadable security, which promises additional CA flexibility and cost reduction. Charter and Samsung are currently working on a "set-back" device that uses both OpenCable Application Platform (OCAP) and DOCSIS set-top gateway (DSG). "The key is having a low-cost set-top," says Davis. That is especially critical if the endgame is, indeed, a digital set-top not only in every home, but also for every TV set. At the same time, the value of a centralized home gateway or media center likewise grows in the face of rising complexity. Davis notes the "unwieldy" scenario of "having 15 devices on 15 provisioning systems, with 15 different installations." Time Warner would like to see an OCAP TV offering, too. Mike Hayashi, senior vice president of advanced engineering, is very clear on this goal, having spent much of his team's time on OCAP and downloadable security. "OpenCable is a major focus for us, as it should be," he says. Optimally, Hayashi hopes for a CableCARD-based OCAP TV running Time Warner's EPG.