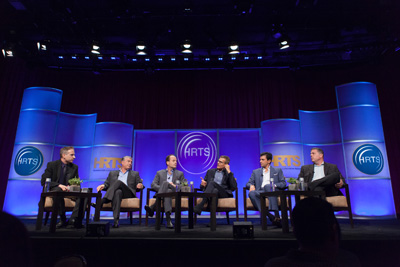 (L-R) Moderator, Michael Schneider, Los Angeles Bureau Chief, TV Guide Magazine;
Ted Harbert, Chairman, NBC Broadcasting, NBCUniversal; John Landgraf, CEO,
FX Networks and FX Productions; Michael Lombardo, President, HBO Programming;
Tim Spengler, Worldwide CEO, MAGNA GLOBAL; Andy Forssell
—
TV chiefs featured Tues at the HRTS luncheon in L.A. seemed to agree on one thing: The TV universe has never been more fragmented, time shifted and incompletely measured. "For those of us who want to sell commercial time, it's becoming more and more difficult to do so," said FX Nets and FX Productions CEO John Landgraf. For example, FX's Season 5 premiere of "Sons of Anarchy" last year got a 75% lift from DVR usage vs a whopping 125% for "The Bridge" when it premiered this July. Sounds peachy until you realize that advertisers only pay for viewing up to 3 days after the live premiere. But Magna Global Worldwide CEO Tim Spengler said measurement must get more granular (tracking which specific commercials viewers watched and when) before many advertisers will consider recognizing viewing for up to 7 days, as many nets now advocate. "As soon as the networks are ready to have that conversation, we're ready to have the other conversation," he said.
NBC Broadcasting chmn Ted Harbert said the measurement mess stems partly from Nielsen's slow progress on multiplatform. "Everybody in this room knows that they're a monopoly, and they'll get to it when they get to it," he said. "It's always coming next year. I hope it comes next year." Harbert also said he hopes "everyone gets a hold of themselves" on retrans disputes, although "we spend so much money on this product that there really has to be fair payment from the MVPDs." He said he was glad he could at least watch CBS ' "Under the Dome" on Amazon Prime during last month's dispute with Time Warner Cable.
One exec firmly under the dome of protection from advertising-related chaos is HBO pres, programming Michael Lombardo. But despite carrying no ads, HBO still relies on ratings to assess shows and gain press attention. So Lombardo marveled that Netflix, which often compares itself to HBO to the chagrin of HBO execs, gets away with not releasing any viewing data. "I didn't know there was an option of not reporting things," he joked.
Acting Hulu CEO Andy Forssell said any issues around binge viewing or cord cutting come down to the consumer experience, arguing that "if you make it easier for people to watch, they'll watch more." He said the industry must devise better multiplatform ad models that go beyond the norm and re-engage with binge viewers (for example, including recaps for viewers who haven't binged for a while). "With a great user experience, I don't think these are problems," he said. "I think they're solutions."
ED NOTE: This article originally appeared in CableFAX Daily. Go here to subscribe.