SDV for the Smaller Operator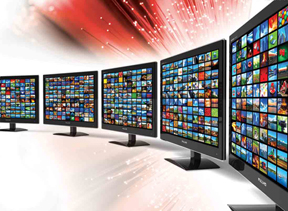 Smaller cable operators are facing a whole new wave of competition from satellite providers, wireless and wireline carriers, and now Internet video providers like Apple and Netflix. Larger companies like Comcast and Time Warner can afford to invest in cutting-edge technologies like plant upgrades to smaller node sizes or deploying Digital Terminal Adaptors (DTAs) and switched digital video (SDV) to free bandwidth.
These technologies traditionally have been too expensive or too complex for smaller cable operators to consider which can be life-threatening because they have not had the economies of scale to profitably compete with new services, says Joseph Nucara, co-founder & CEO at Adara. Cable operators need to be able to support more HD services as well as IP formats that can bring video to smart devices in the home, he adds.
SDV Vs. DTA
Cable operators have three major choices when it comes to preparing their networks to accommodate new services, including upgrading the plant, installing DTAs in every customer's home to free bandwidth or installing a SDV service on top of their existing networks.
Plant upgrades, in which the operator does node splitting to bring service to smaller groups, appear to be the most costly option. Installing DTAs in every customer's home is another viable option, but it requires significant capital investment upfront. A major benefit of DTAs is that they build on the existing broadband cable architecture, making it relatively easy to install and maintain them. One industry analyst notes, "DTAs work well in the short run, but it is not clear how well they will work in the long run."
In the long run, SDV promises the ability to deliver the largest suite of new services because it allows the operator to provide its customers with dedicated video circuits that can carry an unlimited number of channels, video on demand (VOD) services, and other premium video content. One SDV can provide a 500-percent increase in effective capacity, says Adara's Nucara. However, it has not taken off, owing to the complexity of technology that demands new skills around setting up and managing virtual video circuits. Now, though, there are SDV management services that promise to drastically reduce the cost and complexity of provisioning SDV for smaller operators.
Deploying SDV
SDV uses a handful of servers that manage the accounting that goes into taking in requests; figures out what assets are available to be assigned to satisfy the request; configures the connection; sends out messages to the routers and QAM modulators, and to the individual set-top boxes to enable the connection; and then provides oversight and management while the connection is active. When the session ends, all that information has to be reset and made available for the next request.
Virtual servers made by Adara and others tap into the existing digital two-way cable equipment, and they do all the messaging using the existing infrastructure in such a way that all the sophisticated and complex management is done in the cloud.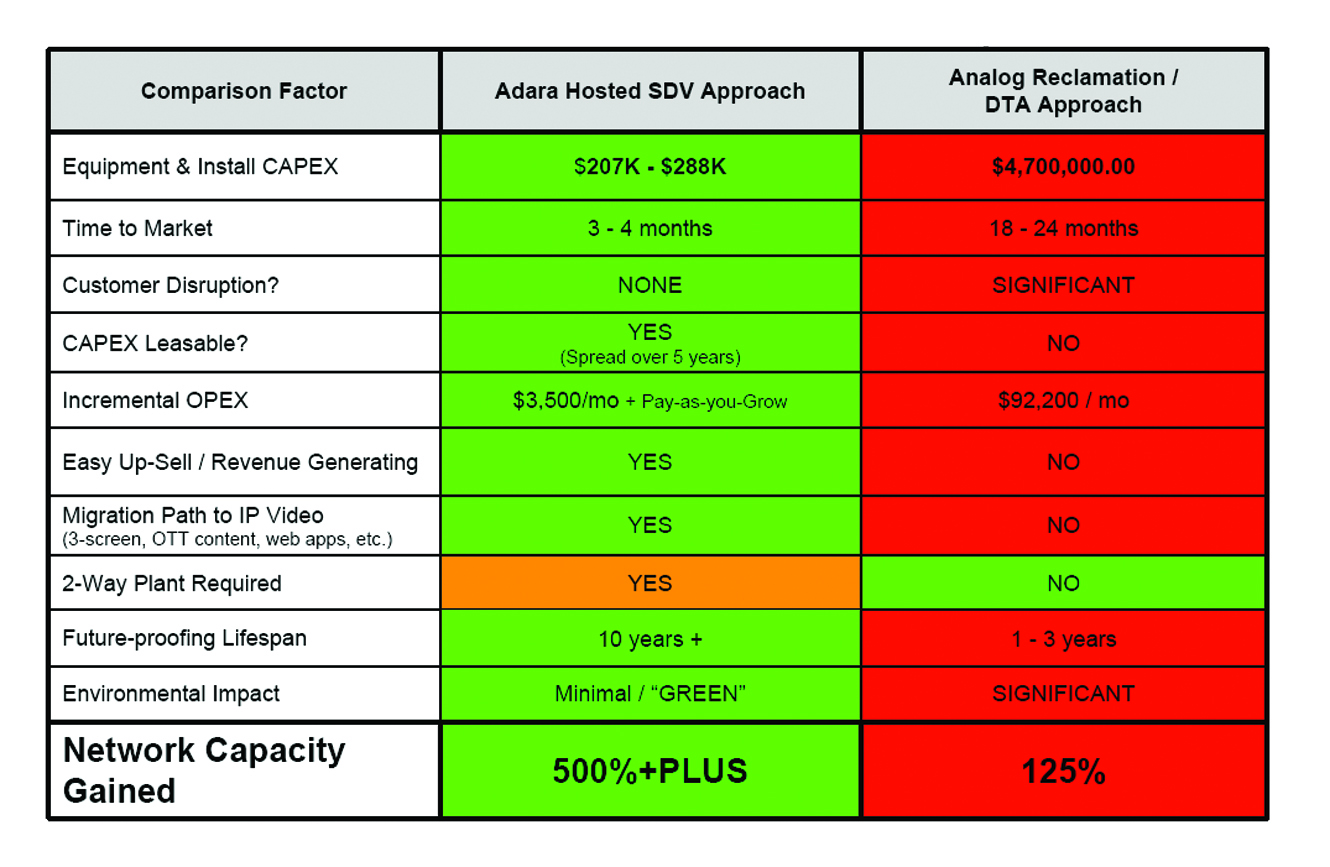 Smaller cable operators may want to consider a hosted SDV approach rather than a more expensive DTA option when searching for more network capacity.
Gerry Kaufhold, principal analyst at In-Stat, says one deployment approach is to carefully analyze which service groups connected to the physical plant are using the most bandwidth and then begin a trial deployment of SDV into those "heavy user" neighborhoods. This basically begins the process of deploying SDV throughout the entire plant, which is more of a futureproof approach than deploying the converter boxes. However, many smaller cable operators need to get more training and professional education to become capable of managing the dynamic nature of SDV.
Another approach is to outsource to a third party that hosts the SDV as a managed service. Many companies provide these capabilities to smaller operators in a way that the operator only has to pay for those end-user subscribers who actually want the upgraded services.
Kaufhold believes the combination of SDV and DOCSIS 3.0 infrastructure actually futureproofs a cableco through about 2023, and he cites some of the in-depth presentations from ARRIS, Cisco Systems and Motorola that were part of the 2011 SCTE Cable-Tec Expo Capacity Management Symposium.
"If they are correct, then today's HFC plant is actually much more robust than most people think it is," he comments. "The immediate benefit of moving toward SDV is the ability to add a lot more linear, digital, high-definition TV channels into the line-up, which is a key consideration for smaller cable operators that are facing stiff competition from the satellite services, which are touting 100-plus HD channels."
Cable Cable Dives In
In 2008, Cable Cable, an operator with 4,200 subscribers based in Ontario, Canada, launched a SDV service using Adara's hosted solution. Michael Fiorini, general manager, says, "It was a no-brainer; it allowed us to increase the capacity of our system. We could provide more and as much VOD content as possible. Being a small system with budget considerations, we approached Adara, and they had a hosted solution."
One of the biggest challenges in moving to a SDV architecture lies in grooming the signals to support IP in the headend, which is a precursor to most advanced digital services in general. Cable Cable had made this transition prior to its decision to bring in SDV. Fiorini notes that when Cable Cable started the project, it already had about 40 percent of the platform in place, which made the SDV upgrades go easier.
This upgrade had been part of Cable Cable's long-term goal of getting away from using a satellite feed and supporting the larger SD and HD channel lineup available via an IP connection from Rogers TV's local video feed. This has allowed Cable Cable to grow from 150 SD and 20 HD channels to 300 SD channels, 100 HD channels and 12 VOD channels. Cable Cable licenses the rights to distribute these channels through a joint agreement facilitated by the Canadian Cable System alliances, which manages contracts negotiations between smaller cable operators and program content providers.
"Traditionally, the hurdle was finding the capacity. With Adara, the hurdle is the time it takes to get the contract for new content signed," Fiorini says.
Adara's hosted video services use a cloud-based Internet connection to address the complexities of provisioning and managing virtual channels. Fiorini explains it would have been too costly to try and bring that expertise in house, adding, "We do all of the back-end stuff. They are the system-integration team that provides ongoing management and technical consultation."
The entire upgrade took about five months to complete. At the time, Cable Cable was using Motorola equipment, and it decided to transition to Cisco set-top boxes as part of the upgrade. This helped to provide better integration with Cisco's backend video-services platform.
Cable Cable gradually has been transitioning its customers to an all-digital network as they begin to upgrade to new services. The customer base has grown from being about 25-percent digital in 2008 to about 60-percent digital today.
In sum, Fiorini says the project was profitable very early on because of the relatively nominal capital investment. He advises other operators to do it sooner rather than later, and he believes SDV has not gone further because smaller operators have been concerned about the cost of overhauling the entire system, including the set-top boxes. "But I believe Adara has addressed this issue with an overlay," he said.
Adara recently developed an interface for Motorola set-top boxes, which would allow new operators to upgrade to SDV without switching out existing Motorola set-tops. According to the company's Nucara, "It allows Moto shop operators not to lose to lose a dime in upfront investment."
What About Aria?
Satellite-based EchoStar has developed a platform for smaller cable operators that integrates EchoStar's Aria platform, which was designed for Tier 2 and Tier 3 cable operators, and its SlingBox VOD technology.
Alistair Chatwin, director/Product Development at EchoStar, explains, "Aria does not address the problem Adara is trying to solve. Aria assumes three components exist to operate. First, the network must be all digital. If an operator chooses to use DTAs, SDV or bandwidth expansion, Aria can work. Secondly, Aria expects the cable system to be using a CableCARD solution to secure the linear content. Finally, the cable operator must have DOCSIS deployed; Aria utilizes the DOCSIS infrastructure for set-top out of band communication."
He admits there have been no requests for SDV support in Aria to date, possibly because SDV has been too expensive to deploy for the smaller cable operator.
The Future Of The Channel
Traditionally, the concept of the broadcast linear channel has driven decisions about the types of content to carry and the packages or tiers in which this content is delivered to customers. In theory, a SDV channel could deliver an infinite variety of content over the same pipe without impacting other users.
As SDV infrastructure is deployed, a channel will become more like an option on a virtual menu rather than a physical constraint on the network. According to In-Stat's Kaufhold, "Some people have begun using the term 'program stream' to indicate an actual program stream as opposed to the word 'channel.' In an actual SDV system, a linear broadcast channel is a MPEG-2 transport stream of the program. With SDV, you split your entire number of channels into two ubergroups. You continuously broadcast all of the most popular channels that are likely to be tuned in by everyone on your system. Then you can take all the other channels and put them into the SDV portion of your bandwidth."
He continues, "At the time that the first person chooses one of these program streams, the SDV system assigns it an actual RF channel on the system and inserts the program stream into the MPEG-2 transport stream going out on that QAM RF Channel. The SDV system also tells the set-top box which RF QAM channel to tune to and which of the program streams to decode. The next user who wants to watch that program has their set-top box told which RF channel and which transport stream to tune into and decode."
With all of the video available on the Internet, people now are bonding with content and not with channels. "So instead of supporting up to 1,000 linear program streams (channels), it's more likely that we'll see 1,000-plus individual program streams needing to be supported," Kaufhold explains. "The statistics go back to the traditional 'how many simultaneous unicast streams can a VOD system support?'"
The key challenge is to define which neighborhoods and service groups will be upgraded to SDV first, he notes, but then cablecos must continue monitoring all of their systems with the plan being to continue to upgrade during a period of several years. The final challenge is that the engineers in a smaller system need to become quite adept at managing the bandwidth for each service group so that they can identify where to begin and then continue to identify where to grow.
Channel Bonding
This is where the DOCSIS 3.0 channel bonding becomes important. With eight RF channels bonded in DOCSIS 3.0, a cable operator can support more than 300 Mb/s of downstream IP video using Adaptive Bit Rate (ABR) streaming. With intelligent multiplexing, the operator can deliver more than 300 program streams through this kind of pipe.
Kaufhold expects that the transition to SDV could help to re-invigorate the "localness" of video programming.
"We've already seen a dramatic increase in the amount of high-school and smaller college sports coverage coming from local cable-TV operators. Coincidentally, the proliferation of new video-production tools for the Internet video industry will enable smaller operators to create even HD and 3D content locally, on a small budget," he says. "But in order to support additional local programming, you have to move toward SDV and DOCSIS 3.0 infrastructure, because the more choices you offer consumers for programming and content, the better you need to manage your bandwidth."
But this new world also may bring new complexities to content negotiations for cable operators ( see "Reality Check" on page 23). Concludes Kaufhold, "The content owners are in the process of negotiating rights for their content by device, so the legal-rights issues will take many years to sort out. The content rights are not a deal breaker, but they are a deal delayer, which is actually good for smaller operators because that gives them some time to get the early phases of their SDV infrastructure rolled out."
George Lawton is a freelance technology journalist and a frequent contributor to Communications Technology. Contact him at glawton@gmail.com.