Q&A With iN Demand's Stacie Gray, Part 2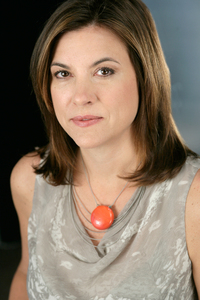 iN Demand's Stacie Gray
Here's Part 2 of our Q&A with iN Demand's Chief Creative Officer Stacie Gray on the company's marketing campaign around the 2012 awards season. Here's Part 1, in case you missed it.
You include Great Oscar Moments on MOD, too. Will you be adding moments from last Sunday night as well?
No, they are just from past Oscars.
So you're limited to certain "moments?"
The rights holder is the Academy, and they have the best understanding on what their rights and clearances are on clips, but my understanding in negotiating our partnership with them is that they have the rights to use these clips as long as they're promotional. Once the show has aired, the clips would no longer be promoting Academy Awards broadcast. They sent us a wide range of clips and we selected ones for this year.
The partnership is something that our owners had a high interest in for several years. We were able to successfully negotiate that partnership this year and get that content exclusively for cable both on a set-top as well as online. So that's something that In Demand and all our owners were really excited about. The Academy was wonderful to work with and we're looking forward to an advanced partnership next year.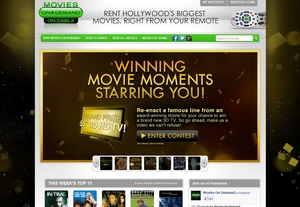 Rentmoviesondemand.com features a contest in which
fans can react their favorite movie moments.
How is Movies On Demand important for indie films?
It's important for a couple of reasons. One is that many people across the country don't have access to independent films. Not every city has an indie movie theater. Movies On Demand carries a very wide range of independent films, and it's in everybody's home. It's bringing the art house to your house, so to speak. And I think filmmakers are recognizing that it's a very powerful platform for premiering titles as well. We're seeing more and more indies coming and premiering pre-theatrical on our platform. It's very high value to have those early windows.
What kind of windows are you dealing with?
It varies. For each title the studio decides. Some studios across the board have earlier windows… and some studios decide based on title. There are very few—sometimes with a family title—[who] distribute to home video a week or so before movies on demand. So there's sort of a range. But more so than ever, we get movies the same day as DVD, or even ahead of Netflix and Redbox. In some cases it's even more than a month [ahead].
Is there anything you've learned from the campaign so far? Anything you'd do differently?
I'm excited that we tried some different things in this awards season—digital, out-of-home—we're definitely going to look closely at how we feel that performs and then we'll try to replicate that success next year, and maybe do even more of that kind of thing. Last year it was In Demand that did a big digital media buy with Entertainment Tonight, IMDB and TVguide.com. We did site takeovers and sweepstakes—it was very effective. We were then able to share that plan with the full TMOD group [CTAM's cooperative Movies On Demand marketing campaign], and then they replicated that with their dollars this year. We try things and then when we see things are successful, we bring those models to our owners and to the consortium.