If you're obsessed with ABC Family's "Pretty Little Liars," which wrapped its 4th season last night, you're certainly not alone. Millions can't stop talking about it on Twitter—and that has largely secured the show's runaway success. It's by most measures the most tweeted about show on TV. Sure, the social media craziness around Liars is perhaps unsurprising, considering its millennial audience and the series' ambiguous storyline that includes an anonymous bully named "A" and myriad other plot twists and turns. But Liars has taken its embrace of social media to new levels. And producers seem to revel in creating a soapy vortex of perpetual peril that fuels an insatiable gabfest across the vast social media water cooler.
"It's so organic to the show, it's always been a great thing," exec producer Marlene King told me during a Paleyfest event last weekend to promote the finale. "And early on, we embraced it and we went with it. And now the social media aspect of the show is almost a character in the show. It's its own persona, it's amazing."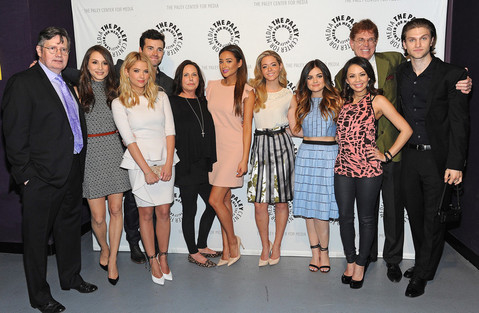 Even better for producers and ABC Family: Obsessed fans tend to tweet to each other live during the show's linear airing, only increasing live tune-in. "The OMG and WTF moments are so shocking, I think people want to reach out to other people and talk to them," said King. "People are talking about it as it happens instead of at work the next day or at school the next day." As fellow exec producer Joseph Dougherty told me, the live tweeters are "part of a live community… So social media, which has been accused of fragmenting the audience, in our particular case has actually brought the audience together. I think it's a burgeoning metric to gauge the success of your show."
To be sure, the constant guessing about "A" was almost tailor-made for the social media age. "The show has capitalized from day one on the anonymity of the bully and being tormented via electronic media," said exec producer Oliver Goldstick. "So the show was already presenting this as a construct."
Actors on the series are of course instigators as well, even live tweeting with fans when the shows air. "It's pretty unbelievable," said Keegan Allen, who plays Toby Cavanaugh. "We all started on this show not knowing what it was going to do in social media, and now we have like the Batcave where we're all tweeting. It's this huge room with tons of computers. So I think it definitely was right for the era and right for the age, and it started with the new generation. It's really exciting."
The fans ultimately feel vested and involved, said Sasha Pieterse, who plays Alison DiLaurentis (a character thought to be dead until she was revealed to be alive last season). She said they're "like little investigators" who try to one-up each other with their theories and ideas. "It's crazy," actress Lucy Hale (Aria Montgomery) told me. "Every episode and every finale, the fans of the show continue to top what they did previously… It just goes to show the power of social media." As for all those record setting benchmarks, Hale jokes, "I think Ellen had us beat on the Oscars, so maybe we can top that. We'll see."
Of course, the whole social media thing can also become a bit overwhelming. "It's like any sort of progression in technology or this industry at large—it's a double-edged sword. It means one thing and you lose something else. For instance, privacy," said Ian Harding, who plays Ezra Fitz and whose character was shot last night on the season finale (A top trending hash tag today is #IsEzraAlive). And for actors used to always having a well-written line, knowing what to share can be nerve racking. "If you say the wrong thing, it can really affect you," he said. "I try not to tweet articles that are in any way political while simultaneously I don't want to tweet, 'Ah, man. I had waffles.' Because ultimately who cares? Do I want to read that? No, I don't want to read that. So it's a wonderful tool to connect to fans… but it is something that's making me a bit weary."
That goes double for Troian Bellisario (Spencer Hastings), who told me that only recently she has re-assessed how much she shares with fans. "Honestly, it's so great to be able to hear from the fans and to be able to connect with the fans, but I'm sort of an old fashioned person, and I believe that a very important thing for an actor is to maintain a veil of mystery," she said, noting that some fans even have difficulty separating her from her character on the show. "When fans watch the show, they see me as Spencer. And I have this Twitter account in which I'm Troian. But really, they still call me Spencer. They still refer to me as Spencer and ask, 'do you still hang out with the girls.' So you don't realize that I'm an actor.
It's not even scary. It's just interesting that there's this expectation that I'm going to share certain aspects of the personal, and I especially this year just got to a point where I said 'this is my personal life, and it feels very strange having you guys know about stuff'." But while she sees social media as "a slippery slope," Bellisario said "I think it has made our show what it is, so I definitely never turn my nose up at it… I've had some incredible interactions with fans because of social media, and I'm grateful to it for that."
As Pretty Little Liars rolls into Season 5 with all the mystery and unanswered questions fans have come to expect, creators can at least rely on one social media sanctuary: The Writer's Room. "The social media, at least for me, doesn't impact the type of storytelling we tell," said Goldstick. "We have to keep ourselves in the writer's room as wanting to watch the next episode and find out where it's going. So we've been spinning plates for a long time—99 episodes now—so I think our job is to mainly to keep this mystery interesting. It's a challenge. It's a tall order."