On the Set of IFC's "Comedy Bang! Bang!" Making It Up… For Laughs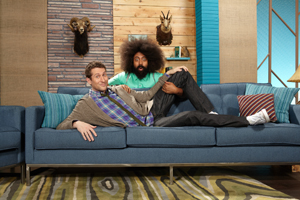 TV PALS: Host Scott Aukerman (front) lounges
with the talented Reggie Watts.
Comic writer/actor Thomas Lennon stares at a large wine spit bucket, his improv-trained brain churning as he tries to figure out how to heighten the scene. After two takes as an obnoxious but seemingly knowledgeable French wine sommelier, his punchline has been dipping a wine glass into the bucket and drinking from it. It's funny (and of course disgusting). But it's not enough. Director Ben Berman asks for another take as Lennon nods, eyeing the bucket as if it were his comedy nemesis. But then something clicks. He does the scene again and, without warning the crew, suddenly submerges his entire head in the bucket as if bobbing for apples and comes up completely covered in red liquid, smacking his lips. Mmmm, 'tis gooo-oood… The crew struggles not to laugh for fear of screwing up the take. Now Lennon's on a roll. Before long, his character has lost complete control, at one point turning around to pee in the corner. "Oh, I'm sah-ree," he barks dismissively in a drunken French accent. "I d'eed not know 'zis was 'ze White House!" By the time Lennon pretends to pleasure himself under the counter, it's finally time to declare victory and yell "cut." Uproarious laughter ensues, and it's on to the next bit with the next guest star.
How much of this will get into the episode of IFC's newest alt-comedy show "Comedy Bang! Bang!" (premiered June 8, 10p ET) is anyone's guess at this point in the production process. But show creator and host Scott Aukerman may want to consider letting the wine sommelier sketch play out in real time, at least for the DVD extras. And it's only one of several insane bits packed like sardines into every episode. What's perhaps even more amazing about this quirky series by the network that brought you equally absurd "Portlandia" is that its take on the human condition is largely made up on the fly—with big-name guest comedians and actors improvising their way to hilarity.
But as the show wraps up its initial 10-ep shoot, consisting of many long days in a cramped but cozy Hollywood studio, no one's complaining—especially Aukerman, who describes the experience as "comedy Christmas." And that's pretty accurate considering that the well-respected comedy writer and producer was mostly a podcast sensation before getting a bona fide TV show starring himself. And he didn't even have to beg. "The interesting part is that I never pitched the show to them," he says. "They pitched it to me. They were all fans of the podcast. It was a really bizarre process of me not expecting something and being given a huge gift."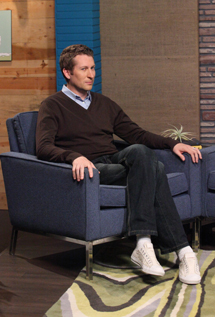 COMEDY STARE: Aukerman glares at
the camera. We're not sure why.
Of course, Aukerman didn't come out of nowhere. Bob Odenkirk, co-creator of HBO's 1990s comedy series "Mr. Show" and who these days plays sleazy lawyer Saul Goodman on AMC's "Breaking Bad," gave Aukerman his first big comedy gig as a writer and occasional performer. There he became entrenched in the alt-comedy scene, and has most recently produced the hilarious "Behind Two Ferns with Zach Galifianakis " for Funny or Die. As a result, Aukerman cemented relationships with countless comedy A-listers, adding them to his already bulging rolodex. It's all paying off for Comedy Bang! Bang!, as the show continues to attract top-rate comedic talent willing to endure long hours on the couch in what Aukerman describes as "mock talk." In other words, it's a fake talk show—but one in which any zany question or subject Aukerman brings up requires a "yes-and" response from the guest, who usually has improv training. "There's a level of comfort I have when say Paul Rudd sits down across from me," Aukerman says. "I know that if I lob out something about him starting on the broadway stage, he's not going to say 'No I didn't.' He's going to take that and run with it, and be incredibly hilarious with it."
To be sure, those who sit on the couch during the 1st season reads like a who's who of alternative comedy: Along with Rudd, there's Amy Poehler, Ed Helms, Michael Cera, Seth Rogen and yes, even Weird Al Yankovic, along with more serious thespians like Jon Hamm and Elizabeth Banks, who also just happen to have considerable comedy chops. "Because it's improv, there's a certain amount of authenticity to it where it doesn't sound like it's scripted or faked," says Aukerman.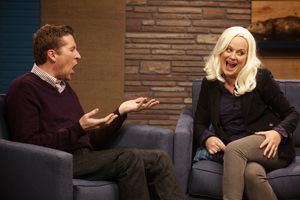 IS THAT A WIG?: Amy Poehler plays along with Aukerman,
but won't admit that she's follically enhanced.
For IFC, Aukerman brought the perfect mix of experience, intuition and industry contacts. Execs first tapped him to do 1-minute talk segments for IFC in which some of his comedy friends could talk about acquired IFC content like "Arrested Development." But during that process, execs also got more and more addicted to his "Comedy Death Ray" podcast, which essentially became a model of sorts for his new IFC show under the CBB banner. "I fell in love with him," says IFC svp, original programming Debbie DeMontreux. "I really think he has such a unique, fresh comic voice… it was the kind of alternative comedy that we were looking for at the time. We're always in a constant state of development, and while shopping the marketplace looking for projects, we thought there's somebody right here under our roof who we already admire and respect and who has an amazing network of friends and people he works with on a daily basis." The rest, as they say, is history.
As for whether CBB will get a Season 2, DeMontreux says "we'll see how the show does" but notes that she's definitely a fan of what Aukerman has created. "There wasn't a ton of micromanaging or hand holding on the creative," she says. "We really did believe in Scott and on his vision. I don't necessarily see any place for improvement."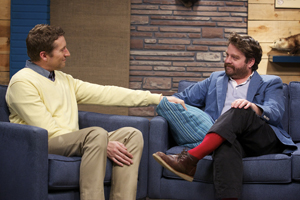 BETWEEN NO FERNS: Aukerman and Zach
Galifianakis discuss talking dogs.
On set, the mood is casual but also somewhat hurried. Segments are packed one on top of the other, with very little time to set up or tear down. After Lennon finishes his wine sommelier guest spot, the crew immediately starts lugging a camera rig out to the parking lot next to the studio where another guest star, none other than Susanna Hoffs of "The Bangles," leans up against the concrete wall tuning an acoustic guitar. She's on hand to do a quick segment in which a wayward boom mic (just go with it) travels around the city taking in the sights and sounds. And there's Hoffs, apparently reduced to playing Bangles hits like "Eternal Flame" on a street corner as passers-bys (who in this case appear to be CBB crew members) drop change in her guitar case. The segment takes less than 20 minutes, and then the crew's immediately tearing down rigs again while the director ushers Aukerman back into the studio for the next segment—this time featuring comedian and musician Reggie Watts, the only show regular other than Aukerman and a sort of one-man band who plays a pseudo-sidekick role. At one point, Watts tells Aukerman he wrote a song about him, to which a flattered Aukerman cajoles him to play it. It starts out sweet enough but then turns into a rant about how much he hates the host, ending with "I don't see any value in you being alive." A clueless Aukerman just stares at the camera wide-eyed and declares, "I'm gonna be a star."
One thing that probably won't come through in the edited version of the show is Watts' musical improv chops. No matter what theme, word or phrase anyone throws at him, he's able to turn it into an instant song using the elaborate electronic rig at his fingertips. And in take after take, he's able to churn out highly variable mixes and sounds until he gets it right. Thankfully for this tight production, it usually doesn't take long. Aukerman and Watts have a nice rapport, and their outwardly friendly demeanor makes it all the more humorous when Watts' innocently sings about his wish that Aukerman were dead.
Of course, it's also just another example of the dark sensibility that emerges from this alt-comedy parallel universe. It's out of the mainstream for a reason. In one episode featuring Amy Poehler of "SNL" and "Parks & Recreation" fame, for example, Aukerman opens the show with a special message dedicating the episode to a crew member who died during filming. It seems completely legit until you start watching and realize it's part of a sketch in which the crew member puts himself in ridiculously dangerous situations (like trying to fix the fuse box while standing in a water-filled kiddie pool with a poisonous snake swimming around in it). It's all part of alt-comedy's celebration of absurdity and self-destructive cluelessness that exposes the irrational zeitgeist fueling modern society. Then again, that's probably the exact kind of pointless analysis that Aukerman and his cohorts would poke fun at. So never mind.