NCTC Conference – The Digital Path Forward Amid Cable Consolidation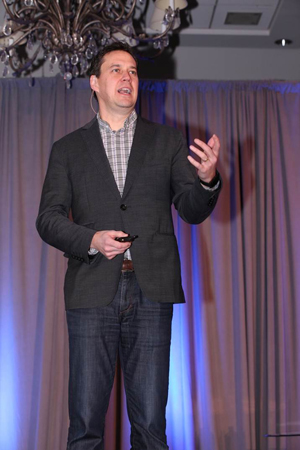 Forrester Group's James McQuivey, vp, principal analyst

For many attendees, NCTC's annual Winter Conference is a nice escape from the snow. Lots of sunshine and the 70+ degree temperature means people didn't mind that the Tampa-based conference started on the Presidents Day (runs through Tuesday). As expected, the Comcast/Time Warner Cable merger was one of the most talked about among attendees. Though many mid-sized and small operators are taking a "wait-and-see" approach, the deal highlights the urgency for NCTC companies to integrate over-the-top video, several attendees told us. Vendors demonstrating at the conference, including Arris, Roku, Harmonic, and Rovi, seemed less worried as a few of them viewed the deal as positive in the long run. And James McQuivey, vp, principal analyst with Forrester Group, provided additional guidance during his presentation Mon.
The deal is more than just about becoming bigger, it's a digital disruption, McQuivey said. "When you have a large footprint, you are probably thinking outside your footprint," he said. The deal is about "Comcast thinking long-term and outside its footprint," especially in light of Verizon FiOS' recent purchase of Intel's IPTV service, he said. With its cloud-based X1 platform and its own Content Delivery Network, the MSO is in a better position than its competitors to launch a virtual video service outside its footprint and as McQuivey suggested, the acquisition of TWC would help lay the foundation for a nationwide OTT launch.
To stay competitive amid major industry consolidations and as TV transitions from legacy systems to digital platforms, operators could take some lessons from the 5 platforms hoping to fold TV into their domain: Facebook, Amazon, Apple, Google and Microsoft. McQuivey said Amazon is reportedly looking to take on entertainment/media devices like Xbox One, PS4, and Apple TV with its own console/set-top box. There's a common theme in these companies' entry into TV: "They build platforms for consumers and open it up to developers to enhance consumer experience… In the end, they benefit from it financially and gain relationships with consumers." To these companies, "TV content is a consumer connecting tool," especially since many of today's younger viewers use Internet-connected devices while watching TV on a TV set, McQuivey said. Going forward, the analyst believes "video will increasingly be used as bait" to expand customer relationship and sell more services. By getting more consumer time on their services on a daily basis, these 5 companies can more effectively retain existing customers, he said.
One way to expand beyond the existing footprint and retain existing customers is through offering smart home services. "The future of digital home services is really about more of a connection-based, relationship-based home," McQuivey said. Instead of offering complex home automation/monitoring packages, an easy way in, especially for newcomers, is "a quick, simply, self-installation solution" like digital door lock, "an unsung hero in home automation," he said. In addition to locking doors remotely, digital door locks allow users to receive remote notifications when door lock is accessed and check lock status remotely. He expects to see a proliferation of door locks this year.