Mobile Ads: Targeting The Captive Viewer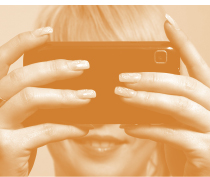 With convergence happening for real, it's now necessary to learn the jargon and lingo of related but no-longer-separate industries. Here are two new terms from the wireless industry: "on-deck" and "off-deck." On-deck refers to the wireless carriers' default page on a mobile phone. Anything that's not "on-deck" is "off-deck."
"If you had a Sprint feature phone and you opened the Internet on that phone, the default would take you to a Sprint page," says Lisa Abramson, marketing director at Rhythm NewMedia, a mobile ad company. "But, the huge growth is in off-deck."
Question: Why is on-deck or off-deck important?
Answer: Because it has to do with who makes the money. Carriers make money from ads on-deck. But they get left out of ad revenues off-deck.
Here's a description of ad revenue business models in a nutshell: Traditional TV advertising provides revenue for content owners and video distributors. Internet advertising provides revenue for content owners and for such search-engines as Google and Yahoo!
When mobile advertising first began, it provided revenue for content owners and cellular carriers. An example would be Sprint's on-deck default page, mentioned above. Another example is Verizon's on-deck "V Cast" video-on-demand (VoD) service, which allows Verizon Wireless customers to watch movies and TV shows on their smartphones. Advertisements are included with these shows from which Verizon makes money.
But it didn't take long for content owners to realize they could bypass carriers and offer their content directly to consumers, thereby not having to share ad revenue. It's similar to the struggle for ad revenue in TV Everywhere offerings. Comcast encourages its subscribers to watch online video of their favorite cable channels at Xfinity.com. But consumers also can go directly to the Web sites of the cable networks to watch some video.
For mobile advertising, the business model is evolving. The ad money is flowing directly to content owners and also to such ad networks as Rhythm NewMedia, which brings together advertisers and content owners. The carriers increasingly are left out.
"The content providers – like ESPN and Disney – have gone out and fielded their own services," says Karen Brown, One Touch Intelligence's senior director/Communications Industry Intelligence. "On-deck used to be more prevalent. You had these walled gardens, and carriers could corral people into these."
How Mobile Ads Work
Mobile ad networks bring together advertisers and publishers. Some examples of Rhythm NewMedia's publishing clients are CBS, E! Online and Discovery Channel. Some of its advertisers include P&G, Best Buy and AT&T. And the number of mobile ad networks continues to grow, with such names as AdMob, Millennial Media and InMobi.
As far as video distributors are concerned, they may not be getting a huge chunk of the mobile ad pie, but they are some of the biggest mobile advertisers, leveraging mobile to get the word out about their services.
Abramson says a key difference between mobile advertising and TV or online advertising is the completion rate for watching the ad. "When you're watching the video ad before the show (on mobile), you're completely immersed in that experience," she explains. "There's only one ad on the screen. People stick around and watch it. The completion rate for watching the ad is 88 percent."
Consumers often use their smartphones to go to specific Web sites where they're likely to watch videos and see advertisements. For people particularly interested in specific content (for example, ESPN), there's a trend for them to download an application from those sites for quicker, easier access. It's no secret consumers are flocking to Apple's App Store or Android Market to download free apps for their favorite sites. "A lot of the usage is in applications today," says Abramson. "It's an easy access link to keep returning to. Apps can do some things that mobile Web sites can't do."
Typical mobile ads include banners and full-screen ads as well as video advertising; these ads can come into play at an app launch or pre-roll before a user watches a video clip. The pre-roll ad before video content, as previously mentioned, is the most effective, with the 88-percent completion rate.
Rhythm NewMedia's technology involves "a pretty complex real-time stitching of the ad and the content," says Abramson. "As soon as the user clicks to play on their phone, we send down the ad and video together in real time. It's challenging to play across different screen sizes and serving the appropriate resolution of file based on network speed you're connected at. You have to recognize the network and device."
Many Devices, Platforms
At the CTIA show in March, ZOS Communications won first place in the "Enterprise & Vertical Market Solution: Mobile Marketing & Advertising Category." ZOS' Mobile Marketing Console creates a location-based platform that works on all smartphone operating systems, with all carriers and with location pinpointing.
ZOS' technology uses an "over-the top" hybrid location solution. Advertisers can schedule the start of a campaign, select a location or geo-fenced area and initiate the triggers that deliver content. A variety of content formats — including imagery, attachments and hyperlinks — are delivered into a ZOS-enabled mobile application.
"The GPS on phones isn't that strong," says ZOS CEO Jon Ziskind. "They don't have the battery power or antenna strength to be all that great. We use the phone as a sensor. We use the cell tower or Wi-Fi the phone's connected to to set the GPS. These points get sent up to our cloud to give a precise location.
"You can now do heavy processing in the cloud, where the phone doesn't get touched at all. You can create geo-fences: digital fences around locations, for example a store. As you enter a store, your phone triggers content (such as a relevant ad)."
According to Ziskind, there are some 10 primary smartphone operating systems, including the familiar iOS, Android, Windows, RIM and Symbian. In addition, he says ZOS technology covers 176 unique carriers in 160 countries. "Our 'kumbaya' moment was when we stopped fighting industry fragmentation and instead embraced it," he adds.
On-Demand Is Key
Unlike the majority of cable-TV programming that is linear, most video on mobile phones is on-demand. One-Touch's Brown says mobile advertising often is placed before or after video clips, and sometimes there are interstitial ads.
"There are limitations with screen size," she says. "You're dealing with everything from a little feature phone to an iPad2, trying to deliver content across that spectrum. Ads that look impressive on a large screen may lose some effect on a small one."
Michael Becker, North America managing director at the Mobile Marketing Association, says, "Advertising is a key function of mobile marketing, but marketing is so much bigger." For example, advertisers can place a mobile call-to-action in their cable ad. Different mobile advertising paths include SMS, email, voice channels, Web pages, applications and geo-location.
"I can market through those media paths to interactively engage with the consumer directly," says Becker. "If given permission, I can send a text message directly. I can use (mobile) as a means of interactivity with traditional media or directly engage."
Can Cablecos Play?
Because the majority of video on mobile phones is on-demand content and cable has a lot of VoD content, it naturally follows that there is a place for cable in the mobile-advertising world. Some of the most valuable cable assets are existing relationships with content providers and with subscribers. In Canada, where the wireless carriers often are the cable-TV provider, in-depth subscriber knowledge is a "slam dunk" for sending and targeting ads to mobile customers. But is it just transferring the existing ads over to a mobile platform?
Malcolm Stanley, general manager/Monetization Business Unit at SeaChange International, says there are opportunities for cable operators to make money with mobile advertising, but there also are new challenges.
"On wireless devices, you're not showing so many long-form movies; it's more short-form, prepared clips," he explains. "In that context, it doesn't make sense to have a 60-second ad. With VoD content, there's a nomenclature there. You're assuming long-form content. When making an ad placement, you have to think about the content and the device where it's being placed. Then you get into placement systems and targeting systems."
Stanley says delivering a video service to a broad range of mobile devices requires support for a number of delivery protocols, video formats and file containers as well as the ability to identify a device, its capabilities and its supported protocols.
SeaChange has experience and solutions for multi-screen TV, especially in Europe, where it operates services for mobile operators. "We support dozens of different types of wireless devices on lots of carriers," says Stanley. "And we have the ability to join forces on the mobile side with what we do on TV." For example, mobile operator 3UK is using SeaChange's Adrenalin software to deliver advertising for its ad-supported VoD service called "Free Stuff."
Linda Hardesty is associate editor at Communications Technology. Contact her at lhardesty@accessintel.com.