Mad Men – Packing A Lot of Truth Into A Day's Work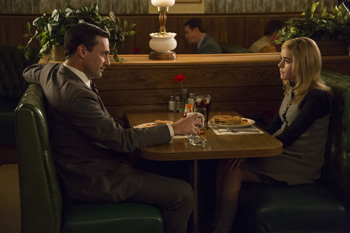 Watching ep 2 of the final season Sunday night—AMC no longer distributes Mad Men in advance to critics, making writers' Sunday nights and Monday mornings a bit like Don's predicament, loafing in bed, pass the Ritz crackers, please, and don't mind the roach crawling in the corner—it was interesting to see how many themes we noted last week figuring prominently in this week's A Day's Work.
The ep also featured extreme lows and highs for Don; amazingly, the high occurred when he was telling the truth, something he's done rarely in this series.
The More Things Change…
We noted last week that creator Matt Weiner wanted to emphasize that no matter how progressive things seem to be getting in 1969, there's still a long road ahead for women and minorities. Yes, Dawn calls her new boss Lou Avery by his first name—she always referred to Don as Mr. Draper—and Peggy and Joan have leading positions at SC & Partners, yet several scenes this week drove home the point that while things had changed, inequality remained.
A New Dawn
Note the scenes with Dawn—which got actor Teyonah Parris more screen time than ever, a very welcome occurrence, by the way. Bert Cooper, in a very carefully-worded appeal to Joan, is dismayed by Dawn's appearance at the reception desk. "People can see her from the elevator," Bert exclaims to Joan, totally ignoring the fact that the previous receptionist, a white woman, has the brainpower of a walnut. But Joanie, now a partner and a bit of a progressive, but only a bit, wonders for effect if Bert is intimating that she should fire Dawn due to "the color of her skin." Of course not, Bert says with a smile, just re-arrange your re-arranging.
As we know, Dawn and Joan get the last laugh, as Dawn is elevated from her position as an executive's 'girl' to a personnel job with her own office. We're not sure at this point whether Dawn handles the full portfolio of head of personnel, one of Joan's old jobs, or whether she reports to Joan or someone else, but at least one of SC&P's most serious employees—and a black woman—has an office.
With Dawn and Joan moving up professionally, this gives Weiner a chance to enlarge his canvass when illustrating the demands of balancing career and personal life that women struggle with as their professional profiles rise. Dawn is no longer someone's girl in the typing pool. She'll now inherit the headaches of running the personnel department. Joan will be asked to reel in and manage clients. The plight of the career woman was beautifully illustrated again last night through the tribulations involving the character of Peggy.
This ep was particularly effective—showing Peggy's refusal to acknowledge her roots as she heaped totally unfair abuse on her comely secretary Shirley, much as old man, old-school and relatively clueless Lou Avery dumped unfairly on his 'girl,' Dawn. Peggy's behavior with Shirley showed that women sometimes can be as difficult and clueless in the workplace as men.
Valentine's Day? Humbug
The genesis of Peggy's foul mood on Valentine's Day, and its related bad behavior toward Shirley, can be traced to: her breakup with Abe; her unsatisfactory living arrangements; the ended affair with Ted Chaough; and a ridiculously lewd and highly unprofessional jibe from Ginsberg in the elevator. Peggy has plans for Valentine's Day, he jokes; in her calendar on Feb 14 she's written "masturbate gloomily." Ginsburg, man, you need an editor. Peggy's your boss now. But again, we see the state of things; women are bosses, but they still have to absorb sexist guff, even from underlings.
Of course, none of this excuses Peggy's behavior toward Shirley, and she knows that, thus her cringe inside her office after she berates the leggy secretary for "embarrassing" her with the roses. On the other hand, Peggy's not too distressed to demand of Joan that Shirley be moved off her desk.
For Pete's Sake
Yet another incident showing the plight of the working woman occurs with Pete and his girlfriend Bonnie Whiteside. No, it's not when Pete and Bonnie, petting heavily in the darkened LA office of SC&P, are comically interrupted but not embarrassed by Ted Chaough, showing how mellow and indifferent Teddy has become in CA.
The scene we're referring to, though, is the one where Bonnie explains to Pete about losing a house that burned down during escrow. "I could have lived for months on that commission," she tells Pete, who's more interested in hustling her out of the property she's trying to move so that he can move on her in a cabana at the Beverly Hills Hotel. But Bonnie is nobody's fool, although we get the impression Pete wishes she was. She lays out the importance of her work, but puts it in perspective: "I love my [Valentine's Day] flowers, I love you and I love the 15 people who might want to buy this heap." Pete just doesn't understand, insisting his trouble with the So Cal Chevy Dealers Association supersedes any of Bonnie's business dealings. Is Weiner showing us men struggling with losing the undivided attention of their women now that females are in the work world? Or is this just good ol' Pete being self-absorbed? It doesn't matter. Both will do.
Truth Be Told
Last week we also lamented not seeing Sally Draper. Our pleas were answered this week with some wonderful sequences for the character who used to be the voice of truth, and who last evening went a long way toward regaining that title. On that score, when Don asks Sally in his apartment what his note to her boarding school should contain, she says, "Tell the truth." But Don/Dick Whitman, who's made a life for himself living a lie, finally has told the truth, during a meeting with Hershey last season, and has been put on leave for doing so.
In fact, Don has yet to tell the truth about his situation to the business community. Notice how coy he is during the lunch with Dave Wooster of
Wells Rich Greene.
"Maybe I'm doing research," he tells Wooster, who clearly is unsure about Don's professional status. And when Jim Hobart of
McCann
drops by the table, Don says the lunch is "social [not business]…I'm looking for love." A great line since we know love is a loaded subject when it comes to a man who was raised in a brothel.
But back to the truth, what is it about cars, fathers and daughters that leads to great television? Certainly one of
Tony Soprano's most memorable scenes
was in a car with his daughter Meadow as they explored potential colleges in season I of the iconic HBO series. Likewise, in one of the best scenes in the entire 7 seasons of Mad Men, a car trip is the lead-up to Don coming clean with Sally; he was suspended from his job for telling the truth about his upbringing and its relation to a Hershey bar "to the wrong people at the wrong time." Sally, who knows about Don's boyhood home, and a lot more [see Rosen, Sylvia Mrs.], feels for her father. She drops the iciness of her mother and eventually wishes Don a happy Valentine's Day and tells her father she loves him.
But the truth begins with Sally. Her telling Don about the awful connotation his apartment has for her—recall she witnessed dad and the aforementioned Mrs. Rosen in flagrante delicto at that abode. Is this the start of a truth-telling period in Don's life? Don't bet on it. Once he's confessed to Sally, he says he's still in love with Megan (hmmm) and that he calls his wife "all the time" (really?) and visits her (well, once, at least). Can Don change his ways? The low we saw him at in this episode, unkempt, in a robe, eating Ritz crackers in a sloppy apartment, could push him to try. A good start might be telling his wife that he's been suspended. Just saying…
Notes:
There's Something about Mary:
The Mary referred to during the lunch between Don and Dave Wooster is
Mary Wells Lawrence
, the ad maverick who co-founded Wells Rich Greene and was the first female CEO of a company listed on the NYSE. Again, a sign that women had come a long way but had far to travel is that Mary's skill is referred to with respect during the lunch—the firm is credited with several famous
Alka Seltzer ads
—but Dave implies that Don could bed her if he wished.
That Girl:
Prior to Dawn's visit to Don's roach-infested bachelor pad, both
The Little Rascals
and
That Girl
are heard on Don's TV. Perhaps we're reading into this, but is Don watching That Girl because the main character is an actress, and he misses Megan? Is he watching The Rascals because he misses his kids? While That Girl is playing we hear Marlo Thomas as aspiring actor Ann Marie defending herself when her father says "Everyone is laughing at you." Is Don relating to Ann? Is everyone laughing at him? Or does he
think
everyone is laughing at him? He admits later to Sally he's too "embarrassed" to let people know about his suspension from SC & Partners.
Comic Opera:
In addition to showcasing one of Peggy's lowest moments, last night's roses sequence also played like classic comic opera, with hilarity resulting from mistakes and coded messages. Peggy,thinking the roses were for her from Ted Chaough, flies into a rage and never lets her secretary Shirley explain that the flowers weren't for her. Next, Peggy has a coded message sent to Ted in LA, saying that the client (herself) refuses to talk (to Ted) and that no amount of massaging (Ted's attempts to woo her with roses) will be beneficial, the account is lost (Ted and Peggy's affair is over). Ted, unable to understand the message, continues to call from LA asking which account was lost. He also asks that question during a partners meeting, but, alas, the complex technology of speakerphones drowns out his query.
Name Game:
The scene where black secretaries Shirley and Dawn engage in a private joke, addressing each by the other's name, was terrific. Obviously their identities have been mistaken enough times in the office for the two to mock their white colleagues. Then we get another take on the concepts of "the truth" and status, as Dawn urges Shirley to accept that the roses, which were sent to Shirley by her fiancé, now are Peggy's property. "Keep pretending," Dawn says, "that's your job." Dawn pretends pretty well, she's hiding things for Don, who's not told his wife that he's on leave. Dawn doesn't pretend, though, when she berates Lou Avery for dumping on her when she skipped lunch to buy his wife a Valentine's Day gift, just as Sally Draper wandered into Lou's office looking for Don. Draper's "mess" doesn't "concern me," Avery yells at Joan, totally ignoring Dawn, who's standing in his office.
This incident obviously shows a rise in status for secretaries—we can't imagine a 'girl' berating her executive in earlier seasons and keeping her job—yet Dawn's warned by Joan not to speak and is booted off Avery's desk regardless. Ironically, Dawn and Joan later receive promotions and Shirley is moved to Lou's desk. We'll see how that works out.
Little Sally No More:
We stopped calling her Little Sally last season, still we were shocked when discussing roommate Sarah missing school until Easter because her mother had died, Sally said she'd stay at boarding school for 7 years if she could get Betty "into the ground." Yes, we know Betty hasn't been Mother of the Year, but still. Later, when Sally realized she'd lost her purse, one of her friends suggests she might have left it at "the head shop."
More Romantic Speculation:
The obvious route is Joan and Jim Cutler, what with his seemingly sensitive appreciation of her value to the company and subsequent elevation to the executive office. The road less traveled could be Don marrying Dawn in a union that would be even more scandalous than Don getting hitched to his much-younger secretary Megan. But think about it, Dawn works late and we know she's dying to meet a man. Clearly she's devoted to Don professionally, if not attracted to him personally. As we said, it's speculation.
Floored by Joan: Joan's elevation to the executive floor, courtesy of Jim Cutler, is an interesting move. Did Jim offer that to Joan on merit or because he wants to stick it to Roger, a man, he says, he doesn't want to see as his rival? Could he possibly know Joan's history with Roger? Or is the move far less strategic—does Jim think moving Joan upstairs will allow him to begin a romantic interlude with this gorgeous lady? Jim Cutler, you old goat.