iTV: It's More Than Advertising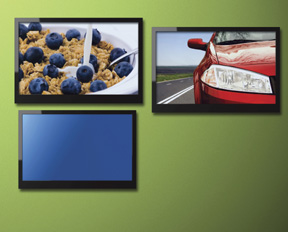 Last year saw some tangible progress in the cable industry to enable its legacy set-top boxes with Enhanced Binary Interchange Format (EBIF) – an important step to offer interactive television (iTV) to the pay-TV masses. Canoe Ventures, which was formed by the six largest multiple system operators (MSOs), has played a significant role in advancing EBIF.
Canoe has stayed focused on its original goal to enable national, interactive advertising buys but, now that interactivity is about to take off, it's not just about advertising anymore.
Arthur Orduna, CTO at Canoe Ventures, says it appears that more than 25 million cable set-tops have been EBIF-enabled. "The goal is to get EBIF into every capable digital household," he adds. "We need to keep pushing it out this year."
Canoe, for its own part, touches 18 million set-tops with interactivity; Orduna describes it as two footprints that overlap. While the MSOs must get EBIF into their set-tops and an EBIF server into their headends, there's a second footprint of all the networks with which Canoe integrates. Those networks put an EBIF application into their broadcasting signals. Some of the networks on board with Canoe include Style, E, AMC, NBCU, Discovery, Bravo, USA and the History Channel.
National Buys
National advertising buys are possible on the crossover between the MSOs' EBIF footprints and the Canoe/networks footprint. Of the magnitude of the process to date, Orduna says, "I'm not sure anybody understood the scale of this when we first started. The technologists took a big breath because they suspected what this looked like."
Here's how Orduna explains the process for a national interactive ad buy:
Canoe sends an EBIF app for a 30-second commercial to the broadcast center for the network.
It gets injected by the network into its main broadcast signal and gets shot out over satellite to all the MSOs.
The operators pick up the signal and pass it to their households that have EBIF-enabled set-tops.
Subscribers click if they want to receive more information on, perhaps, a product.
The data is collected by the MSOs, and they send it to Canoe, which then prepares reports on performance.
"You've got a whole bunch of programmers on one side and MSOs on the other side," says Orduna. "In the middle, you've got Canoe as a standards-based platform that can hook up between those two groups. It's an efficiencies play."
Speaking of efficiencies, Orduna says Canoe also will be able to assist national advertisers that want to purchase video on demand (VoD) ads. "VoD systems tend to be different," he comments, "but you put Canoe in the middle and suddenly you can sell one national VoD campaign through Canoe. Canoe can manage that through all these systems and be a single point of connection. It's the exact same model."
Aside from ad buys for both linear TV and VoD, people are strategizing other uses for iTV.
"It is finally becoming evident to key players in the industry that interactive can become an essential component of the video experience," says Aslam Khader, CTO at Ensequence. "We've got to expand the pie of interactive. It's like a rising tide that will lift all boats."
Slicing The Pie
Ellen Dudar, chief product officer and co-founder of FourthWall Media, also believes operators are designing their interactive strategies: "It's more a matter of, now that the platform is there, what is the suite of applications they want to launch. It's not so much a technology problem anymore."
During the last decade, cable operators have had to sit by and watch Internet companies like Google grab huge chunks of the advertising pie. With their Internet platforms, they've come up with such innovations as advertising connected to content and click-to-buy. Ironically, now that cable finally is at the threshold of interactive capability, it's taking a measured approach toward advertising. There's concern that inundating viewers with interactive ads will turn them off from interactivity in general.
"What's in the queue first?" asks Dudar. "Clearly, advertising gets a priority. We champion that, but it needs to be a good balance. Those are the debates that are being held right now."
She suggests that an effective way to introduce audiences to interactivity is to build an editorial calendar around sports programming to get viewers accustomed to checking statistics and the like, and to build behaviors and drive usage. After training the market, the next step is to scale interactivity. "Now with the platform, we have all these things coming together," she says. "Some valid ideas have kind of been in dry dock these last couple years waiting for EBIF."
Widgets, Apps And Scale
FourthWall has a portfolio of applications ranging from TV widgets, ad widgets, requests for information (RFI), and voting and polling. TV widgets include the typical bundle of news, weather and sports. FourthWall also has eBay and Yellow Pages apps, and it has recently been working with PayPal.
Ensequence's Khader says, "We realized about four years ago that creating apps and deploying user agents needed to be done but, for interactive to be a core part of our experience, it needed to be able to scale — as many shows as possible, as many ads as possible."
For example, if ESPN is broadcasting a live game, it will have a production truck at the stadium. The producer in the truck should be able to incorporate such interactive elements as statistics, polls, answers to questions about the game and a social-media interface as well as the ability to cut to an interactive ad.
"You needed software to become integrated into how they operated this," says Khader. "We've produced a platform called 'iTV Manager' that enables a workflow where interactive is produced, deployed and managed in an integrated fashion."
There are three editions of iTV manager: one focused around national advertisers, which Canoe uses; one for service providers to help them deploy their local ad sales and unbound applications; and one for programmers.
"You really need scale," says Khader, "and it has to be about money. There needs to be a business model where all key participants are going to benefit – programmers, advertisers and service providers, the three big gorillas in this space. There also needs to be scale from an eyeballs perspective. We believe EBIF is the only hope for scale in this industry."
Finally, Khader touts iTV Manager as an efficient way to deploy and manage the interactive experience. He admits the first experiments with an interactive application were fairly painful: "It can't take 12 people on a conference call to make one vote/poll solution happen."
Timothy Wahlers, president and CEO of enableTV, agrees that end-to-end integration is important, and he says templates help with that. enableTV provides application templates that allow customers to fill in the blanks. The templates can be used on any of the deployed EBIF user agents and, at the same time, give flexibility. "You don't want to write an application 25 times," he explains.
Besides advertising and programming apps, enableTV is working on some new offerings that will allow operators to interact directly with subscribers. Examples include customer-service communication, answering basic questions about VoD set-up or upselling premium channels.
What About Multi-Screen?
Since the creation of Canoe Ventures, big changes have occurred in the pay-TV environment, namely multi-screen video. People are watching TV on myriad devices. While EBIF is designed for the set-top box, what about the smartphone or the tablet?
"You can't stop people from doing what they want to do," says Dudar. "You need to be a part of that and stay in the mix. We're looking at apps to say 'What makes sense on TV, and what makes sense on the iPad?' I think it's very complementary. A lot of people think EBIF is an old thing for old boxes. In fact, it's a lightweight technology for all boxes, including old. It helps bridge the gap into the new world."
According to Cisco, its recently announced Videoscape platform is that new world. Ken Mores, CTO at SPVTG Group with Cisco, says Videoscape is an architect framework that enables service providers to ingest content from a range of sources, to format content appropriately for a range of devices and to manage the content.
"As we go through this range of other devices, we're going outside of the cable realm and leveraging what the Internet is able to do," says Mores. "EBIF is a device-specific platform. We see more of a translation happening in the cloud, and moving down in a more Web-aligned way. Being able to leverage HTML5 is more compelling."
Actually, the Videoscape platform does offer hardware: the Videoscape media gateway and the Videoscape IP set-top box. And while all-IP distribution and applications in the cloud probably are the future, in the meantime, EBIF offers cable operators a way to offer interactivity on their existing set-tops.
"People at different parts of the ecosystem are starting to take iTV seriously because there's an actual footprint out there," concludes Canoe's Orduna. "If I had to make a prediction for this year I'd say you're going to see more iTV initiatives at the national as well as local level. I see local MSO folks saying, 'I've got a new tool.'"
Linda Hardesty is associate editor at Communications Technology. Contact her at lhardesty@accessintel.com.