IPv6: Destined For Greatness…Eventually
The switch to IPv6, the next generation of Internet addressing and routing technology, has been slow due to the capital expense associated with the switch, paired with technology "tricks" like Network Address Translation (NAT), which has extended the life of IPv4 in home and enterprise networks. Recently, the explosive growth of such Internet-connected mobile devices as smartphones, netbooks and tablet computers have accelerated IPv4 address usage, making the transition imminent – not to mention considerably more costly than it would have been a decade ago!
Today, the migration from IPv4 to IPv6 finally is becoming a reality and, eventually, IPv6 is going to do a lot of great things for the industry. For example, IPv6 increases the number of unique IP addresses from the 4 billion provided by IPv4 to 340 trillion trillion trillion (no, that's not a typo) – a considerably larger number. But that's not all. IPv6 also offers plenty of new features designed to make the Internet fast, efficient and secure. It also simplifies management and strengthens security by embedding a suite of security protocols into the IPv6 design that authenticate and encrypt all Internet traffic.
While the move (or push) to IPv6 may have come sooner than we would like, transitioning to an IPv6 environment can be smooth when a proper plan and strategy are set in place. There is no "one size fits all" approach, and service providers have three different transition paths from which to choose, each offering its own pros and cons. They include:
• Dual Stack: This is the most flexible – and also the most expensive – approach to an IPv6 deployment. This strategy requires that all components of an operator's core, edge and access network support both IPv4 and IPv6 protocol stacks – hence the term "dual stack." This approach will enable operators to run both IPv4 and IPv6 networks simultaneously, but it requires them both to upgrade all network equipment with dual-stack support and to ensure interoperability, which can become expensive.
• Dual Stack Lite: This is similar to the dual-stack approach, but it's considerably more wallet-friendly. In this scenario, the operator network is primarily IPv6; however, subscribers are able to access IPv4 resources via a central, carrier-grade NAT server. The subscriber gateway (or CPE) encapsulates or tunnels IPv4 traffic inside IPv6, and the central NAT server translates back and routes the traffic to IPv4 sites.
• IPv6 Rapid Deployment: Also known as 6RD, this technique is ideal for deploying IPv6 services to subscribers on IPv4 networks. It works by encapsulating IPv6 traffic into IPv4 and then transmitting it over an IPv4-only network. A 6RD gateway on the network edge is used to route the traffic to IPv6 hosts.
Service providers will accomplish the evolution to IPv6 in a migratory fashion. Operators can (and likely will) deploy one or more of the three transition paths outlined above during the migration. This means that, at least initially, their networks may take the form of IPv6 islands in an IPv4 network (6RD) and then migrate to IPv4 islands in an IPv6 network (Dual Stack Lite).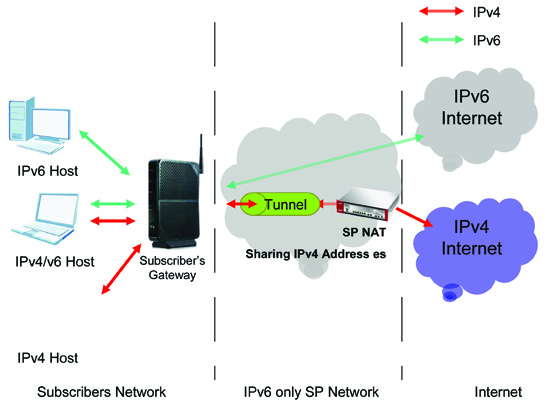 An ideal starting point for any operator in its transition would be a thorough audit of its internal systems, environment and services, followed by working with equipment vendors to plan features, compatibility and interoperability testing. Not coincidentally, this is one of the main objectives of World IPv6 Day, scheduled for June 8, 2011. During that 24-hour global period, participating organizations will test-run IPv6 equipment and software implementations, noting exactly how well they perform in real-world environments and enabling them to take the necessary interoperability measures to fix any issues before widespread deployment.
Jake Sailana is marketing communications manager at ZyXEL. Contact him at jacobs@zyxel.com.