Independent Operator of the Year: Patriot Gains
By Shirley Brady Steve Simmons isn't one to take his sweet time. In February 2003 he closed a deal to buy RCN's moribund central New Jersey cable operation serving 80,000 subscribers. Since then he's rebuilt 81% of the system, transformed an analog 60-channel operation with one-way modem service into a two-way showcase with more than 250 video channels, and launched high-speed Internet access, high-definition channels, VOD, DVRs and digital phone.
Many of Simmons' fellow cable executives feel it's high time his system was recognized for the rapid turnaround, and we couldn't agree more. So we've named Patriot Media CableWorld's 2006 Independent Operator of the Year.
Rocco Commisso, chairman and CEO of Mediacom Communications, tips his hat to Simmons for staging such an impressive comeback. "[He] has made the transition to the modern era by assembling an outstanding management team and tackling head-on some of the toughest issues facing independent operators," says Commisso.
"Steve runs a cable system the way he runs his life – with discipline, energy and commitment," adds Cable Pioneer Glenn R. Jones. "He sets the standard high for other independent operators to imitate."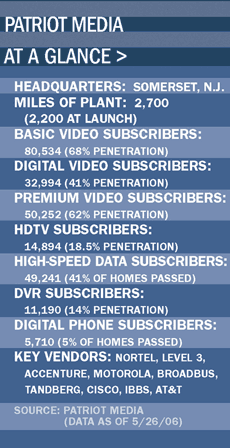 The Patriot Acts
After Simmons sold his cable systems in 1994, the father of five became a best-selling author of children's books. Eventually he got the itch to get back into the business. So the entrepreneur—whose previous company, Simmons Communications, served 350,000 customers in 20 states—began looking for systems to acquire and run.
Using his own money and the backing of investors, Simmons beat rival bidders including AT&T Broadband and Cablevision by paying $345 million, or $3,100 per customer, for RCN's New Jersey holdings in 2002.
RCN had focused more on its overbuild systems than on its central New Jersey cable plant, which badly needed upgrading. Nevertheless, Simmons says the acquisition was a prize because of its upscale and sophisticated consumer base. Boasting affluent communities including Princeton in its footprint, the area is home to New York, Trenton and Philadelphia commuters and is the base for Johnson & Johnson, Merck, Pfizer and high tech companies. Powered Plant
After the sale closed, Simmons christened his company Patriot Media and hired Charter Communications' vet Jim Holanda to serve as Patriot's president and general manager. They hatched a plan to upgrade the network and improve processes, quality and reliability with an initial $70 million investment.
First up: Upgrading the plant to 870 MHz to make customers forget RCN's track record and pave the way for the best products cable has to offer.
Patriot's quick network upgrade with minimal service disruptions impressed local officials such as Mayor Vincent Girardy of the Borough of Peapack and Gladstone. Girardy also took notice of Patriot's "desire and ability to meet and keep commitments to their customers." He adds: "I have seen the tremendous success of this company firsthand. These folks have been a pleasure to work with." Keeping its word helped Patriot complete or renew all 31 of its franchise agreements (most of them covering 15 years). Chuck Creesy, chair of the Joint Princeton Cable TV Committee, echoes Girardy's words of praise. "Patriot Media has done a tremendous job here and has been an exemplary cable provider," he says. "They completely rebuilt our antiquated system, vastly expanded our program options and gave us high-speed Internet access. They have been sensitive to the community's desires, quick in responding to service issues and have achieved an unprecedented level of customer satisfaction. And they have remained at the cutting edge, delivering HDTV, set-top video recorders, a wide range of on-demand offerings and digital telephone service. We are happy campers."
Simmons and his backers, Spectrum Equity Investors and Spire Capital Partners, are even happier campers. "We have the highest data penetration of any reported cable company," says Simmons, who reports that 41% of homes passed by Patriot subscribe to the company's high-speed data service.
"By April 2004, about 12 months into the rebuild when we had about eight nodes left to activate, high-speed data was just going through the roof," recalls Holanda. How They Did It
How did Patriot achieve such a dramatic turnaround so quickly? Well, first, it had the financial backing to pull it off. But Simmons has more specific tips for other independent operators:
Hire good people and get out of the way. "That's the most important thing that any operator of any size can do," he says.
Offer a range of cable's best-in-class products and services. "It's a competitive world and we need to make sure that our products are first rate and also diverse," he adds. "That means offering high-speed data at the highest speeds you can manage, digital phone and all of the video products like high definition and video on demand. This also implies good technical operations to keep those products excellent."
Maintain an "intense focus" on the customer. "Rule No. 1 is the customer comes first and rule No. 2 is the customer comes first," says Simmons. "In the call center, we answer the phone rapidly and need to have answers that are responsive to customers' questions. It's also getting out to a customer's home when they call in with a technical problem in a quick manner – we have same-day or next-day response. You can call us at 3 a.m. and we have people answering the phones."
Cross-train customer service reps. "[Simmons Communications] did that in Long Beach, Calif., where we inherited a system where the CSRs were segregated by their category, into sales or appointments or billing," says Simmons of his previous company. "We were able to cut the number of customer service reps and do a better job answering the phones through cross-training. We cut our costs and helped the customer in a more effective way. We've done the same thing here."
Tie creative marketing and sales to your brand. "We've done that in a variety of means from establishing an effective direct sales force to creative direct mail," says Simmons. For example, leading into the July 4 holiday last year, Patriot mailed "I Love America!" kits to subscribers, including flag decals and a kit with crayons for kids to send cards to troops in Iraq. "The hope is to have people think well of Patriot and connect with us and also, obviously, think well of our country."
Foster team spirit. Patriot's mission statement, "Have fun," isn't just a cute turn of phrase. It's backed up with what Simmons calls the "Super Bowl tactics" that Jim Holanda brought to Patriot. That includes football-like scoreboards visible to all staff to update personnel on successes and key operational metrics. Executives receive football jerseys with their names, and their teams' scores help foster good spirit and healthy competition with other departments.
Invest in local programming. The Patriot 8 local origination channel covers local events, particularly those of interest to sports fans. "I've been adamant that we broadcast a large number of high school sporting events, both women's and men's, so we produce and broadcast local football games, lacrosse, soccer games, wrestling," says Simmons. Patriot Media also broadcasts the football and basketball games of Princeton University and Rutgers.
Watch the competition. "On a regular basis we look at [DBS] prices and programming offerings versus ours," says Simmons. "With the phone companies' DSL we do the same – we look at their speeds and prices."
Maintain a rigorous financial analysis. "Every month, we compare – on a monthly and line-item basis – our financial performance compared to our budget," says Simmons.
Give customers what they want. When Patriot started hearing from high-speed data subscribers that they wanted higher speeds, the company responded. Patriot increased speeds three times in the past year alone to meet customer demand, offering a zippy 7 Mbps downstream in March. This summer it will have the highest Internet speeds of any small independent operator in the country, with 13 towns now being upgraded to 20 Mbps downstream and 2 Mbps upstream.
What's Next?
"To me, with my green eyeshade on, the proof is in the numbers," says Patriot Media CFO John Flanagan. "The growth in revenue and the growth in EBITDA proves that the investments were well worth it." (See sidebar below, "The Bottom Line.")
Still, Simmons sees plenty of room for growth. His agenda items for the months ahead:
Refine marketing to segment by type of household.
Launch wireless data and phone services.
Expand into business services, including commercial data and phone.
Reduce node sizes (Patriot currently averages 163 homes per node.)
Digitize the analog lineup of video channels to offer a digital simulcast.
Acquire more systems to expand Patriot to other parts of the country.
But the #1 item on Patriot's to-do list is fighting Verizon. The telco is building plant on about 10% of Patriot's footprint. Verizon also is lobbying for a statewide franchise in New Jersey.
"Jim Holanda and I attended public hearings recently for Verizon's [local] franchises and there was not one single complaint about Patriot at any of the public hearings, but there were some about Verizon on the phone side," says John Gdovin, VP of operations, who has been with the system since its RCN days.
"The mayors and the cable committees are now our biggest supporters," he adds. "It's really been a complete turnaround." We agree.