Home Networking: Hooking Cable Up With The 'Connected House'
The number of Web-enabled consumer-electronics (CE) devices continues to skyrocket, with In-Stat forecasting more than a half-billion stationary devices to be in operation worldwide by 2013.
Tony Werner, executive vice president/CTO at Comcast Cable, said at the Cable Show last May, "What I worry about most is consumer and device sophistication growing so rapidly. I worry about getting in lockstep with that and being the provider of choice when you walk in the house with a new device."
An important piece of the home-networking pie addresses how to help consumers move content around the home. Should they buy hardware from their operators or buy it from retail establishments, where the perceived discount wins out? Chris Albano, Comcast's senior director/CPE and home networking, told Communications Technology, "We want to make sure the customer's [CE] devices work when in the Comcast home, and that retail works perfectly fine with home Internet connectivity."
On the other hand, if a customer is going to buy a Wi-Fi router, why not buy it from Comcast with the added bonus of set-up and support? "We could make it easier for the masses to take advantage of technology," Albano said, adding, "It's about the art of the possible." Comcast's aim is to know what the consumer might want, understand the technology of how to provide for those wants and needs, and then "operationalize" the solution.
The MoCA Brew
One of the first customer demands has been for multi-room DVR capability, especially because AT&T's U-verse and Verizon's FiOS already offer customers the ability to record and play back programming on different televisions.
According to media reports, Comcast has launched an "AnyRoom" DVR service in a couple of markets, using set-top boxes loaded with Multimedia over Coax Alliance (MoCA) technology (a specification that defines transmission over coax). While the devices to date have used MoCA 1.0 or 1.1, a 2.0 version recently was ratified. It expands channel bandwidth from 50 megahertz to 100 megahertz, and it adds higher modulation levels that provide a baseline net throughput rate of 400 Mbps. The 2.0 version also uses channel bonding to bump up performance to an enhanced 800 Mbps. And MoCA is backward-compatible.
At our deadline, other operators have gone public regarding jumping on the MoCA bandwagon. In May, Cox announced plans to complete the rollout of a "whole-home" DVR solution to its entire footprint by the end of 2010 using Cisco set-top boxes. And smaller operators like Buckeye Cablevision have conducted field trials of Pace's home content-sharing solution that features a network-attached storage (NAS) device that multiple set-top boxes can access.
"Pace is still doing (i-Guide) A28 (interactive program guide) development for the HCS platform. As they finish, we will be able to go out to subscribers with that product," commented James Brown, Buckeye's director of engineering.
Wireless Demand
The other two home-networking technologies specified by the Digital Living Network Alliance (DLNA) are Ethernet and Wi-Fi. In 2009, Wi-Fi surpassed Ethernet as the dominant home-networking technology worldwide, according to In-Stat.
Regarding "mobile" equipment, Apple sold three million iPads in the United States within the first three months of its release, and Morgan Stanley analyst Katy Huberty predicts 11 million iPhone subscribers globally by the end of 2011. Yet, while this army of gadget users is shooting spells from a Harry Potter-inspired iPhone app, it's also finding, creating and collecting content.
"Consumers will pick wireless every day and twice on Sundays. The flexibility it provides means people don't have to have their home disrupted, and they can put things wherever they want," said David Callisch, vice president/marketing at Ruckus Wireless. However, Wi-Fi essentially has been a data networking medium, dubbed unreliable for video due to susceptibility to interference from everyday household items like cordless phones and microwave ovens.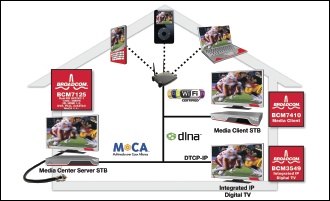 FIGURE 1: As more and more home-networking gear hits the marketplace, consumers ponder the pros and cons of buying from their cable providers or buying from retailers. Many times, cost is the determinant. While cablecos strive to make sure purchased consumer-electronic devices work with cable-provided set-tops and auxiliaries, they also should stress the advantages of cable-installed and –maintained equipment.
Packet loss and retransmissions amount to death knells for streaming content because interrupted signals are seen on the screen. "Wi-Fi does not generally guarantee quality of service, which is essentially a promise that all data will be delivered in order," said Brian O'Rourke, principal analyst at In-Stat.
However, a recent iteration of Wi-Fi standard 802.11n has changed the stakes. This updated version increases the maximum data rate from 54 Mbps to 600 Mbps, using a channel width of 40 megahertz, and it allows for a more reliable throughput. It also incorporates the concept of multiple input multiple output (MIMO), providing for a maximum of four transmit antennas and four receive antennas.
What this means in a practical sense is that video can be delivered to any part of the home wirelessly and reliably, said David French, CEO at Quantenna Communications, which recently released a 4 x 4 MIMO Wi-Fi chipset. "All of the electronics to drive the four antennas are in our one chip. It sends the information on each of the antennas so that the receiver receives the right signal," French added.
Dynamic digital beamforming, an extension of 802.11n, monitors and adjusts the Wi-Fi signals based on real-time events that could affect performance. In combination with the 4 x 4 antenna scheme, beamforming can provide a 12dB-to-25dB improvement in reliability compared to 3 x 3 or 2 x 2 MIMO configurations, according to Quantenna.
"The algorithm or technique used synchronizes the four antennas so the one that is receiving the signal actually gets it optimally," commented Xavier Ortiz, a mobile-networks analyst at ABI Research. "This improves the signal-to-noise ratio, which translates to better range."
Beamforming also can be used at the physical layer alongside the 802.11 chip. Ruckus Wireless' BeamFlex Smart Antenna Array technology, for example, combines elements to form more than 4,000 antenna combinations. Ruckus' Callisch compared it to someone standing on the roof, adjusting an old-fashioned television antenna during a program.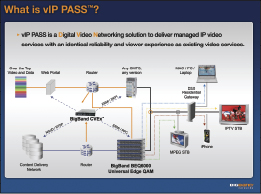 FIGURE 2: Buckeye Cablevision is using BigBand Networks' vIP PASS, which uses a universal edge QAM instead of a CMTS for video, which is "wrapped" in DOCSIS for transmission. vIP PASS works in conjunction with BigBand's control-plane CVEx, which acts as the DLNA server in the network, using SDV and VOD protocols to "announce" to the watcher that content is available.
"We happened to develop a technology that can identify when interference is present and can steer signals around the interference without affecting the signal," Callisch said.
Consolidated Communications, an ILEC and IPTV provider with presence in Illinois, Texas and Pennsylvania, has begun deploying Ruckus' MediaFlex platform, offering the gear free to consumers as part of its standard installation package; Consolidated currently is using the 802.11g version. "We are moving to the 802.11n product in the hopes of eliminating some of the interference issues that we do encounter," noted Chris Smith, Consolidated's senior manager/network operations.
As for quality, compressed video utilizes between 10 Mbps and 20 Mbps throughput for 1080p-quality video. Quantenna literature says its 802.11n chipset can maintain 100 Mbps and has a range of more than 100 feet and near-zero PER.
"It should be a good quality of image for that bandwidth, even being compressed. The value I see is that you can have four different television sets connected wirelessly, and not everyone has to be on the same channel," Ortiz said.
There are other wireless technologies available, including Wireless Home Digital Interface (WHDI) and Wireless HD. However, each of these has proprietary transmission technologies. "Since (Quantenna and Ruckus) use 802.11n technology, (they) can take advantage of the popularity and economies of scale of Wi-Fi technology," O'Rourke said.
Multiplatform TV
Despite the popularity of Wi-Fi, MSOs tend to be a "cautious lot," noted Stephen Palm, technical director at Broadcom. "They are very familiar with coax. That's why they are very excited about MoCA."
To expand on DLNA, the interoperability guidelines specify more than just set-top boxes so that service providers can extend content to other devices as well. And this fits in well with consumer demand for video when they want it, where they want it and on whatever device they desire.
"At some point, subscribers will want an aggregated video entertainment service that can support all of their devices in a seamless way. It is multiplatform TV. 'Three screen' doesn't capture the breadth of the approach," said Michael Adams, vice president/software strategy at Ericsson, providing as an example the ability to transfer a movie in progress from a big-screen TV to an iPad.
Content found on the Internet also can come from a PC, and it can be transmitted to other devices. "Why go buy another box when you've got the graphics process in the network connection? You just need the protocol to define how to find the content on the PC and stream it to the set-top box," said Anton Monk, vice president/technology at Entropic Communications.
A multi-device platform requires a server that can support multiple codecs, formats and streaming protocols. The distribution piece of the platform places the content within the operator's network and assigns streams to the appropriate server.
"Operators are looking to place content in different locations and send requests to the optimal server. Libraries are growing fast and, with new devices, content and formats, that's accelerating. It becomes too expensive to keep the entire library in every location," said Jim Owens, senior product marketing manager at Motorola, which recently introduced the M3 Media Server platform.
A content-management system puts content into the proper format, doing the transformations so that the process can begin with a single source file. "The content-management system is the glue that pulls it together," Adams explained.
The mobile devices in these scenarios are part of the home network. Taking the same content out of the house is a different ballgame as far as content protection goes. "It's a lot less about technology and more about lawyers," Palm said.
Going IPTV
While all content that will be moved around the home network must be IP, it doesn't necessarily need to be so when first delivered into the home. That is where a gateway comes into play. "What we do in our gateways is convert traditional QAM real-time into IP video," Palm said.
Yet DOCSIS 3.0 offers hundreds of megabits of throughput. As operators continue deploying it, they will have another delivery option. "When you get that amount of network capacity, it allows you to start using that IP pipe to deliver a large amount of video as well as high speed data services," commented Ericsson's Adams.
A thin-client architecture based on the concept of cloud computing can be scalable and graphically rich enough for a cable environment, Adams said. Today, changing the characteristics of a fixed functionality program in a set-top box involves a development cycle, testing and shipping a new release. Web 2.0, however, can decouple the execution from delivery.
"Our IPTV solution uses a very small client which doesn't know anything about the logic or rules of service. It just knows how to make things appear on the screen and how to interact with the remote control. All the business logic and service logic is back in the cloud," Adams explained. The result is a device that requires very little memory or power and is quick to change.
"This approach has been tried before and in some cases hasn't been very successful," he added. "There are specific techniques we used to make it something to scale to millions of subscribers."
Specifically, scalable vector graphics (SVG) don't lose quality if zoomed or resized. And multi-level caching stores commonly used pages so that requests for them do not involve transactions back to the server.
"Cable operators could use third party developers. It's cheaper, and it takes advantage of the latest and greatest tools," Adams said.
There also is the option of going straight to IPTV. James Brown, Buckeye's director of engineering, said his company investigated DTAs, but saw them as a "fairly short-term investment" without guide functionality, advanced applications and the VOD set his company seeks. Instead, Buckeye will use BigBand Networks' vIP PASS, liking synergies with the SDV platform and the CMTS bypass architecture.
vIP PASS uses a universal edge QAM instead of a CMTS for video, which is "wrapped" in DOCSIS for transmission. It works in conjunction with BigBand's control-plane CVEx, which acts as the DLNA server in the network, using SDV and VOD protocols to "announce" that content is available.
"Right now, CMTS port costs are still significantly high. Why would we want to push video through when we are having enough trouble keeping up with demand for voice and data growth through the CMTS?" Brown asked. The first phase for Buckeye is to provide linear content to a PC in a closed IP environment, followed by IP set-top boxes. "Even if the trial plays out, we are still probably looking at a three-to-five year transition, which is a rough guess," Brown said.
Added Jay Chambers, BigBand's principal engineer/network solutions group, "Rather than an operator rushing out and saying 'IP video, let's build a parallel network,' it's about how to leverage what you have in terms of control planes and data planes to extend IP service."
Managing All This Stuff
The average home network could encompass eight to 10 devices in just a few years, according to Joel Pennington, co-founder and senior director of business development at Vancouver, Wash.-based ClearAccess. As cable operators install gateways, they likely will be seen as the go-to guys when an end user runs into trouble.
According to the company's Web site, ClearAccess provides customer premise equipment (CPE) management solutions "that address the growing need for automatic subscriber activation, remote CPE management, and new incremental revenue streams." Its ClearVision Management System is a Web-based remote management and applications platform based on the Broadband Forum's TR-069 suite of protocols.
In addition to supporting a variety of CPE devices from various vendors through its ClearAccess Compatible Program, ClearAccess says it can help operators increase revenues through the delivery of new incremental data services. "For example, a subscriber can initially sign up for a basic service package offering high speed Internet access and later upgrade to a premium service package to enjoy Managed Wi-Fi, Content Filtering (Parental Controls), Internet Time Blocking, IPTV, and more," it adds.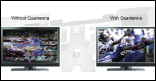 FIGURE 3: Quantenna Communications says video can be delivered to any part of the home wirelessly and reliably via its in-home gear. The company recently released a 4 x 4 MIMO Wi-Fi chipset it says can drive four antennas by sending information on each of the antennas so that the receiver receives the right signal. Dynamic digital beamforming, an extension of 802.11n, monitors and adjusts the Wi-Fi signals based on real-time events that could affect performance. In combination with the 4 x 4 antenna scheme, beamforming can provide a 12dB-to-25dB improvement in reliability compared to 3 x 3 or 2 x 2 MIMO configurations, Quantenna adds.
"The operator will be flying blind. They can't see what sits behind the gateway. They will have to have end users on the phone to tell them what is going on," Pennington said. The ClearVision CPE management platform allows operators to see all of the devices on the network. If a customer calls, the operator can determine, for example, that the gateway is running properly, but the laptop isn't connected.
"TR-069 is proven. There are millions of devices being managed by this now. Cable operators are expressing interest and requiring CPE companies to support it," Pennington said.
Consolidated Communications uses ClearVision in conjunction with its DSL routers. "The TR-069 client helps decrease the time to build tools to manipulate (them) in the home," Chris Smith, Consolidated senior manager, network operations, said. It opens holes in the firewall so that traffic can flow through the router to the devices in question.
The same kind of technology behind home networking also can drive home management.
Bonus Points
Energy Hub's touch screen, called the Dashboard, allows users to manage energy by monitoring temperature and keeping tabs on how much electricity and gas is being used.
At the May Cable Show, Energy Hub CEO Seth Frader-Thompson pitched the idea as a way for operators to pick up a new recurring revenue stream. "As long as there is a significant differential in what people are saving and what they are paying, that is what will keep people engaged," he told CT.
iControl believes the way to capitalize is by starting with something proved viable. Today, as much as 35 percent of broadband households are paying between $30 and $40 per month for a monitored security system, said iControl CEO Paul Dawes. He expects more to be attracted by an interactive offering that uses a home gateway to oversee such home elements as cameras and door locks.
"We believe there is opportunity to grow the market from $9 billion annually to $20 billion over the next several years," Dawes said, noting that operators would subsidize home hardware on the order of $150 to $200 per device.
The idea is to integrate services, using the same gateway to provide voice-mail access or pay-per-view movie alerts. Operators then could piggyback energy-management and home-healthcare applications.
"We are not looking at energy as a stand-alone service," Dawes explained. "We are looking at it as a set of features and functionality consumers will want."
Monta Monaco Hernon is a frequent contributor to Communications Technology. Contact her at mcmhern@yahoo.com.