Today's demand for mobile data services presents both a blessing and a curse for mobile service providers. On the one hand, mobile services represent the fastest-growing revenue stream for service providers, accounting for as much as 50 percent of growth compared with the fairly flat growth for voice services. On the other hand, the exploding volume of bandwidth-intensive mobile data traffic has made it difficult for operators to ensure the quality and availability of these data services.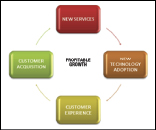 FIGURE 1: The never-ending circle: If you can keep customer satisfaction high, chances of retention, new customer attraction and perpetual investment funding also will remain high.
In light of this challenge, service providers are adopting a focus on "quality of delivered services" to maintain customer satisfaction, rather than focusing on how the network can evolve and operate efficiently. This is an important trend that aligns with the virtuous circle of service delivery (see Figure 1), in that if you can keep customer satisfaction high, chances of retention, new customer attraction, and perpetual investment funding will also remain high.
However, not adopting a "customer experience" approach holds the risk of turning the virtuous circle into a vicious cycle, where poor experience leads to bad press along with churning of high-value business users and consumers. This in turn leads to decreased ROI in new services and technology, negative cash flow, reduced ARPU and limited future investment for growth and innovation.
Getting There
"Customer experience" results from a combination of quality of service (QoS) and quality of experience (QoE) components (see Figure 2).
QoS involves identifying the connection experience, relating it to application performance and drilling down to the infrastructure for troubleshooting
QoE involves identifying the subscriber experience, customer service, and billing accuracy and payment. The problem is that the majority of today's service-assurance tools are designed to tackle either per-subscriber service monitoring, mobile infrastructure monitoring, or transport monitoring, but not all three at once. This has resulted in a proliferation of tools, making assuring the end-user experience an increasingly difficult and expensive proposition.
What service providers need is the ability to manage end-to-end mobile network and service quality in real time, without the cost and delays associated with having to jump between individual OSS toolsets. This calls for a holistic, integrated network service and application performance approach to assuring customer experience. Such a unified approach should provide data service and application experience of individual subscribers while also allowing engineers and operations teams to find root causes within their infrastructure entities (both mobile and transport) that may arise from the data center to the cell tower.
Here are a few thoughts to consider when moving toward a "customer experience" approach:
• Incorporate deep packet inspection (DPI) and topology-aware infrastructure monitoring: There has been a trend toward using DPI technologies on core interfaces (Gn/Gi) to perform IP-centric monitoring of the user experience. While these DPI technologies are important, by themselves they are not enough to provide a true, holistic approach to assuring customer experience. While DPI can detect poor user experience, visibility is needed into the internals (ports, cards, etc.) of each element in the data network topology to find the root cause of the poor experience. Therefore, a combination of DPI and topology-aware infrastructure monitoring is indispensable.
• Comprehensive visibility of the network: Most data quality degradations are highly localized and happen because of issues in the last mile. For delay-sensitive voice and video applications, this can have an immediate negative impact on the user experience. It is essential to proactively monitor performance and capacity all the way from the data center to the multi-generation radio-access elements, including transport entities in the packet-based backhaul that typically tend to cause localized service experience issues. With this comprehensive visibility, engineers and operational personnel can troubleshoot and focus on the root causes of service degradations more quickly before customers are impacted negatively, enabling them to dedicate bandwidth and to analyze and prioritize application traffic in a way that helps ensure a high-quality end-user experience.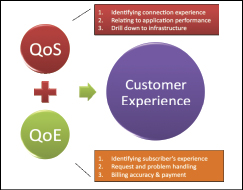 FIGURE 2: The "customer experience" results from a combination of quality of service (QoS) and quality of experience (QoE) component.
• Rightsize carrier Ethernet backhaul while maintaining QoE: The exploding growth in data requests coming from smartphones and wireless mobile devices also risks a direct impact on service quality due to stressed network gear. The traditional approach of "oversizing" the network infrastructure is counterproductive to growing the revenue stream from data services and remaining competitive. Service providers need to rightsize the components of the Carrier Ethernet backhaul, but doing so while maintaining QoE presents a number of challenges that also call for a holistic approach to assuring network and service quality. For example, data traffic patterns of mobile consumers are extremely temporal. Holidays and events (such as New Year's Eve in Times Square) can have a major influence on consumers' messaging and browsing patterns. An accurate comprehension of traffic patterns requires deep analytics. Such industry-proved concepts as "busy day" and "busy hour" designations are crucial in determining the worst stress levels of the backhaul network. Hourly baselines, engineering benchmarks and traffic forecasts based on historical data are indispensable in achieving the objective of rightsizing the network for the future. Being able to do all of this down to every sub-element (interface, class of service and VLAN) is important in determining the patterns of each traffic type. An integrated network-, service- and application-performance approach to network and service assurance provides the needed balance between cost containment and customer experience.
• Protect high-value accounts with enhanced reporting: As business from wireless VPNs and machine-to-machine offerings increase, providers must do everything they can to protect their high-value enterprise accounts. Having the ability to provide custom reporting depicting delivery of the level of service for which these corporate customers are paying will build trust and help ensure they are retained.
Network operations teams need to be able to ensure availability and consistent performance on the growing scope of bandwidth-hungry applications and services they deliver to customers, wherever those users may be. They must do this in an increasingly complex delivery environment, consisting of data center, IP/MPLS, Ethernet backhaul, mobile packet core, legacy voice core and mixed-generation radio access network.
They also face the challenge of keeping operations costs as low as possible. Bringing together the QoE perspectives from the transport of data on the underlying IP wireline infrastructure as well as the wireless network facilities allows providers to assure end-to-end quality and customer experience comprehensively.
A unified network-, service- and application-performance-management solution enables service providers to monitor, analyze and report on the performance of the IP-based mobile network infrastructure, the carrier Ethernet-based backhaul network and the services traversing these connection points.
Ranga Thittai is senior product manager at InfoVista. Contact him at [email protected]