Finance: A Legacy to Stand On
Cable's entrepreneurial past puts it in good position to succeed in the new-media world. By Mary M. Collins Media veterans see many similarities between cable's coming of age in the 1980s and today's "media anytime, anywhere" environment. CTAM's "New World" theme for its recent Summit was on target. In the same way that satellite technology combined with the cabling of America to create a new world for television, broadband technologies are spurring a plethora of media applications that hark back to the innovations (and initial ridicule) of 25 years ago, such as 24-hour news, sports and weather channels. The challenge for today's business modelers also is uncannily similar to that earlier time. Despite the growing channel capacity offered by cable 25 years ago, there were nearly as many channels that didn't survive in their original form. Cable started as the long tail for TV, as CableWorld's Paul Maxwell noted recently. Today's new-media applications require companies to adopt the same discipline cable used for growing its robust business. As cable has always known, no matter what field your business plan says you're in, things will change.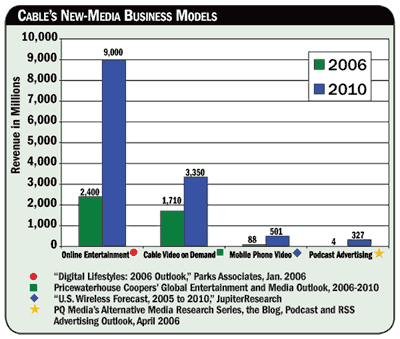 The lessons from 2001 also serve to remind us that we cannot party like it's 1999. Unlike the earlier days of broadband Internet, new-media concepts must be based on proven performance to earn credibility on Wall Street. Once again, cable is taking a leadership role in demonstrating the potential of today's media distribution platforms for increasing its operating margins. In addition to launching competitive bundles of services, estimated to be a $120 billion business by the end of 20101, cable programmers and operators are collaborating on applications for digital video that are projected to grow substantially over the next several years. Premium and ad-supported networks have helped operators stem the defection to DBS of digital video customers through the launch of video on demand, which is projected to represent a $3.4 billion market by 20102. Moreover, the industry's forays into Web-based video and mobile entertainment will help ensure that it benefits from two of the fastest-growing segments of the new-media market.3 It would be easy to become paralyzed by the potential threats presented by new ways for consumers to experience content. But the entrepreneurial spirit that pioneered multichannel television remains as we chart the industry's course toward the new world of multi-platform media. Mary M. Collins. Mary is president and CEO of Broadcast Cable Financial Management Association (BCFM), which will host the seminar "Business Modeling New Media" in New York on Sept. 13. (Paul Kagan is on vacation.) 1 The Business of Bundled Services: Consumers, Models, and Uptake, Parks Associates, February 2006. 2 PricewaterhouseCoopers' Global Entertainment and Media Outlook, 2006-2010. 3 Ibid and PQ Media's Alternative Media Research Series, the Blog, Podcast and RSS Advertising Outlook, April 2006.