As cable multiple-systems operators (MSOs) and telcos battle each other for market share in the converged video/data/voice services arena, the decisive weapon for each player is the supply of bandwidth. Many agree fiber is the best technology to deliver the bandwidth necessary to support bundled high-definition TV (HDTV), video on demand (VoD), high-speed Internet access and voice.
While a number of telcos have begun to deploy fiber-to-the-premises (FTTP) to increase bandwidth, MSOs are tending to boost the capacity of their existing hybrid fiber-coaxial (HFC) networks by deploying a radio-frequency-over-glass (RFoG) solution. Based on equipment that uses the channel-bonding techniques defined in the latest version DOCSIS 3.0, RFoG enables MSOs to provide triple-play services in FTTP-like fashion and still preserve existing investments in their networks, from the headend to customer-premises equipment.
However, MSOs are beginning to recognize the need to upgrade their FTTP networks, i.e., replacing their coaxial-cable access networks with fiber. The question often is when and not if. Although RFoG- and DOCSIS 3.0-based equipment enable MSOs to compete today with the telcos in the residential triple-play market, the 100-Mbps downstream speeds are no match for a telco offering 2.3 Gbps access speeds. Longer term, only all-fiber networks can deliver the capacity the MSOs will need not just to compete in residential triple-play services but also to succeed in three other market segments:
• commercial services, especially those for small- and medium-sized businesses;
• advanced-service bundles, including HDTV, VoD, digital video recording (DVR), voice over IP and home-networking in greenfield residential developments already targeted by fiber-based telcos; and
• the lucrative mobile backhaul market.
Consequently, forward-looking MSOs are starting to determine what they will need to migrate their RFoG-based network architectures to all-fiber networks. They know, for example, that they will have to deploy fiber-based solutions that offer a range of low- to high-density infrastructure components for the headend, distribution hub and outside plant (OSP). Furthermore, to help ensure long-term network reliability and to control capital and operating expenditures (capex and opex), these components must feature:
• superior cable-management qualities, including bend radius protection;
• modular platforms that deliver "build as you grow" flexibility;
• support for mixed media (copper, fiber, Ethernet);
• scalable bandwidth;
• reduced maintenance costs and network down time; and
• full product support, including assistance with planning, deploying and maintaining multi-technology, fiber-based solutions in a wide range of network environments.
Yet controlling capex and opex associated with fiber networks depends on more than the MSOs' initial deployment strategies. As their FTTP networks grow, they also must be able to add fiber and manage it efficiently as well as protect their embedded investments in copper-based components. Therefore, MSOs want to build flexibility into their networks right from the start; doing so requires making good connectivity and cable-management choices in the early network-planning stages.
Connectors, Not Splices
First of all, MSOs will want to install fiber infrastructures that can integrate the next generation of technologies and services smoothly and seamlessly. As many service providers have learned, one of the most important strategies for ensuring such ease of network migration is adopting a plug-and-play architecture: one based on connectors rather than splices.
Connectorized fiber, which enables service providers to balance network construction costs with long-term network flexibility and reliability, offers several advantages when compared to splicing. By using connectors where they make the most sense — in the headend and the OSP, and on the customer premise — MSOs can:
• build flexible, reliable fiber networks quickly;
• reduce opex – the use of connectors translates into a need for fewer splices that, in turn, means less need for highly skilled technicians and splice crews when network changes are needed;
• deliver more network capacity more cost-effectively;
• get easy access to cables for troubleshooting, testing, re-configuring the network and turning up services;
• make sure their network delivers high-quality performance over the long term; and
• achieve a faster return on investments in the network.
As MSOs gradually bring fiber to more customers and use it to deliver an ever-growing array of services, the volume of fiber cables in their headends, hubs and OSP will increase steadily. Therefore, the need to manage fiber connectivity becomes even more critical. The techniques with which the MSO connects, terminates, routes, splices, stores and handles fiber cables will have a direct and significant effect on the network's performance (improved quality of service) — and its profitability. Therefore, MSOs will look for fiber distribution frames, panels, raceways and associated connectivity equipment that incorporate the four basic principles of good cable management:
• Bend radius protection Simply put, if technicians bend fibers beyond the specified minimum-bend diameters, those fibers can break, causing services to fail and network operations costs to increase.
• Cable-routing paths If well-defined, they give a technician no option but to route the cables properly and consistently. Otherwise, the MSO must struggle with an inconsistently routed and difficult-to-manage network.
• Accessibility Well-defined routing paths ensure easy access to installed fibers, which is essential if technicians are to install or remove any fiber without inducing a macro-bend on an adjacent fiber. Accessibility also can mean the difference between a network reconfiguration time of 20 minutes per fiber and one of more than 90 minutes per fiber.
• Physical protection If technicians route fibers between pieces of equipment without protecting them properly, accidents and adjacent equipment can damage them. Such damage obviously reduces network reliability and associated revenues, thereby increasing opex.
Solutions that build in these four cable-management principles make fiber cable less susceptible to damage, quicker to install and less expensive in terms of both capex and opex. By maximizing accessibility, they also minimize the time required to reconfigure a network. As MSOs deploy more services on the FTTP network, and as more customers go online expecting uninterrupted service, connectivity solutions with built-in cable-management capabilities will be increasingly important elements of MSOs' long-term competitive success.
It's Getting Tough
MSOs are competing fiercely to capture the biggest chunk of the residential and business broadband and voice markets as well as the specialized-services market, which includes cellsite backhaul. For any competitor, achieving that goal demands the ability to offer the best service at the lowest cost, and that demands the ability to reduce opex.
In many cases, MSOs are trying to leverage the fiber plant they deployed years ago, including in their headends. Yet with the increasing take rates for broadband and backhaul services, they now confront bandwidth capacity limitations. These limitations, by hampering the ability to offer higher-bandwidth services and to reach new customers, also hamper the ability to compete in targeted markets.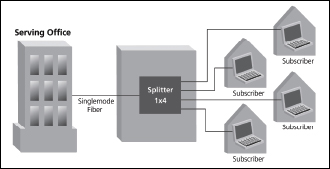 FIGURE 1: A VAM splitter module allows service providers to transport a signal from the serving office to the far end of the network over one fiber before splitting the signal to feed multiple subscribers. The signal travels from the headend to a node site, where it is split multiple times via a predetermined split ratio. The subsequent signals are then sent downstream to subscribers. (Source: ADC)
When it comes to extracting the maximum value from their existing optical-infrastructure investments, MSOs typically choose to combine multiple wavelengths on a single fiber. This strategy enables them to deliver more and better services to more customers while avoiding the cost and time associated with trenching new fiber. Here, however, another problem crops up — physical space or, more accurately, the lack of it. For years, MSOs have integrated flexibility and functionality in their fiber-based transport systems by deploying value-added modules (VAMs) in headends, huts and cellsite enclosures. These modules serve both as wave division multiplexing (WDM) and passive optical-monitoring devices.
Traditionally, MSOs have used coarse WDM (CWDM) technology to transport two or more wavelengths over a single fiber. For example, in the business broadband sector, CWDM enables MSOs to deliver individual wavelengths to customers within a multi-tenant building or office park, delivering more bandwidth to each subscriber and allowing them to compete more effectively — all without having to lay more fiber to the site.
CWDM enables MSOs competing in the residential broadband sector to reach more multi-dwelling units or single-family homes with a single legacy fiber and, through CWDM's ability to reduce the number of connections per wavelength, to increase the bandwidth and range of services MSOs can deliver to each customer. Currently, for many MSOs, CWDM is paving a migration path to RFoG passive optical topology, which has all the benefits of a passive optical network, including more bandwidth and lower maintenance costs. In fact, its ability to provide additional capacity is prompting many MSOs to view RFoG as a means to migrate eventually to all-fiber distribution and access networks. Finally, in the increasingly competitive arena of cellsite backhaul, CWDM enables the MSO to deliver discrete wavelengths to each of several carrier base stations deployed at a typical cellsite.
Nevertheless, multiplexing wavelengths on a fiber has been a costly and time-consuming chore. A highly experienced fiber technician using expensive equipment may need as much as an hour to make just a single splice. Today's plug-and-play CWDM solutions, however, simplify and speed up that chore. By incorporating pre-connectorized assemblies, technicians can add multiple wavelengths to a fiber within minutes and without splicing. In addition, less-experienced (and, therefore, less-expensive) field technicians can do it. Typically, the MSO deploys a plug-and-play CWDM solution in frames or racks within headends or huts and within weatherproof enclosures at cellsites.
MicroVAM Advantages
Unfortunately, just as MSOs need to deliver more capacity and serve a growing customer base, they are running into some obstacles in these locations. For one thing, physical space already is at a premium, so there often is little room to deploy traditional WDM equipment. Tight spaces lead to another potential problem. Because technicians now have to work in close proximity to other fibers or splices, there's a greater chance they inadvertently will disconnect or damage adjoining fibers, thus disrupting service. Finally, even if these locations had the space to accommodate additional WDM equipment and to give technicians more room in which to work, many plug-and-play CWDM systems can deliver only two wavelengths per fiber.
However, solutions are available to enable MSOs to tackle these problems and, thereby, to stretch their existing fiber plant further to deliver still more network capacity and new services. MicroVAM are smaller versions of VAM solutions, and they significantly increase the MSO's ability to leverage fiber splits, to drive down opex and to reduce the risk of service disruptions.
MicroVAMs can split a fiber into four or eight wavelengths, delivering two or four times the density of competing solutions in the same physical space. A craft-friendly, slide-out design not only supports higher fiber densities but also makes it possible for a technician to work on a given fiber without accidentally disconnecting or damaging nearby fibers. By enabling relatively-low-cost personnel to add connections and bandwidth quickly, MicroVAMs help reduce opex and shorten MSOs' time to revenue.
Carpe Diem
The explosive growth in the popularity of advanced wireless devices and the multimedia applications they support is fueling an explosive demand by individuals and enterprises for wireless bandwidth. That demand is putting enormous pressure on mobile backhaul networks and creating a huge market opportunity for MSOs that have fiber-based capacity available for leasing to mobile operators.
To position themselves to take advantage of the backhaul opportunity, MSOs need fiber and connectivity solutions designed not only for their own headends but also for mobile switching centers (MSCs), backhaul outside plant (OSP) and the front-haul or fiber-to-the-antenna segment.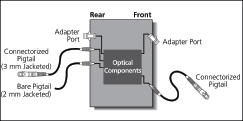 FIGURE 2: VAM splitter modules can be tailored to meet application requirements. Modules include most industry-standard singlemode and multimode connectors and module inputs and outputs are made via adapter, pigtail or bare fiber depending on requirements. Various combinations of all front access to input/output ports or rear access to both input/output ports are also available. All bare fiber options use 2 mm jacketing. The variety of module configurations allows service providers to determine the number and type of optical connections necessary, depending on whether a cross-connect or interconnect arrangement is used. (Source: ADC)
Given the rapid growth in traffic volumes and number of subscribers, mobile operators need to upgrade their mobile switching units in ways that allow easy, fast and cost-effective scalability. MSOs can satisfy those requirements by providing high-density, modular (scalable) fiber-connectivity solutions designed to support 2G-4G equipment and services. These include optical distribution frames (ODFs) and 144- to 288-count fiber panels.
MSOs also can help mobile operators by providing solutions that measure optical-signal integrity and performance and that determine which applications are driving network capacity, thereby helping to ensure compliance with service-level agreements (SLAs). VAMs can function both as optical-monitoring and passive WDM devices. By selecting from a variety of chassis and optical components, MSOs can easily fit VAMs into their existing ODFs.
Backhaul Requirements
When it comes to extending backhaul fiber to the cellsite, MSOs can provide the necessary capacity, scalability and ease of access via fiber-connectivity solutions deployed in the colocate cabinet, which houses the transport equipment. In addition to fiber distribution hubs, these solutions include low-count (between 12 and 24) fiber panels that support both single- and multimode fiber; outdoor cable assemblies and intra-facility cables; Cat6 panels; both copper- and fiber-based patch cords; media converters for transitioning from copper to fiber components; and power distribution. Here again, MSOs can help the mobile operator by offering such signal-monitoring solutions as VAMs.
In addition, rising traffic volumes and associated demands for additional capacity are prompting mobile operators to seek out ways to extend fiber all the way to the antenna. MSOs can help achieve this goal by offering a 12-fiber multiport service terminal (MST) designed for the outside-plant environment. With a plug-and-play design, the MST (equipped with optical ports) connects the radio controller to the remote or distributed antenna system (DAS) radio heads. DLX drop cables on the MST extend to LC connectors on the radio head.
Tom Huegerich is VP/Global Fiber Engineering at ADC. Contact him at 800/366-3889.