Ensuring LTE's Quality of Service
When it comes to the mobile world, everyone wants more: more video, more music, more games, more social media, and the list goes on. As the usage of mobile networks continues to change, the promise of ubiquitous, "always on" mobile broadband connectivity is being stretched to the limit. That said, next-generation Long Term Evolution (LTE) technology promises the capacity and bandwidth to make these initial claims a reality.
Despite the benefits LTE technology offers, initial implementation of the technology will not be ubiquitous. Coverage likely will be targeted toward hot spots and urban areas, which means the new network must work hand-in-hand with the old. Take that complexity and couple it with the fact that the increasing usage of higher-bandwidth services (social networks, P2P, streaming video, etc.) is severely testing existing technologies, and you have a recipe for network issues that can severely impact your customers.
End-To-End Visibility
Whatever rollout strategy you follow, it is imperative that your environment be able to support both the latest LTE technology as well as connections to a variety of legacy ( i.e., EV-DO) environments. There should be "fall-back" capabilities available via dual-mode user equipment, where data is carried by LTE and voice by CDMA, with the ability to carry data over legacy networks when necessary.
For CDMA EV-DO on EV-DV providers, such integration occurs via the S101, S103, S2 and S102 (voice) interfaces, as outlined by 3GPP2. The idea is to provide seamless integration between the LTE core (S5/S8, S11, S12, SGi and S6a) and the EV-DO core (A10/A11, P-H and A12).
This critical integration is challenging to accomplish, however. The only way to help ensure such complex networks work together with minimal interruption is to consistently and automatically monitor them, end to end. Utilizing automated solutions to monitor LTE, legacy and other network technologies provides you with actionable information that enables you to discover, understand and fix service delivery issues quickly – before they impact your customers. A comprehensive understanding of network issues allows you to see not only what is happening in the network, but also how severely it is affecting the customers' quality of experience (QoE). You then can set priorities in terms of how quickly each issue needs to be fixed in order to maximize resources.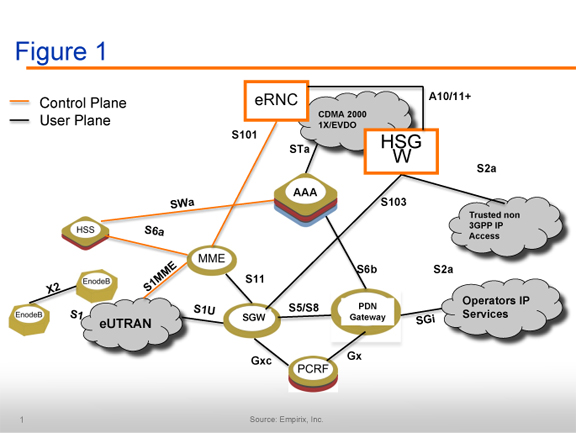 FIGURE 1: This is a schematic of the LTE network ecosystem, where S101 represents the interactions between EPS and HRPD, and S103 is the Data Forwarding Interface. LTE operators must ensure that these complex networks work together with minimal interruption.
Focus On Customers
Customers care about the quality of the voice and/or data services they are receiving; they just want it to work, and they want to receive their information quickly and intact every time. While it is true that these services are delivered by an extremely complex, interdependent chain of network interfaces, ultimately, customers don't care about the technical aspects of the network.
Given today's economy, organizations don't have the luxury of responding to customer complaints in a reactive manner. It's easy for consumers to switch providers and, therefore, those customers who receive consistently bad service will spend their money elsewhere.
The key to providing high-quality service is to gain visibility into the entire network. Invest in a solution that utilizes predictive and pro-active monitoring techniques based around key performance indicator (KPI)-driven analysis, with vertical drill-down through all of the service delivery layers: application, network and transport. With this kind of visibility, you can understand where problems lie; when, why, and how often they occur; and how customers are affected.
For example, a monitoring alarm could be set to go off if your most popular Web site's availability becomes problematic. Once you know there is an issue, you can drill down into the KPI and identify whether the problem is within your network or that of your content provider. If the issue originates with the partner, the network operations center (NOC)/support team can alert the partner. If it stems from your network, the team can drill down to a detailed view of the layers involved in delivering that service to discover the source of the problem and resolve it – before your customers notice any issue.
Fixing issues quickly helps provide a high QoE, which ultimately helps your customers – and your bottom line.
Neil McKinlay is director of product marketing at Empirix Inc. Contact him at nmckinlay@empirix.com.