Encoders & Decoders: What's Pushing These Devices?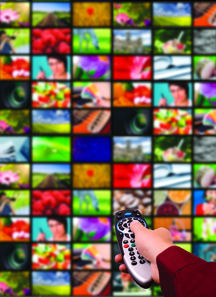 There is no question the squeeze is on when it comes to offering customers more and better services on the bandwidth currently available to cablecos, telcos and alternative video providers. With viewers becoming more demanding – and more discriminating – regarding their high-priced subscriptions, the days of "if we build it, they will come" are over, and service providers now have to implement what their constituencies want to remain competitive.
This means maintaining a great customer experience, translating into more advanced encoding and decoding of content.
"MSOs are looking for the quick fix when it comes to encoders and decoders," says Richard Buchanan, vice president and general manager/Content Operations and Engineering at the Comcast Media Center in Denver. "You know the saying: 'You can have it fast, you can have it good or you can have it cheap. Pick two.'"
In light of such a comment, companies that make encoding and decoding hardware and software need to deal with how to create value in every part of their footprints; for example, product has to be Enhanced TV Binary Interchange Format (EBIF)-, Nielsen- and V-chip-compatible. Key encoder/decoder players today include ARRIS, Anystream, Envivio, Harmonic, Harris, International Datacasting Corporation, Motorola, Cisco Service Provider Video Technology Group, Ericsson, Telestream Inc. and VBrick Systems Inc.
"Compatibility drives manufacturing," Buchanan continues. "Manufacturers need to be flexible." And video providers are not willing to continue to buy new encoding/decoding gear to upgrade their networks as consumer demand mandates new and spectrum-eating offerings like video on demand (VoD), interactive TV and pay TV. Instead, they are looking more at software upgrades. "Platforms that will survive long-term will be able to handle a number of such upgrades, as more and more transcoding platforms are software-based," he concludes.
Joe Woody, regional sales manager at Harmonic, disagrees somewhat with the "software-only" stance, saying new hardware will be needed in some instances, especially when it comes to delivering signal out into rural areas. "First, MPEG2 needs to go to MPEG4; the smaller the signal, the farther you can send it," he notes. "DSL networks make this really difficult. There are software solutions available but we've yet to see one being successful."
Woody believes encoding gear with higher compression rates is the way to go to leverage those millions of standard-definition set-top boxes (STBs) still in peoples' homes; to change those STBs out means an expensive truck roll.
With the continued push for more high-definition video content along with a growing customer clamor for video on demand, interactive video and pay-per-view offerings anytime, anywhere and on any device, multi-format encoders and receivers are on MSOs' minds these days, says Matthew Goldman, vice president/Technology, Compression Systems at Ericsson, and they would address the move from MPEG2 to MPEG4. But changing out those encoders isn't an easy task, adds Keith Dunford, a consultant for Fujitsu North America.
"The problems we're seeing have to do with budget," he explains. "Changing out encoders isn't transparent or easy, and that includes multi-format, because technicians sometimes forget that new licenses need to be purchased for those models.
Economic Slump Ending?
But are budget woes over? Growing consumer desire for more varied content and the ability to view video programming on PCs, tablets and smartphones is generating robust market growth in multi-format video transcoders worldwide, according to ABI Research. That group recently reported that total pay-TV encoder and transcoder revenues worldwide will increase 10.4 percent annually, from $779 million in 2010 to $1.4 billion 2016.
In addition, growth in fixed-contribution encoders and broadcast encoders will be strongest in developing markets, where new video services are being introduced and additional channels are being added to many existing platforms. Multi-format transcoders are strongest in North America and Western Europe, where more content is becoming available for consumption anytime, anywhere.
Adaptive bit-rate streaming is an important component of video delivery over unmanaged networks. "Microsoft, Adobe, and Apple all have proprietary adaptive bit-rate protocols based on H.264 video," adds ABI senior analyst Sam Rosen. "Many in the industry expect HTML5 to bring them together into a unified architecture that works on all devices ( see sidebar)."
Research firm Frost & Sullivan believes the world broadcast and digital terrestrial television (DTT) video-encoders market is poised for moderate growth, with the recession cooling off sooner than expected. "Video providers are reassessing their capital-expenditure pipeline for digitization, high definition and, of late, 3D equipment and workflows," the company says, in agreement with ABI. "This has buoyed prospects for the encoders market, which is set for high growth worldwide."
What will eventually drive the demand for the market are upgrades to advanced compression formats and HD. HD unit penetration is expected to start exceeding standard-definition (SD) product deployments sometime this year, Frost & Sullivan predicts, and this trend also pressurizes vendors to provide low-cost yet bit-efficient and high-quality products.
"Today, stereoscopic 3D is considered to be the next-generation frontier to television entertainment," the group notes. "Though it is marked with several challenges, it is expected to drive investments in advanced compression and high-end encoder products."
According to Calif.-based Global Industry Analysts Inc., video providers have to ramp up their digitization efforts in order to compete, and there is growing Internet protocol (IP) penetration in the headend.
"These two trends can trigger the demand for higher bit-efficient but optimum-quality encoders. HD contribution products appear to be a key area of investment for the market," GIA says. "There are a growing number of products with advanced compression formats, such as AVC and JPEG2000, that attempt to provide the exact features broadcasters are looking for. The recession has only reinstated the priority list of a (service provider): high quality, cost-competitiveness, easy and faster software upgrades as well as hassle-free products and services."
Debra Baker is editor of Communications Technology. Contact her at dbaker@accessintel.com.
Want To Know More?
What's A Codeword Or Two Among Friends?
Troubleshooting Video Quality Problems Before Or At Headends
Bullpen: Troubleshoot Video with Standards
Imagine All the Problems With Interlaced Versus Progressive Video