Driving Customer Advocacy With Analytics

You don't have to be an organizational anthropologist to realize that all human beings personalize their interactions with businesses. And given how important communications is in our business and personal lives, we can't help but have strong emotional connections to our service providers. Now, think about what that means in terms of marketing, contact centers and your channels. If your customers don't like you, they will be distrustful, cynical and won't give you their attention — or their business. ??
In a recent global IBM consumer survey (click here for more information), 60 percent of respondents said that they were antagonistic towards their communications service providers. That's more than simply passive; that means vocally opposed. It means they don't like you, and they tell their friends about it.
While trust has been under attack recently – trust in banks, in corporations, in governments – they've all taken a hit as of late. But telcos still stand out. Part of the reason for the decline in trust, the increase in antagonism and the marginalization of loyalty is scale. Companies – telcos included – have gotten bigger, ever more industrialized and automated, and, as a result there's an increased distance between their operations and their customers. Try as they might, they're a long way from the personal touch of the corner store. The service provider is like a big machine to the consumer, a utility appliance to whom they should attach no more emotion or empathy than, say, a vacuum cleaner.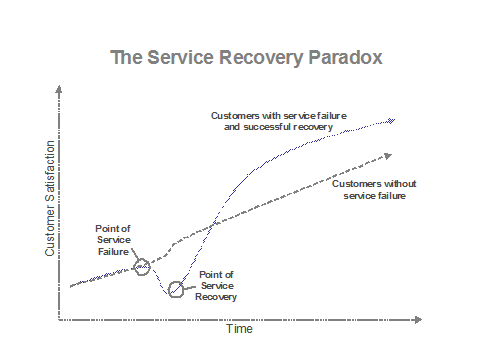 Source: The Service Recovery Paradox on Wikipedia
With the lack of loyalty and growth in antagonism come serious business implications. Antagonistic customers spend less and churn quicker. While managed churn – allowing some people to leave who we would prefer not to have as customers – is often discussed, a better alternative is to figure out how to "turn" or recover the customers. Indeed, as indicated in the service recovery paradox (see graphic), a turned antagonist who becomes an advocate can be much more effective than an advocate who was never poorly disposed towards the service provider in the first place.??
The challenge then is multi-faceted. There is a branding challenge that needs to be addressed. Service providers need to invest in their brands and make sure that they do what they can to get away from the "utility appliance" view that many customers have. They need to paint a picture of usefulness, relevance and empathy for their customers – no mean feat.??
There is also a personalization challenge that is more addressable in the short to medium term. Put simply, this is about capturing and analyzing data about customers, their behavior and their preferences, translating that into customer insight – consumable fragments of information that can be injected into business processes so that those processes can be more effective.??
At a simple level, this begins with the call center, knowing the name of the caller before they introduce themselves, and knowing how to address them, i.e.. Mr., Sir, Reverend…whatever is appropriate and most likely to be appreciated by the caller. But it goes much further than this.
In these interactions – across all channels – service providers should understand what actions to take that are likely to incent the desired behavior. If the customer has bought Clint Eastwood, Sylvester Stallone and Arnold Schwarzenegger movies in the past, perhaps the latest Nicholas Cage movie may be of interest. Some service providers may choose to push a title that yields for them the best margin – but, in this case, if that's an Adam Sandler movie, then the likelihood is that this client won't yield any margin at all. Predictive analytics can help service providers understand what the customer is likely to want to do next, and that, too, can help to make their experience all the better. If a customer comes away from an interaction thinking "those guys get me!," then it will take a monumental event to move that customer to a competitor.??
There are some key themes to bear in mind as we consider the business infrastructure necessary to drive customer advocacy.
>> Be smart, not necessarily instant. Real-time response systems are important, and they have their place. Sometimes it's not so easy to satisfy customer demands instantly. But that's not the same thing as saying a customer can't be instantly satisfied. Rather than keeping them on hold, agree to call them back; initiate the resolution process and email them a link to a public process view; text them, IM them or find another way to help give them visibility of resolution or process completion. Similarly, if the infrastructure can detect in real-time events like a dropped call, it may not be smart to immediately compensate or communicate a SMS apology; the customer experience may not be negative!
No one expects telecommunications networks to be perfect; everyone experiences dropped calls at some point. But if they happen at the wrong time, that can be a problem. For a teenaged girl, a dropped call at 10 p.m. on a Thursday night could be a disaster; for a businessman, perhaps not so much. At 10 a.m. on a Monday, perhaps those statements could be reversed.
>> Understand sentiment. Customers today express sentiment in many ways, in public forums, and all the service provider community has to do is listen to it! On Twitter, Facebook and other social-media platforms, customers are saying how terrible your service is or how clever your service is or how terrible the new devices or movies are and so on. If service providers can capture this, like Gatorade and other brands are doing, that deeper understanding of how customers feel about their brand, products and services will help make those things better.
>> Understand other customer connections. Customers operate in social groups; they interact with friends, colleagues, family; and they influence one another. Understanding who these people are can help service providers model influencers and prioritize customers who have most influence for particularly good treatment. Call-detail records are a great way to identify social networks by measuring connections based on who calls who, how frequently and for how long. Overlaying social network graphs with buying patterns can help determine influence propensity. Knowing influence propensity, inventive models can be tailored and targeted at viral spread and product adoption.
Pulling these themes together into a coherent strategy, customer relationships can be transformed, but this is only the beginning of the road. Measuring customer advocacy and making consistent progress toward improving customer advocacy across the customer base will improve revenue, retention and loyalty – and, ultimately, the bottom line!
Contact Anthony Behan at anthony.behan@ie.ibm.com.