Coded for Commercial Services
By Jonathan Tombes The commercial services market was on the verge of becoming the broken record that voice over IP was before those deployments began in earnest last year. You can only hear about a great opportunity so many times, after all, before the opportunism of the pitch wears thin. These initiatives differ, however, in that while VoIP is brand new, the cable industry has been knocking around the commercial services market for long enough to acquire both battle wounds and a bit of wisdom. The industry first approached this market in the late 90s by essentially mimicking the opposition and establishing competitive local exchange carrier (CLEC) equivalents. That CLEC approach largely failed to pay off, both for the cable industry and numerous start-ups who also were targeting the high-end business customer. "The RBOCs (regional Bell operating companies) just took these guys out by cutting prices," says Mark Palazzo, VP and general manager, access networks, for Scientific-Atlanta. The current crescendo of interest in and activity around commercial services roughly corresponds with the demise of CLECs, the rise of converged network architectures, the advent of purpose-built access technologies and the proliferation of both DOCSIS and Ethernet. Above all, the Ethernet protocol is enabling MSOs to change their residential stripes into commercial barcodes. LightPath adjusts course Ongoing developments at Cablevision Systems' Lightpath subsidiary illustrate these trends. Having been in the commercial services business for seventeen years, Lightpath stands a kind of elder, if somewhat idiosyncratic, statesman in this arena. What's unique about Lightpath-its New York City metro market-also helps explain its longevity. "If there was ever a place to try to break even, that was the place to do it," Palazzo says. But there is more to this story than a concentrated market. One thing that happened over these many years was the investment of one billion dollars in the network, says Kevin Curran, Lightpath SVP product marketing. In another company, that longevity and embedded infrastructure might have been a constraint. But with cable in its corporate DNA, Lightpath has shown its tendencies toward nimble, opportunistic and proud behavior. What got LightPath's dander up and precipitated a strategic shift was being lumped into the category of local exchange carriers that simply re-sold others' bandwidth. "We used to be known as a CLEC," Curran says. "We don't really like that term any more." And it really no longer fits. In January, Lightpath drastically reduced its time division multiplex (TDM)-based portfolio of 3000 products down to a core of 30, all Ethernet-based. "Looking at our assets and where we wanted to go, we decided to go to an all-IP strategy," Curran explains. Lightpath has a two-pronged strategy to motivate Ethernet adoption: pricing for existing customers and incentives for the sales force. Yet it remains able to service and grow legacy technologies. Convergent technologies Technology choices made over the past two years laid the groundwork for this shift and has given Lightpath the flexibility it needs to serve all customers. First came the retrofitting of its core network with densewave division multiplexing (DWDM) technology from Nortel. Then Lightpath rolled out a multi-protocol label switching (MPLS) infrastructure from Cisco Systems that integrates with the densewave core. The last piece was a pure optical Ethernet last-mile solution from Atrica Networks (sold via Fujitsu). "We picked an architecture that will allow us to achieve our convergence goals, but at the same time not abandon our existing base, (and to) launch a new revenue stream with all the new Ethernet services," Brian Fabiano, SVP Network Services, explains. One new customer is Long Island's Nassau County. This is a government body that spends $300 million in telecom services a year yet for seventeen years never bought anything from Lightpath, says Curran. "Once we started offering Ethernet services, we had a sale from them immediately." Lightpath's network transformation and market expansion is ongoing. By both leveraging glass belonging to its parent Cablevision and opportunistically acquiring niche fiber rights, Lightpath infrastructure now optically rings New York City. In March, Lightpath fired up the Nortel 1600 long-haul switch to pump 72 waves of 10 Gbps each across fiber that lies under the Hudson River. Expect more combined efforts as Lightpath, which targets businesses with 50 or more employees, is brought within the fold of Cablevision's cable modem-based Optimum brand. "We share a lot more than fiber," says Curran, who along with Fabiano, reports directly to Cablevision COO Tom Rutledge. As it happens, Time Warner Cable shares Lightpath's enthusiasm for Ethernet. (For a fulsome brief on behalf of the protocol, see sidebar 2.) And Time Warner's portfolio of services in the New York City itself resembles that of its Bethpage-based neighbor. A February announcement regarding Time Warner's adoption of Norte's Optical Metro 5200 metro DWDM and Optical Metro 3500 multiservice platforms, said the MSO would build upon its existing cable TV and Road Runner Business Class services infrastructure to deliver a suite of new services that include Ethernet private line, Ethernet private LAN, Ethernet Internet connectivity and a private storage service. Charter embraces RFC 2547 bis Like most MSOs, Charter Communications supports a range of commercial services. "Everything from direct Internet access to Ethernet LAN extension and transparent LAN services," says Michael Emmendorfer, Charter's director of advanced network technologies, says. "We also have traditional SONET and TDM types of services, as well." The services themselves correspond to particular supporting technologies. Emmendorfer points to Charter's passive optical network, its routing and switched network, SONET network and DOCSIS networks and the usual media suspects: coax, fiber and wireless. In the face of such network profusion, he furthermore emphasizes the role of MPLS in promoting a countervailing measure of convergence across Charter's data network. Specifically, Emmendorfer refers to Internet Engineering Task Force (IETF) request for comments (RFC) 2547 bis (second), or Border Gateway Protocol (BGP) MPLS Virtual Private Networks (VPNs). Drafted in March 1999 by two Cisco engineers, the document describes a way that service providers with an IP backbone can provide VPNs. Noteworthy is Charter's adoption of MPLS VPN over DOCSIS. "Certainly others have deployed MPLS, on their backbone, or their core network," Emmendorfer says. "We use that technology over DOCSIS, as well as over our fiber-based switching and router infrastructure, to offer Frame Relay replacement services to customers." And like the standard itself, Charter's deployment of MPLS VPN has some history to it, with the first customer billings for this service having been sent in the fall of 2002. So what are the advantages of doing this over DOCSIS? "Reach" and return on investment are two themes that Emmendorfer hits. "Most of our cable infrastructure is coax, which is very typical to all the other operators," he continues. "Coax is normally closer to the customers. Two, we can leverage an existing asset. We can also leverage our provisioning systems. From an ROI perspective, we can reach more customers through our coax-based infrastructure." Converged vision Being media-agnostic, MPLS gives Charter the opportunity of creating unique solutions, such as connecting a customer's remote offices through cable modems but linking the main site via fiber (see figure 1). Enabling private phone networks is another application. "One of our customers is using our cable modem, with SIP (session initiation protocol) phones behind it, to communicate to their call server at their office," Emmendorfer says. "And their IP PBX is actually provisioning those phones over our DOCSIS-based MPLS VPN."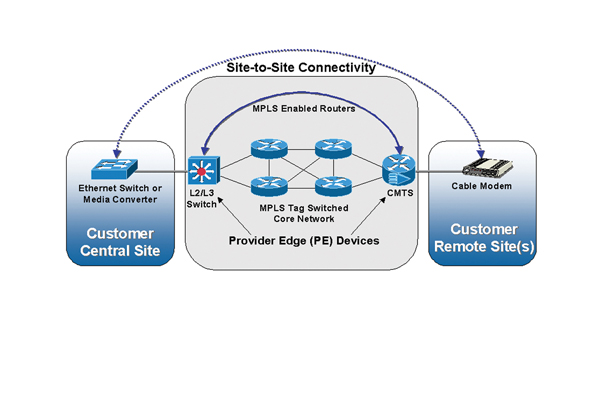 There's a grand vision driving this architecture: "Our goal is to have a common network infrastructure than can support a multitude of services, regardless of access layer technology," says Emmendorfer. (For more details, see his NCTA technical paper titled "Converged Data Network Architecture.") As implementing this vision requires a cable modem termination system (CMTS) capable of supporting MPLS VPN, it is not surprising to find the vendor in part responsible for this protocol claiming some credit for Charter's commercial services business. In a pre-NCTA show briefing, Cisco executives said that this portfolio (which includes the DataWorks, VideoWorks, MusicWorks and HotelWorks products) was based on a Cisco IP next generation network comprised of the uBR 10012 CMTS, the ONS 15454 multi-service transport platform, and the 12000, 7600 and 6500 series of routers. Reaching the customer Segmenting the commercial services market and estimating where the cable plant overlaps with the best opportunities is an exercise that generally supports the idea of operators targeting the small to medium-sized businesses (SMBs). Roughly speaking, this is the segment, as Narad Networks COO Chuck Kaplan notes in sidebar 1, whose technology needs fall somewhere between the cable modem and fiber-based solutions. Narad recommends reaching topographically clustered SMBs with an out-of-band (higher than 860 Mhz) technology that adds 100 Mbps symmetric Ethernet traffic per coaxial trunk, or (in typical plant configurations) 400 Mbps per node. That translates into capacity that can reach what Kaplan believes is the underserved segment of businesses that use between one and 10 T1 lines for voice and data services. Deployment calls for a Narad provisioning system, off-the-shelf Gigabit interface converters (GBICs) and multiplexers (where no spare fiber exists), Narad Ethernet switches, passive filters (when actives are encountered), and a Narad modem, which can deliver either TDM signals to a PBX or Ethernet signals to a LAN. The solution also incorporates a wireless line extension option. Wireless extensions are yet another of the so-called "tools" which vendors believe will enable operators to capitalize on the commercial services opportunity. But however specialized, these wireless options can help meet actual needs. Cox differentiates "It's a redundancy opportunity, or a way to their temporary buildings," Jason Welz, VP Cox Business Services, says. "Like construction trailers in the middle of a big road project." Cox is using the ArcWave wireless extension product, says Welz, who is based in northern Virginia. Having a "tool-kit" stocked with multiple network technologies that range from wireless extensions to VLAN tagging (also known as 802.1Q1) to fiber optics is more than a cliché to Welz: it's a differentiator. "The biggest thing is we're not going at this from a canned-solution standpoint. We really approach this from a customer-needs perspective." Whatever the market surveys say, an outlook like that is especially likely to find particular underserved businesses. "We've moved from a very a small to a growing organization," says Welz about his team in northern Virginia. Cox Business Services itself has been around long enough to ride several business cycles and technology trends. As with Lightpath, the choices, strategies and enthusiasm emanating from that CBS warrant attention. While multiple distractions may have prevented many MSOs realizing the "untapped goldmine" that commercial services presents, the folks in Atlanta appear to have kept their eye on this ball. "Cox gets it," S-A's Palazzo says. Especially on hitting the "sweet spot" between DOCSIS and fiber, he adds. The problem with DOCSIS is that it's a best-effort service, Palazzo says. "You can't guarantee (bandwidth). If you do, the costs start killing you because you dedicate a CMTS blade to every customer." What business customers need for voice and data is the equivalent of a set-top box, "dedicated all the time." More options The S-A solution that fits that bill is called BroadLAN. Deploying the solution entails a transport modem termination system in the headend and a client transport modem on the subscriber premise. "Instead of a 2.3 Mhz carrier, we dedicate special 400 khz-wide tones to individual customers based on a SLA (service level agreement)," Palazzo explains. Services enabled through the modem include high-speed data, T1 voice connectivity and dedicated Ethernet. The BroadLAN product operates within the 870Mhz range, but an upgraded version would be compabile with operators who choose plant extensions to 1 GHz (an option that S-A also promotes). Although MSOs tend to avoid addressing the question of whether to tap into that unused spectrum, Cox approved for its commercial services customers a DOCSIS-based solution that adds another 2 GHz of spectrum to the HFC plant. That would be the block division multiplexing (BDM)-based technology that Xtend Networks designed to enhance total bandwidth to 3 GHz between the node and customer. "Coax as a medium can handle more," Dr. Hillel Weinstein, Extend Networks chairman, says. "The limitation is amplifiers." The RF expertise of Xtend (now a Vyyo company) launched a line of new BDM-based amplifiers, splitters and CPE multiplexer/converter arose that could be deployed not only to targeted high-bandwidth consuming business consumers, but also HDTV saturated neighborhoods. An attractive feature of the Xtend approach is that it works with the existing DOCSIS framework, both modem and CMTS. That feature suggests a sort of eternal engineering dilemma: MSOs may continue to morph into flexible providers of ever more types of services, but they cannot escape the question of how best to leverage and trade off new and existing technologies within ever-shifting market opportunities. Jonathan Tombes is editor of Communications Technology. Did this article help you? Email comments to jtombes@accessintel.com.
Market Choices Patterns revealed in three-city study conducted by Stratsoft, LLC indicate that 70 percent of the mid-market monthly spending is found in 20 percent of the HFC nodes. In those nodes, a cable operator would need to supply, on average, more than 100 Mbps symmetric data with committed information rates (CIR) in order to win 25 percent of the customers. And the most attractive, densely business-populated 5 percent of the nodes require 200-300 Mbps symmetric. Yet the large majority of the US businesses are found in buildings of 1 or 2 businesses each. Small to medium-sized businesses (SMBs) do not generally cluster into large collections in a single building. The results of the study led to these technology assertions for commercial services: Fiber to the business premise makes sense when businesses are clustered in the same building and when construction can be done quickly and cost-effectively relative to construction barriers. Coax out-of-band solutions should be used in the dense commercial areas where coax can be used and where large symmetric bandwidths are required to make compelling offers in the so-called NxT1 space, consisting of businesses that use from one to about 10 T1 lines for some combination of voice and data services. Coax in-band solutions make sense for commercial customers that are sparsely enough populated to be served in what remaining (upstream) spectrum is available in a given node. And wireless plant extensions make sense when the last mile of coax doesn't exist. These solutions can fall into either the densely populated commercial areas where out-of-band solutions are used for very high-speed backhaul, or in sparsely populated areas where DOCSIS will be sufficient for the backhaul. Chuck Kaplan, COO of Narad Networks.
Time Warner's Case for Metro Ethernet: Simplicity, Cost and Speed Ethernet has come a long way from its origins in local area networks. As optical networks have become more intelligent, engineers have increasingly turned to Ethernet protocol as a layer 2, optical metro network solution. Prior to this, customers were at the mercy of select few providers to move their data reliably between sites and business partners. The reasons for this lie in the origins of the competing network technologies. Telco data networks have evolved from designs originally optimized and engineered for voice. Many telco networks now used for data transport started out as SONET rings carrying traditional voice traffic. ATM and Frame Relay were introduced as bridge protocols to help these voice networks carry data traffic. This layering of technologies created the current generation of high-cost, telco data solutions that are complex to manage and need a high degree of expertise to set up and operate. Metro Ethernet, on the other hand, has been developed for IP-based services, specifically high-speed Internet access and transport, voice over IP and IP video. This protocol can operate at speeds over 10Gbps with high reliability and redundancy, making it by far the most simple, and hence the most cost-effective and reliable network architecture. Not only is metro Ethernet easier to operate and maintain than most telco solutions, it is also much easier to provision and troubleshoot during set-up. Benefits to cable Metro Ethernet now can provide traffic engineering and distance capabilities of legacy network technologies securely and at a fraction of the cost. Cable providers are uniquely positioned to address emerging capabilities with modern designs often using wholly owned networks that not only provide superior performance but also offer equipment diversity and alternative routing from the traditional telco solutions. The benefits of cable's community presence coupled with modern, easy-to-deploy metro Ethernet technology also results in speedier turnarounds. Customers should increasingly expect network solutions capable of making modern applications work literally out of box and without start-up headaches or the need for expensive start-up assistance. QoS and VLAN Two additional capabilities are further enhancing the benefits of the Metro Ethernet protocols to customers. These are Quality of Service (QoS) and Virtual LAN (VLAN) capabilities. QoS enables VoIP and other low latency, network-intensive applications to perform at levels demanded by businesses. VLANs enable seamless interconnectivity for customers with multiple worksites. The ability to encapsulate customer VLANs and network control data securely within a single carrier VLAN using the 802.1Q standard should now be at the top of virtually every install action list. -Ken Fitzpatrick, Senior Vice President, Time Warner Cable Commercial Services Division.