Charter Taps Commercial Services: Reels in Enterprise Customers
Offering businesses broadband services over hybrid fiber/coax (HFC) networks is a great opportunity for cable operators. It is a segment that is underserved, can be reached with our plant and has higher revenue-per-drop potential than residential services. The commercial segment also provides assurance of continued revenue growth when "share-of-wallet" limitations of the typical household entertainment budget are encountered. Commercial services also offer cable operators the potential for higher returns on capital than some residential services.
What follows is a look at what Charter Communications has learned over the last six years in developing commercial services. Techniques on market sizing are presented followed by network and service evolution. Customer segmentation is addressed. Support strategies and issues are highlighted as well as obstacles and challenges that we face as an industry.
Market sizing
Determining market size is important for gauging the attractiveness of the business opportunity. You can accomplish sizing by using a combination of macro and micro techniques.
From a macro perspective, broad gauge estimates of market size can be made using Federal Communications Commission (FCC) residential and commercial telecommunications expenditure data and homes passed by cable plant. According to the FCC, total expenditures on communications services in the United States were $292.7 billion in the year 2000. The commercial and special access services segment account for 52.8 percent or $154.6 billion (FCC Form 499-A, 2000). Applying a correlation between homes passed and businesses passed in metro/geographic areas, communications service expenditures within and near Charter's serving geographic areas are estimated to be $15.3 billion. This is based on its 9.9 percent share of homes passed. However, not all commercial establishments are within economical reach of the HFC plant. Much of the plant was designed and constructed to efficiently serve residential communities and simply does not pass many of the commercial sites. In fact, a substantial percentage of businesses may not be economically reachable by cable plant architectures. These percentages vary by market, based on network footprint and local business demographics. These ratios or reduction factors were determined by overlaying D&B commercial addresses on network maps to calculate network proximity. Charter employed six test markets to validate the technique and to estimate the "addressable" market or that within the reach of our plant. A second technique is estimating market size using commercial telecommunications expenditure data contained in D&B databases. These are matched to zip codes in the geographic areas served by cable plant. Where D&B data are not available, you can use regression analysis for estimating the number of businesses and their respective telecommunications expenditures.
The current market climate for high-speed data services is excellent. Growth rates continue to remain high despite the general slow down in the technology and telecommunications sectors. On a year-over-year basis, growth rates can range as high as 40 percent to 100 percent per year. Demand is very strong, particularly in secondary and tertiary markets where telephone companies are not paying much attention to small- and medium-sized enterprise (SME) customers. In these areas, customers have little or no choices, broadband facilities are scarce and prices for service are high.
Another characteristic of the commercial market is the "spill-over" brand effect from residential cable services. This highlights the importance of achieving high levels of customer care in both the residential and commercial sectors. Since 1996, the beginning of commercial service operations in its North Central Region, Charter has never lost a fiber-based customer until this year. The loss was the result of an acquisition of the customer by a carrier. Network benefits Cable's HFC networks are clearly the unrecognized heroes of the 1996 Telecommunications Act. Unbundled network elements (UNEs) and UNE-Ps are not the kind of competition desired by the Act, which legislators and the FCC are discovering. Cable is the only real facilities-based, wireline competition to the local telephone companies in the local access arena. And now that broadband is growing in popularity, high-speed data connections to the Internet have become an essential element of any businesses infrastructure. This is good news.
Our HFC plant is poised for extraordinary success as we offer high-speed Internet access, voice over Internet protocol (VoIP) and transparent local area network (LAN) services at speeds and flexibility beyond that of the phone companies. Once linked across regions and the country, these powerful access networks together represent the only viable competitor to the established telecommunications infrastructure. Our challenge is to make it happen and to prevent the local telephone companies from legislating barriers to its success
Serving the commercial sector is synergistic with network growth and evolution for cable operators. From the beginning of offering commercial services, Charter garnered large network contracts that, in part, helped fund headend consolidation. Extensions of fiber to smaller towns to serve one or two large businesses enabled rebuilds and the collapsing of headends further.
Although the demographics may be unique in the Wisconsin area, over time, Charter was able to complete a statewide fiber-optic network ring that carries a synchronous optical network (SONET) architecture. This ring enabled providing carrier class network reliability across the state. As we expand Charter Business Network's services across other areas of the company, the same fiber optic network opportunities are evident.
The evolution of our own inter-system networks also enables consolidation and carriage of Internet backbone traffic from our rapidly growing residential, high-speed data business to carrier access points. The next step is to bring the growing regional networks together through nationwide connectivity. This will allow for us to begin cross regional sales of virtual private networks (VPNs) on a national account basis. Broad service portfolio
Charter Business Networks provides a variety of high-speed data services ranging from fiber optic-based wide area networks (WANs) or transparent LAN services operating at gigabit speeds to Small Business Internet services providing 256/128 kbps Internet access. The accompanying table (see below) summarizes our current suite of services.
Customer segmentation
WAN and transparent LAN services have succeeded well in three primary vertical markets: health care, government and education.
Hospitals and large regional clinics are using high-speed connections between facilities as well as VPNs for home-worker applications. The government's E-Rate program has driven a great deal of business connecting schools with interfacility, high-speed data and Internet access. These segments fit well into our early stage network development in that they typically are local or regional and served by one headend.
Small business Internet take rates appear evenly dispersed across all verticals with no particular take rate pattern. Customer support
In secondary and tertiary markets where telephone company service typically is lacking, finding customers with a need for high-speed data networking is not difficult. It is more like "shoot'n fish in a barrel." The challenge is meeting the customers' needs with the HFC network and our residential, cable-oriented support infrastructure. This is where re-tooling is required. Commercial-grade customer care is critical to success in serving this market.
Our strategy for the last six years has been to manage growth with our ability to provide commercial-grade customer care, field service and network management. And, we have learned much over the last six years. Several key discoveries are shown in the sidebar below.
Obstacles and risks
There are several obstacles facing our success. Competition from the phone companies creates our largest challenge. Yet, the threat they pose is not what many in the cable industry assume or think. It is certainly true that they will be competitive in the high-speed data markets with their digital subscriber line (DSL) service. Very-high bit rate DSL (VDSL) may even penetrate the video services market.
However, competing in the market for customers is not where we will win or lose this battle. The real battle will be in the marble halls of our state and federal legislatures. This is the telco's home turf and a game they play extremely well. They are masters of the legislative and regulatory process, and they will apply this mastery to contain the competitive threat MSOs pose to them which is significant.
This battle not only will shape choices and innovation offered to consumers over the next five years, it will impact dramatically the value the cable industry can extract from the multibillion dollar investment in its plant. 2003 likely will be the year that shapes the win/loss column as broadband becomes a hot topic in Washington, D.C., and state legislatures.
Second to the telephone company legislative and regulatory capability, the capital markets pose challenges at a time when commercial services are poised to grow. This is no news to us, but it does impact our plans. It is particularly interesting to note that after billions have been spent by the industry creating nearly ubiquitous broadband access networks and carriers such as Level 3 and Williams have created vast intercity/interregional backbones, that rounding out these networks into one large competitive network is stuck on the figurative three-yard line and the capital officials have called a time-out. The phone companies' solution is to obtain subsidies and special favors to extend broadband networks. The good news for cable operators is that returns on capital are attractive for commercial services so eventually, these networks will bear the fruit. The third obstacle faced by the industry is overcoming legacy ways of operating. No longer can nodes be taken down for maintenance during the day. No longer can customer-affecting maintenance occur with out alerting customers in advance. Carrier-class network management is a requirement to play in this space, and in many respects we have considerable distance to go before reaching this goal. Overcoming distance limitations Serviceability potentially threatens to slow cable's penetration into the commercial market and slow revenue and margin growth. Three components impact our ability to serve a customer and the cost of installation. First is proximity to our plant. Distances much over 250 feet require a more expensive build. Parking lots or other expensive construction for access to buildings is the second challenge. Third, reaching the customer once entry into a building is secured also can be difficult if risers and conduits within buildings are full. To address these challenges, wireless alternatives are being investigated. National sales activity that expands the WAN and VPN services business outside a region is also a challenge. VPNs require cross-system, cross-regional and cross-country networking. These are areas where our network designs need solutions, and operations need to mature. Multiprotocol label switching (MPLS) is promising in this regard. Switched access services using VoIP technology is a natural growth segment as the industry penetrates small, medium and large business sectors. Commercial switched access (dialtone) typically is priced much higher by the telephony companies than residential access, thereby providing much higher margin opportunities. Charter has been developing VoIP switched access services over the last two years and is pleased with its progress in delivering residential service on a limited basis in Wisconsin. The commercial market is ripe for cable operators to enter. In secondary and tertiary markets, businesses are underserved by the telephone companies. Prices for service are high; choices are limited; customer care by phone companies is sporadic; and margins are attractive. Growth in demand is strong because of the Internet. To tap into this market, cable systems must prepare operationally because the commercial customer will not tolerate poor service. And lastly, the phone companies' legislative capabilities cannot be underestimated. As we succeed, they will, without question, move to block cable's successes through the legislative and regulatory process. James C. Rice is corporate vice president of Charter Business Networks,
Charter Communications. Email him at jrice@chartercom.com. What Has Charter Learned? Charter Business Networks High-Speed Data Service Offerings Wide Area Networks (WAN): A fiber-based connection offering from 5 Mbps to gigabit speeds. Frequently referred to as transparent LAN service and is typically used to connect geographically disperse LANs at native Ethernet speeds. Virtual Private Networks (VPNs): A fiber-based connection from a host LAN back to the headend with cable modem connections to homes or other offices within the geographic serving area of a headend. Employing MPLS will allow the expansion of VPNs outside the geographic area served by a headend. Several security configurations are being developed. Large Business Internet: This service is fiber-based, high-speed connectivity to the Internet. Small Business Internet: This service provides: connectivity to the Internet ranging from 256 kbps to 1.5 Mbps downstream and 128 to 512 kbps upstream; Web hosting services; Vanity email and DNS; Dynamic or static IP addresses Bottom Line
Commercial Services: Are You Ready? The commercial market is ripe for the cable industry to enter. In secondary and tertiary markets, businesses are underserved by the telephone companies. Prices for service are high; choices are limited; customer care by phone companies is sporadic; and margins are attractive. Growth in demand is strong because of the Internet. To tap into this market, cable systems must prepare operationally because the commercial customer will not tolerate poor service. And lastly, the phone companies' legislative capabilities cannot be underestimated. As we succeed, they will, without question, move to block cable industry successes through the legislative and regulatory process.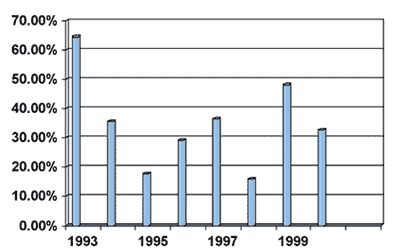 Figure 1: Special Access Service Growth
Source: FCC Form 499-A. 2001.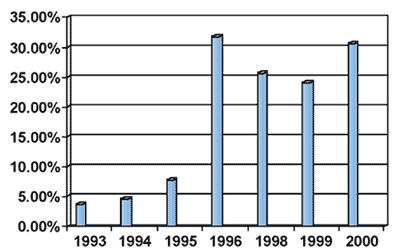 Figure 2: Local Private Line Growth Rate Data (80 %)
Source: FCC Form 499-A. 2001
Figure 3: Charter's North Central Region Broadband Communications
Infrastructure