Call to Action – Cable Should Unite to Make Authentication Easier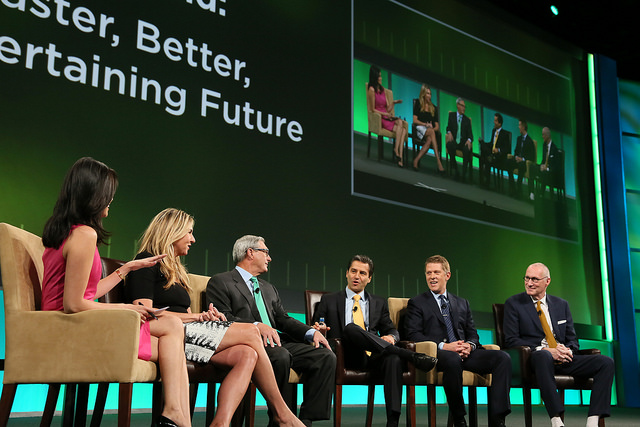 The Cable Show kicked off its first general session on Tuesday with a panel of top brass in cable programming.
Turner CEO John Martin didn't mince words. If only one thing comes out of the Cable Show this week, it should be that programmers and distributors need to work together to continually improve the consumer experience—particularly for TV Everywhere. "Authentication or this concept of authenticated content is a barrier to usage," he said during Tues' opening general session at the industry gathering. "We have to work together, we have to make it easy, we have to make it consistent. The ideal over the next 5 years of dramatically improving the robustness of video on demand is the biggest single opportunity that we together can create, which will create value for distributors and value for programmers."
Other programmers on the panel quickly seconded Martin's concerns over authentication. AETN pres/CEO Nancy Dubuc said that her company's TVE apps have been downloaded more than 11mln times across the 3 core brands in their year on the market. "But the authentication of those downloaded apps is not great. That means it's too difficult to do," she said. Despite nice TVE viewing for events like the World Cup, ESPN chief and Disney Media Nets co-chair John Skipper agreed that authentication is troublesome, challenging the industry to be as innovative as Silicon Valley. Time Warner Cable CEO Rob Marcus didn't sound quite as anxious. He agreed the process of authentication "needs to be even easier," but said "the early returns are quite good," pointing to the online video's young age and TWC's success with its TWC TV app. Last month, more than 1mln unique users accessed video product with something other than a set-top, he said.
Suddenlink CEO Jerry Kent added that the more content viewed online, the more people are going to turn to cable for HSD "because it's the best out there." Of course, programming costs came up on a panel with programmers and operators. While Marcus conceded there is a "fundamental problem with the ecosystem" and that content costs are a real problem, he said everyone needs to tout the value of what cable offers. "It depends on the calculation you do, but it's not unreasonable to assume that we essentially charge customers 20 cents a viewing hour—which I think is well worth the price of admission," he said.
Still, affordability is a real issue. "I'm concerned we're going to reach a tipping point where we start to price some households, particularly those with distressed household incomes, out of the market," Kent said. "We need to have the flexibility working with our programming partners to be able to offer less expensive types of tiers." What could bring about that change? In Kent's opinion, it could come if some operators decided to stop carrying certain programmers because of expense (Cable One already opted to drop Viacom) or if prices continue to rise and people start disconnecting from cable all together.
One of the interesting tidbits to come out of the panel was Dubuc worrying about where the next generation of content creators will come from—this from a company with a number of hit shows. "I look around and I see a lot of smaller production companies selling for astronomical prices. People cashing out, and that next crop of creators is opting to go to YouTube… opting to go different avenues. How do we attract them to our platforms?" Martin said Turner shares those concerns but believes
established players have an advantage in that "it's really about brands and scale." Also helping cable is its dominance—it is home to the #1 show on all of TV after all, AMC's "The Walking Dead." "Over the next 5 years, I'd like to see any distinction made between cable and broadcast annihilated, blown up. It's irrelevant," he said. "We have some of the most profitable television networks in the world… But it's getting harder. There's an arms race for programming."