Cablevision's Mitchko-Beale Named Women In Technology Winner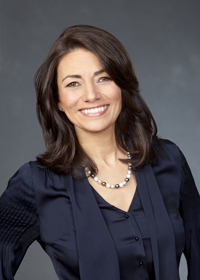 Stephanie Mitchko-Beale
Stephanie Mitchko-Beale, svp, video infrastructure software for Cablevision, is this year's Women in Technology winner, WICT, SCTE and CableFAX announced. She knows how to give back, having volunteered for the past nine years as a guest lecturer at NYU Stern Graduate School and serving as a keynote speaker for high school girls at Poly West Key. Her accolades are many, and include being listed as a Top Woman in Tech for CableFAX: Magazine and two Emmys for Cablevision's video platform.
"Stephanie is a proven leader, and we are proud to recognize her with this well-deserved honor. As part of Cablevision's senior technology team she is at the top of her field, yet she also helps create a stronger legacy of women in technology by making time to encourage and mentor others," said WICT pres/CEO Maria Brennan.
Mitchko-Beale will be honored at SCTE Cable-Tec Expo (Oct 21-24, Atlanta) and in an upcoming issue of CableFAX. The award, sponsored by Bright House, was created in 1995 to recognize leading technology professionals. Past winners include Jennifer Yohe Wagner, Susan Adams, Leslie Ellis and Nomi Bergman.
"Stephanie Mitchko-Beale's recognition is richly deserved," said Cathy Oakes, svp, operations for SCTE. "She has a wealth of experience and has been part of some significant technological advances over the past 20 years. She also understands the importance of giving back, which she has done both in the classroom and as a mentor."

"CableFAX is proud to be part of the Women in Technology Award program, and we congratulate Stephanie on her accomplishments," commented Michael Grebb, Executive Editor of CableFAX Group. "We are pleased to recognize a leader like her who has made such significant contributions to the technology side of our industry."