Bullpen: Why PSIP Matters
Why should PSIP (Program and System Information Protocol) data matter to service providers? The answer, simply stated, is that the FCC requires it.
Desiring to enable a similar viewing experience for those not using cable set-tops or tru2way cards, the FCC has required that for channels containing PSIP information on ingest and carried in the clear, PSIP information must be present in the cable feed. Beyond this mandate, however, lie some very practical reasons why cable system operators need to understand and manage PSIP data.
PSIP in practice
PSIP forms the foundation for ATSC digital television transport streams, serving as the mechanism by which metadata about each channel is carried in the MPEG transport stream to define virtual channels and enable tuning, as well as provide viewers with electronic program guide (EPG) information, content ratings and program descriptions. PSIP data are multiplexed into the MPEG transport stream. (See Table 1.)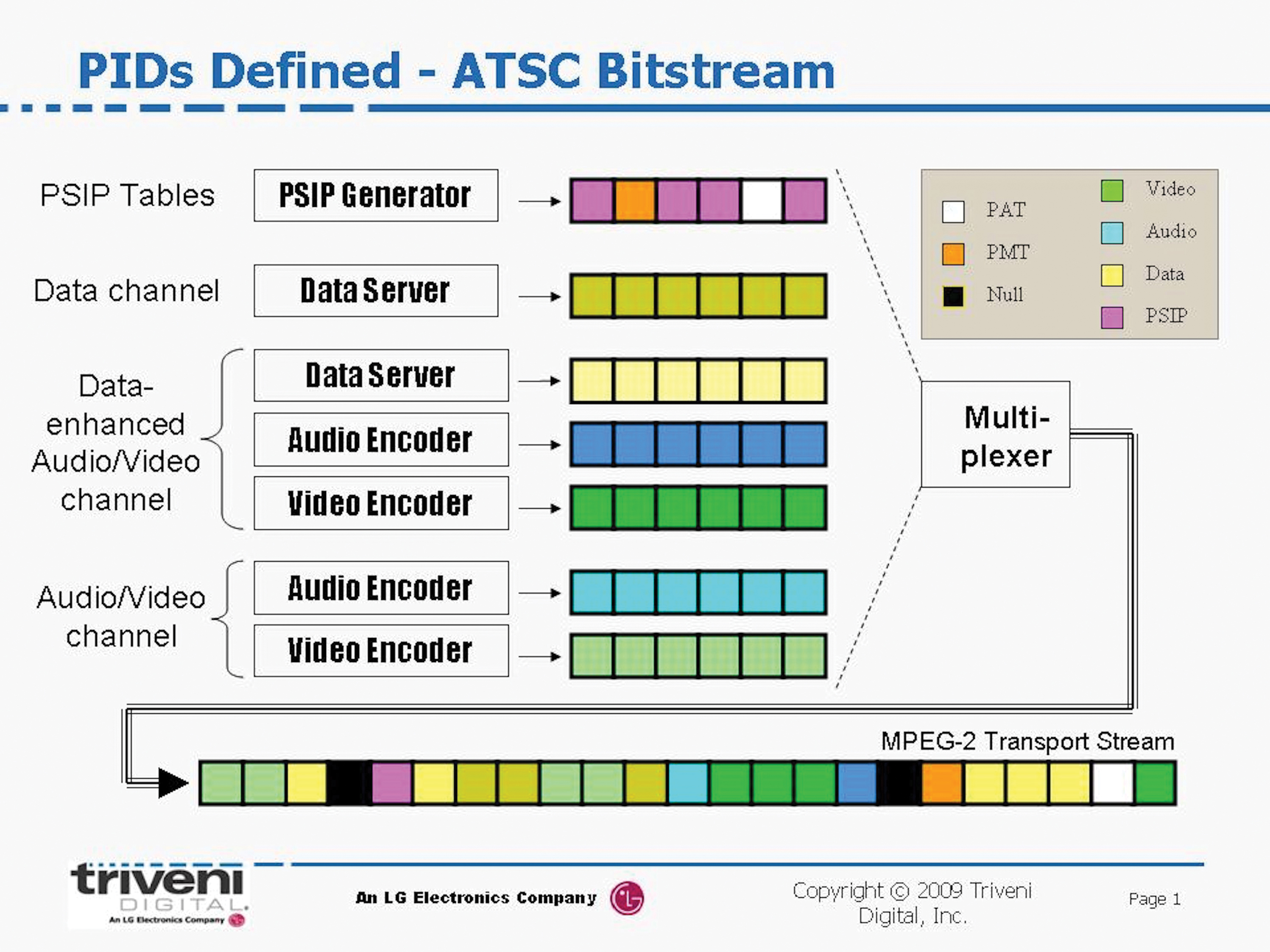 While there is no fixed relationship determining its position in the stream along with other elements (audio, video and data) PSIP information is multiplexed into stream of packets according to recommended table times that represent a compromise between tuning responsiveness and bandwidth required. The faster the PSIP tables are provided, the faster the tuning to individual channels, but the more overall bandwidth needed.
Errors in PSIP data can cause serious problems ranging from compromised image or audio quality through to complete channel loss. As a result, the provider must be able to translate PSIP data in off-air streams correctly and generate its own PSIP data — in accordance with the SCTE 65 standard for cable television — on the output to ensure compliant and quality delivery of programming.
Proprietary program guides typically come from a listing service and they represent an idea of what the future schedule will be. Whereas broadcasters can simply provide up-to-date schedules based on data from their internal traffic and automation systems, the cable operator has no control over the material being passed through and must rely on outside sources for scheduling information.
Proprietary guides are carried out-of-band in a fashion (according to SCTE standards) that addresses 95 percent of devices on the market. But options remain.
Set-tops, CA choice
Cable operators equipped with a proven PSIP/SCTE 65 system that operates in an open, standardized fashion can realize the freedom to choose their conditional access (CA) and set-top providers, or even to use an off-the-shelf system, such as a digital cable-ready TV that understands this form of EPG, in a cost-effective model that satisfies both technical and business requirements.
For small and mid-sized cable operations looking to establish an affordable and flexible delivery model built on their choice of CA and set-tops, a solution for accurate PSIP generation is a critical piece in delivering a quality product to customers.
An understanding of PSIP data also is important as many smaller operators receive waivers for lower-cost set-tops that meet the FCC's criteria for the limited-capacity standard. No longer required to deploy set-tops with removable CA cards, these operators can employ more economical boxes that support service delivery with basic "up next" information, program titles, and descriptions, all supported by the SCTE 65 standard.
Off-the-shelf receivers designed to support the SCTE 65 standard can use PSIP data within the transport stream to provide a full-grid EPG to the viewer.
In an effort to reduce costs, some mid- and lower-tier cable operators have chosen to work with DVB-SI systems, which are ubiquitous in Europe and thus more widely available at an attractive price point. The down side to this approach is that cable-ready TV sets in the United States don't recognize this transport protocol and can't decode and process EPG and other critical data.
To make this approach work, the U.S. cable operator must implement a solution that can draw information from the listing service and generate PSIP/SCTE 65 data that can be ingested into the out-of-band channel used by different receivers and used to build the program schedule. PSIP generation is key to taking advantage of a cost-saving opportunity in delivery of DTV services.
MDUs, mixed feeds
Delivery of cable services to multiple-dwelling units (MDUs), such as college campuses and college buildings is another use case in which PSIP matters.
In these models, encryption is much less of a concern than in other scenarios, as only the channels being paid for are being provided. The expectation is that students or residents will furnish their own cable-ready TV sets and plug them into the wall to receive the standard program offering. The provider, however, still must give viewers a guide. Control over PSIP data makes this possible while ensuring that even when the "map" between the channel lineup and reality changes, it's easy for viewers to find and tune to the channel of their choosing.
Use of SCTE 65 data accommodates such changes and allows the television to tune automatically to the correct channel. As a result, the provider can easily update the channel map and eliminate the nuisance and cost of maintaining viewers' awareness of it. At the same time, additional EPG data can be added to the service to add value and convenience for the user.
As cable operators decide how to mix a single RF feed carrying digital content with multiple programs simultaneously, they must take several factors into account.
If they are mixing in pass-through channels, then the FCC requires that they carry PSIP data. If they are mixing cable-originated content into that same RF signal, and if that signal is being sent to a receiver that's a cable-ready TV, then the TV will support EPG data for the broadcast channels, but not for the cable channels. The provider must add in PSIP data for the cable channels in order to include and promote them within the guide. Otherwise, those channels simple show as a cable channel with an associated number.
Promo tool, summary
The ability to include PSIP data that promote cable-originated sources is a benefit in that it also allows the operator to describe premium channels that might be scrambled, offering a description and a phone number the viewer can call to subscribe. An essentially free promotional tool, this use of PSIP data gives cable operators a means of promoting new services, such as video-on-demand and pay-per-view channels, and opening up additional revenue streams.
PSIP matters because it is fundamental to effective delivery of DTV programming, not just in the conventional broadcast environment, but also for cable operators, both large and small. It contributes to viewer satisfaction and gives cable operators inexpensive opportunities to enhance and promote their services.
Control over PSIP generation enables operators to adopt economical models of service delivery and to realize freedom of choice in building the systems used bring viewers quality images via all variety of receivers and set-tops.

-Rich Chernock is CTO of Triveni Digital, Inc.