An Interview with Bob Odenkirk of AMC's 'Breaking Bad'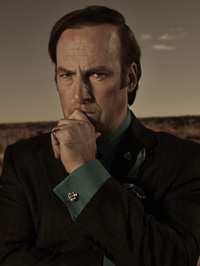 Looking for a way to keep your "Breaking Bad" addiction fed after the show shuts down the lab? Better Call Saul because AMC and Sony Pictures Television just this week closed the much-anticipated deal to give TV's slimiest lawyer his own show. We've known for a while that creator Vince Gilligan has been pitching a Saul Goodman spinoff, and so it was amid all that noise last month that we sat down with Bob Odenkirk, the comedian, writer and actor whose portrayal of Saul has won kudos from audiences and critics alike.
So "Breaking Bad" is ending. Any reflections on this wild ride?
It's been a challenge, and a fun challenge.
Quite a departure from most of your previous work.
I obviously never did drama before… Saul is a character who talks a lot. In comedy, you have three lines and then somebody else talks… In this thing, this guy speaks in monologues, sometimes in two or three pages of just him. So when I first got the script, I thought it would be rewritten and just boiled down to a line or two, which is what you do in comedy. But then I got the rewrites, and it was pretty much the same.
That must have come as a shock.
Actually, that first rewrite—one word was changed out of four pages of dialogue. And so then I had to start to read it and go "How do you learn all these lines?" Maura Tierney was in a movie I directed, and so I asked her about it—doing "E.R." And she said the hardest thing was to memorize those medical terms. Those lines that are medical terms are so hard because it's just disconnected from your experience—it has no meaning. But you have to say it right because doctors watch the show, and they get upset. But thankfully I don't have that with Saul. He has a train of thought that he's always following. The only thing with him is that sometimes he's trying to sell somebody on something, a point of view, and then he'll realize it's not working, and he switches up. So in the middle of a monologue, he changes his tact.
And you have to stay engaging during those long stretches.
How do you do this so that it's fun to hear because it's a lot of talking? That's where I've referenced before, at the time I was listening to the Robert Evans' book The Kid Stays in the Picture… I'm not doing an impersonation of him, but he's so fun to listen to, that guy. The melody in his voice, and the cliffhangers he's constantly bringing you up to. So I tried to use that when I practice Saul. I actually do it in that Robert Evans voice every time. I'm not sure how much it informs what I ultimately do, but it's fun. And it makes me think about a storyteller and a person who is trying to keep other people engaged.
Do you usually get it one take—or not so much?
Oh, no. I usually take a few takes—or eight, and I sometimes ask for more.
So there are all these rumors of a Saul spinoff. You game? Would you do it?
Yes I would. Print it. I think what's happened is that [Vince Gilligan] has a genuine idea for it. He's serious about it. Vince is a serious guy. He doesn't gossip or chatter. He really doesn't. So if he says, 'yeah, I'm thinking about it,' he's thinking about it. But he's been working on this show. This is a huge thing for him. Huge. How many of these do you get? So he knows that. So he's focusing on this show and ending it in a satisfactory way.
Breaking Bad has light moments, but it's mostly dark. Do you think something focused on Saul would be as dark as Breaking Bad—or would it be lighter because Saul's more the comic-relief guy?
I think it has to keep some of the darkness if it happens. It has to maintain some of that. It can't just be silly. It can't. You know, one of the reasons he's funny is that he's surrounded by such grim people and situations. And so I hope he keeps that. You'd have to ask the man [Odenkirk points across the room to Gilligan].
So dark is your preference?
Yeah. Keep the darkness. Make it a distinctive show. Make it not something that you expect to see on a network, but something that has some kick to it and some complexity to it.
When you first got the Saul gig, did you ever think the role would get this big?
They invited me to do three or four. They weren't even sure if they needed the character for three episodes or four episodes. I think you'd have to ask Vince why, but I think they needed to move the story along and get some information out there. So I was very happy to have the opportunity. I love the challenge. I'm 50 and doing something new. It's great. I love sketch comedy, and I've done it my whole life. And I still do it. But doing something new, what a gift.
Regardless of what happens with the Saul spinoff, do you want to do more drama as well?
I'm doing Alexander Payne's new movie Nebraska. It comes out at Thanksgiving. It's great…
This role seems to have really opened up new avenues for you.
Yeah. I'm lucky. I've got a script I was reading on the way in, just a great script. Right in that area. Comic, but very real. Played very real. Dark. I love it. I always thought that I should do this. I just never pursued it because I like writing sketch comedy. But when I was on stage with Chris Farley or David Cross or whatever, I'd always be watching them—not me… But I always thought if it was a film with a little more complexity to it, I could do strong work. Because my energy is a little more complicated than a sketch. Sketch comedy is so much fun when someone has a simple energy. You just understand right away.