Advertising: New Media Demands New Thinking
At a recent Innovations in Digital Advertising (ID!A) meeting, advertising agencies noted their ratio of media spend to creative was 3-to-1. Others mentioned that planning alone for advanced TV media can take two to three times as long as it does for linear TV. Add to that the age-old agency complaint that cable comes with a buying and planning overhead of 25% over broadcast. It's clear there are no welcome signs out for advertisers in the on-demand space. But consumers are embracing new media. We estimate that more than 24% of homes have video on demand, 15% are using a DVR and 35% have broadband. As the estimates in the chart below illustrate, by 2010 nearly 20% of video media will be viewed in a nonlinear manner. Marketers need new thinking to create and manage cost-effective marketing programs that deliver results. And they could use some help.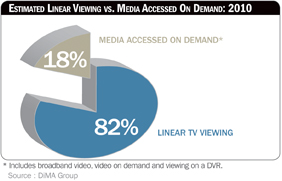 Our research shows that consumers who are accessing the video they choose are not opposed to marketing messages, but they want ads that are relevant and engaging. Unfortunately, the ad and interactive features available to advertisers vary widely from system to system. This makes it difficult for media buyers to buy and for creatives to leverage their ads. Hence, advertisers are slow to see a return in this new space. Cable can influence this adoption curve by: Implementing interactive features consistently across platforms and across operators. This would allow ads to be created once, and placed in many venues. Supporting interactive features whether the consumer is viewing programming online from a network or from an operator. Establishing measurement systems that allow for timely reporting across platforms and operators. Transforming the on-demand environment into an advertising-friendly medium will require new thinking and teamwork among players who are just learning to collaborate. In fact, the players may need to educate each other on their individual capabilities and limitations. It's time that cable's new-media gurus reached out to the creative community to encourage a new paradigm. Consumers will not wait for us to figure out that new paradigm, though. Napster was a classic example of how consumers will get the content they want in a way they want it, regardless of whether media companies have rethought the business model. Television has historically been an ad-supported medium. Keeping it that way means rethinking the needs of various constituents, not necessarily holding on to the old model. The CTAM Summit is as good a place as any to encourage a dialogue and promote a better understanding of the challenges at our door. Pat Dunbar is president of the DiMA Group, which helps companies develop advertising strategies for on-demand and digital media.