A Tale Of Two Cost-Of-Waiting Surveys
In today's overscheduled world, most people are unwilling to wait long for anything, and this means the cable guy, the phone guy and the delivery guy. Customers end up switching providers; leaving the house and skipping the appointment; or bad-mouthing the company to friends, family and Facebook.
Here's a sobering statistic: According to a recent survey, the standard three-to-five-hour in-home service-appointment window is costing U.S. businesses billions of dollars and is causing 51 percent of consumers who have waited for a service provider to feel like prisoners in their own homes.
Furthermore, the majority of consumers surveyed — 61 percent — would prefer text-message notifications when the technician is one hour from ringing the doorbell. And this desire for text updates isn't limited to the younger set; more than two-thirds (68 percent) of survey respondents aged 18 to 54 indicated they would be interested in receiving a one-hour notice of the technician's arrival time.
Subscribers First?
The "2010 In-Home Service Appointment Survey," conducted by Harris Interactive on behalf of SoundBite Communications Inc., is a response to consumer complaints that many service providers are not putting the subscriber first when it comes to scheduling maintenance, repair and installation appointments. Respondents say that, if they felt more valued when it comes to long waiting times, they would respond by continuing their relationships with and loyalty to these service providers, thus reducing that all-expensive churn cost.
"This survey shows today's consumer clearly wants in-home service providers to be more respectful of their time, and to use the latest technology to better communicate expected arrivals," comments Mark Friedman, chief marketing and business-development officer at SoundBite Communications. "Businesses simply cannot survive under the status quo and should provide new options that give customers greater control over the ultimate touch point: in-home service. Text messaging is clearly a viable and high-demand solution to build long-term loyalty and customer satisfaction." Other key survey findings:
• 72 million Americans feel service providers are making them feel like prisoners in their own homes. Three-quarters (76 percent) of consumers are inconvenienced by traditional multi-hour service windows.
• Appointments cost $13.4 billion in lost workplace productivity. More than 80 percent of consumers report having to take time off from work or adjust their schedules, to help ensure they are home during the service-appointment window.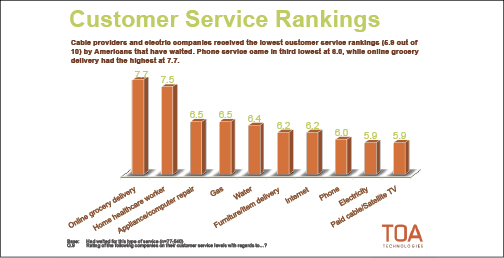 According to a TOA Technologies survey, cable providers and electric companies garnered the lowest customer service rankings (5.9 out of 10) by respondents who experienced delayed service appointments. Phone service came in third lowest at 6.0, while online grocery delivery had the highest disappointment rate, at 7.7.
The High Cost Of Waiting
In a similar cost-of-waiting survey, TOA Technologies, in conjunction with survey firm Vision Critical, polled more than 1,000 U.S. consumers who have waited for visits from cable/satellite/Internet/utilities repairmen or technicians, home deliveries or other services in the past year. Here's what they found:
• Wasting time waiting is a typical and recurrent experience for most adults: 69 percent of Americans waited for an appointment in the past year. These customers typically scheduled 3.9 appointments a year for approximately 4.42 hours per appointment.
• Consumers incur hefty hidden costs for services/deliveries: respondents' perceived individual loss due to waiting amounts to $752 annually.
• Companies lose millions when they leave customers waiting: 21 percent of U.S. respondents switched their service providers specifically because of the wait. The switch causes an average revenue loss (based on customer estimates) of $719 per lost customer.
• Improving customer service creates business opportunities: on-time arrival has the highest impact on brand reputation among 76 percent of waiting Americans. When an appointment happens on time, 58 percent of respondents will make a recommendation to friends, but if the technician or delivery person is just 15 minutes late, that number drops to 10 percent. On the service improvement wish list? 48 percent of respondents said they wanted on-time arrivals.
The Worst Offenders
With nearly 70 percent of survey respondents saying they've waited at home for some type of service during the past year, which service providers cause the longest waits? TOA says cable is the most common cause (54 percent), while Internet is second (38 percent) (see graphic). And the normal 4.42 hours of wait time is, on average, about 1 hour and 45 minutes longer than expected, respondents say. However, this discrepancy between expectation and experience varies widely by service. Electricity has the largest discrepancy, while furniture delivery has the lowest.
As such, one in four survey respondents who have experienced some kind of a delay think the amount of time they had to do so was unreasonable. Of those unhappy customers, more than 60 percent feel the service provider doesn't care about their time and takes advantage of them.
The Costs
Waiting consumers end up paying far more than their bill indicates, TOA says, pointing to long wait times imposed by companies that result in lost wages, cancelled plans and wasted paid time off. Here are some hard numbers:
• $752 = the average annual lost worth of time spent waiting for in-home appointments (based on consumer perception of hourly value).
• Nearly 1 in 4 (23 percent) American respondents to the TOA survey have lost wages waiting for an appointment in the past year.
• 35 percent have taken a sick day or a vacation day to wait at home for a service call or delivery in the past year.
• Nearly Half (49 percent) cancelled or rescheduled personal plans because they were waiting for a technician or a delivery.
People with the least amount of money typically are hit the hardest by waiting, the survey found. Lower-income Americans (those making less than $25,000 annually) who have to wait for late appointments are more likely (29 percent) to lose wages than the overall average (23 percent). Other income groups are more likely to use paid time off for waiting, TOA says.
And who stands to lose the most? The service providers that "disrespect their customers' time (and) risk losing revenue and increasing operational expenses," TOA adds. More hard numbers:
• One in five (21 percent) of American respondents to the survey switched service providers specifically because of the wait time they experienced.
• $719: Respondent-estimated annual business loss when one American subscriber or customer cancels or switches service providers.
• 48 percent of American respondents who had delayed appointments contacted customer service to complain about their experiences – generating unnecessary call-center traffic.
Poor customer service also can damage brand reputation:
• 55 percent of those surveyed blame the company or service provider for late arrivals.
• 10 percent of waiting Americans would recommend a company or service provider if their appointment is only 15 minutes late compared to 58 percent who would recommend the business if personnel arrived on time.
• 49 percent of unhappy survey respondents complained to friends and 13 percent complained in social networks (which could be even more damaging).
Here's the short list of what TOA says customers really want when it comes to service appointments: while nearly half of the respondents indicated they wanted a discount/refund for bad service, others concentrated on better time management – arriving on time (48 percent), shortening the "wait window" (43 percent) and being offered a choice of times for their appointments (41 percent).
– Debra Baker