Comcast Brings Rio to Washington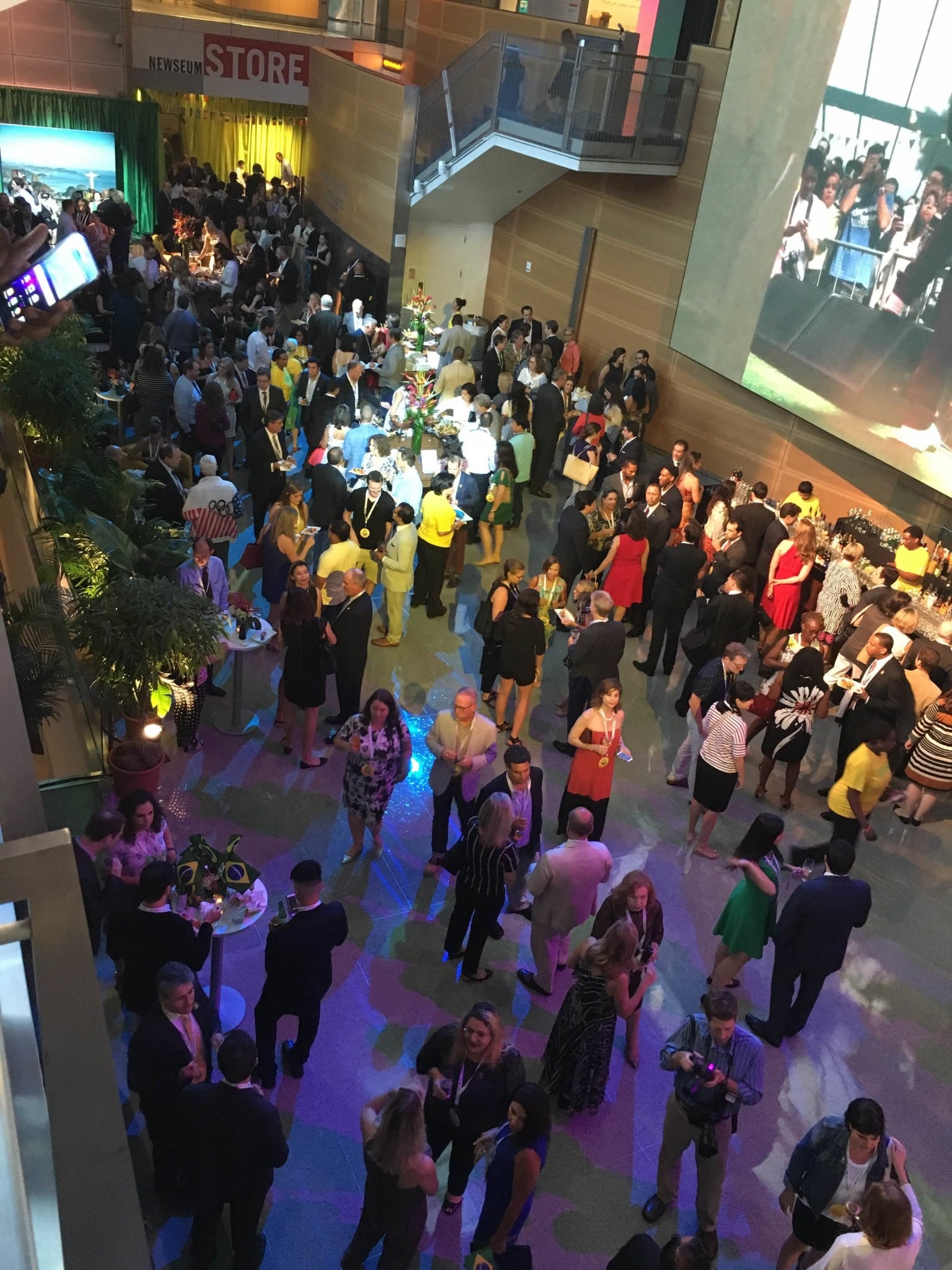 The 2016 Rio Olympics Opening Ceremony came to life August 5 at the Washington DC-based Newseum. Courtesy of Comcast NBCU and the Embassy of Brazil, Comcast NBCU senior evp and chief diversity officer David L. Cohen and on behalf of the Embassy of Brazil, Minister-Counselor Kenneth da Nóbrega, welcomed the crowded museum to a night filled with Brazilian food, drinks, performers and games. To add to the excitement, the evening featured an Ultra HD 4k and Dolby Atmos with Cinematic Audio viewing experience, as well as virtual reality to take in the sights and sounds of Rio in 360 degrees.
After a warm welcome from the Batala Washington Drummers, guests had a variety of ways to pass the time while waiting for Team USA to make their entrance. Dancers of capoeira, the Brazilian martial-art like dance, entertained the venue with traditional Brazilian moves. Or guests could play in the arcade station with Olympic-inspired games, including table tennis, basketball and foosball. Several lounges provided culinary bites and refreshments from Brazil and America–the French fry bar and coconut-filled drinks went fast.
NBCU is offering an unprecedented 6755 programming hours of the Olympics from Aug 5-21, with 83 hours of 4K coverage of the opening and closing ceremonies. NBC had a constant stream of Olympic knowledge–from the number of competing athletes to the date of the first Olympics–surrounding the movie theater-sized screen.
To show your American spirit, flash tattoos were available, as well as a photo booth filled with props to document the night. American and Brazilian flags were passed around to support your country of choice. Then came the time everyone was waiting for: Team USA's Olympic entrance. The crowd waved their red and blue flappers loud and proud in the air, cheering on the home team via the large movie screen. A district divided united in that moment, the air was filled with patriotism. American treats were passed around–from chocolate chip cookies to Twinkies to ice cream–for a sweet ending to the night.