Women Tech It Out at SCTE/ISBE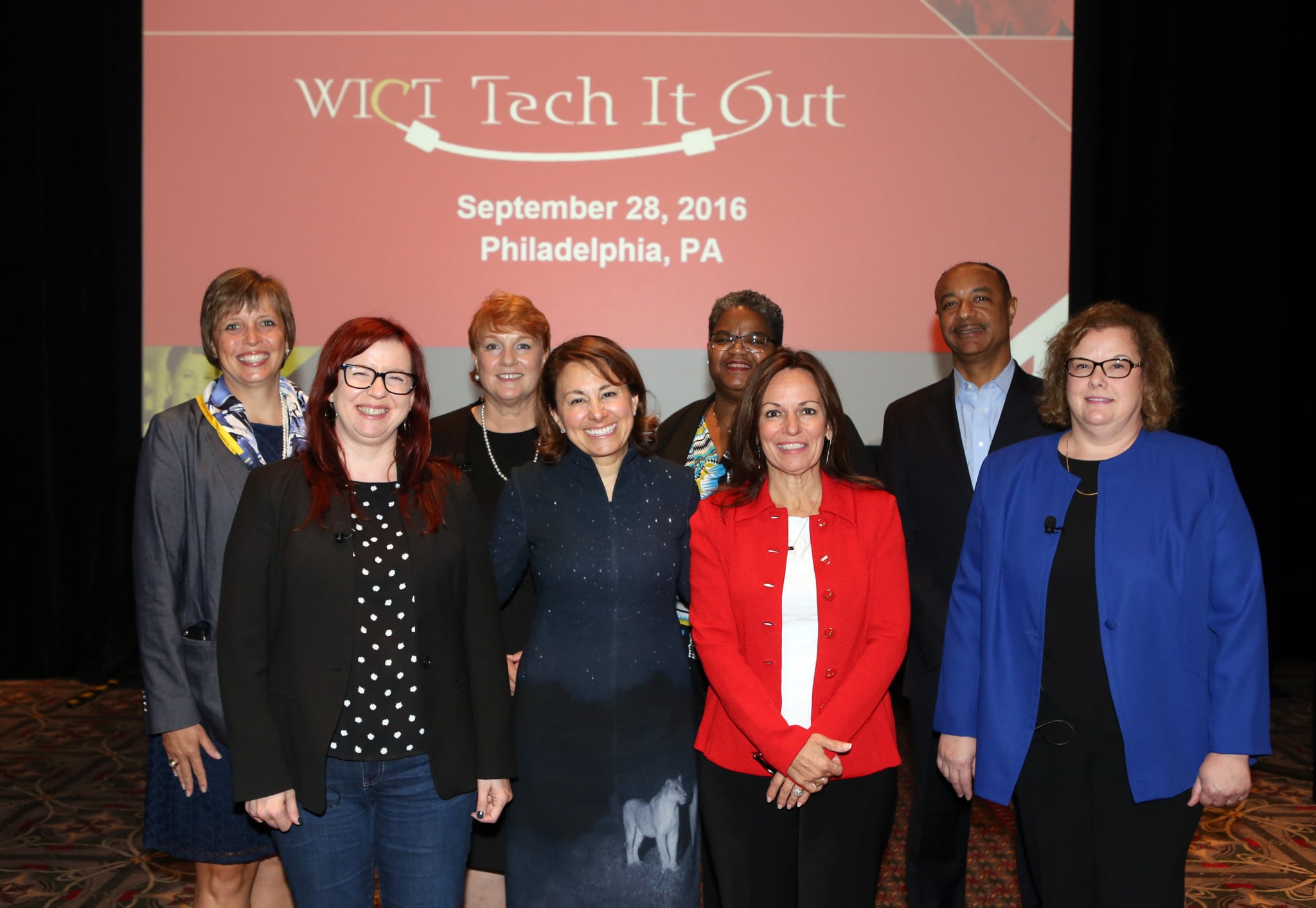 Walking around SCTE/ISBE's Cable-Tec Expo last week in Philadelphia, there was a lot to see—from the latest tech demos to workshops on DOCSIS 3.1 deployments to discussions on the next-generation network. What you didn't see much of? Women. Recognizing that women in tech needs special tending, WICT teamed up with SCTE in 2009 to create WICT Tech It Out, an initiative aimed at fostering strong female leaders in tech, while highlighting the opportunities for women in the space.
Nomi Bergman, senior executive officer for Advance/Newhouse and former Bright House president, served as the keynoter for last week's Tech It Out program. Now that she's no longer in the same type of daily role, Bergman said she's had some time to reflect on why there are so few women in tech and in the executive ranks as a whole. "I think we think too much. Sometimes men, too," she said. "I bet 50 percent of the women in this room are ruminating right now on some topic." That sort of overthinking can make women (or men) less likely to accept stretch assignments or even to accept a compliment or success without over-analyzing it. "Let's give ourselves the gift of not ruminating. And let's see how it blossoms," said Bergman, who recommended the books "Women Who Think Too Much" and Shonda Rhimes' "Year of Yes." "We are all trying to be kind to everyone else. Let's not forget to be kind to ourselves."
Later, a panel dug deeper into their own experiences as women in tech and what opportunities are available. Comcast svp group technical adviser Theresa Hennesy, this year's Women in Technology winner, said she kind of stumbled into the industry. And while her paycheck at the first company she worked for may have been a lower grade than janitor level one, "what connected with me was that they were willing to invest everything they could to teach me," she said. "Don't give up on the apprenticeship. It is alive and well in what is now called the mentorship."
Sarah Cottay, Scripps Networks Interactive's vp of software development, said a turning point in her career was when she realized she had sold herself short. She cautioned attendees to be wary of that voice asking "did I get here because of my skills or am I lucky?".
Arris compliance officer Livia Nascimento said her lightbulb moment came when she realized she needed to please herself—even if that meant not accepting a job in an area she wasn't interested in. In her case, that meant IT.
Some of the advice from the panel included not operating in fear mode and don't try to be perfect all the time. For Cottay, she had to learn to interrupt more, something that went against her Midwestern sensibilities, but is prevalent on the East Coast. "As a woman, I have a few strikes against me in conversation. I am more likely to be interrupted," she said, explaining how she came to realize that interrupting is necessary at times.
What should you do if you want to understand more about something technical but are intimidated? "Ask 'how does it work,'" advised Sherita Ceasar, svp of national video deployment engineering for Comcast. "That's all you have to ask. You'll learn so much… The really good engineers will tell you in a way that you will get it."
Areas of opportunity in tech identified by the panel include statistics, given the importance of data these days, and communications. "Building a story from the top down and keeping it simple is a struggle for a lot of engineers," Nascimento said.
Also at the forum, WICT announced a new annual fellowship designed to support career development for high potential women working for technology suppliers. It's named in honor of Bergman, who has been actively involved with WICT, CableLabs, NCTA, and SCTE on technology issues. The fellowship is a one-year award that includes WICT membership and a fully funded scholarship to the WICT Leadership Conference and other select WICT programs, to include travel stipends.