Women in Tech Gather at Grace Hopper Celebration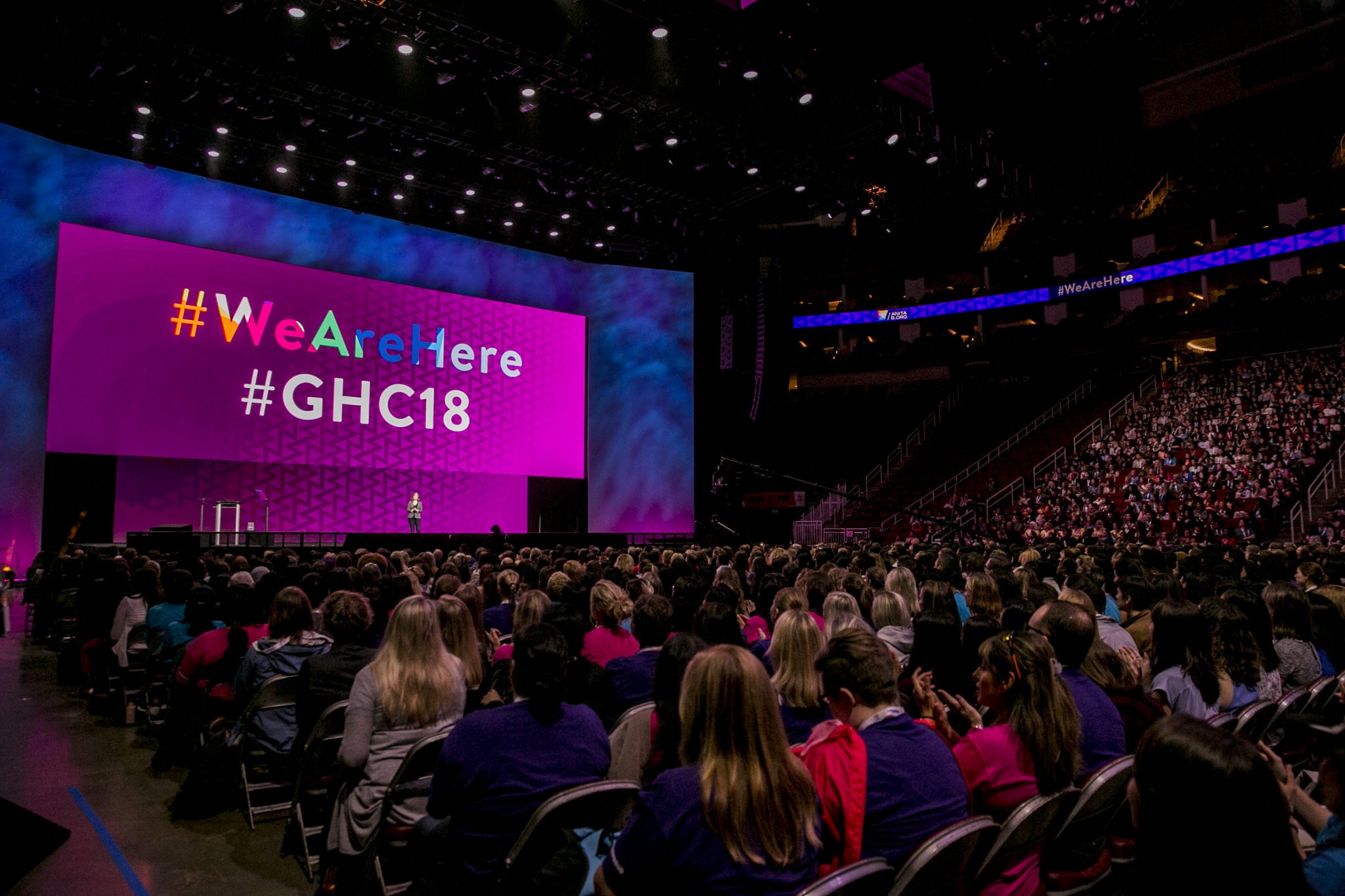 Photos of an arena filled with women flooded social media channels Friday as the world's largest gathering of women in technology came to a close. The Grace Hopper Celebration brought together more than 22K women from Sept 26-28 in Houston, TX, to discuss everything from career development to diversity and inclusion in tech.
AnitaB.org, a non-profit connecting and inspiring women in computing, produces the event. If you've ever watched the NFL Draft, the atmosphere at GHC can be somewhat similar. Companies are actively looking for talent to take their innovation efforts to the next level.
Comcast svp, chief product and information security officer Noopur Davis tweeted that her team was on the ground and ready to make 20 offers to attendees. Social media is filled with women signing contracts on-site. The event features a Career Fair and Interview Hall, which last year saw 367 organizations attend. Some 461 interview booths were set up with 86% of the organizations present meeting or exceeded their recruiting goals in 2017. For Turner, its external strategic partnerships with organizations like AnitaB.org promote a more widespread dialogue around diversity and inclusion and enhance the company's talent incubation efforts. "There is a great need to increase the number of women and diverse populations in the tech and media industries. Diversity must fuel our content, innovation and our vision," a Turner spokesperson told CFX . "Grace Hopper is a great opportunity for us to connect with the next generation of extremely smart and talented young women who represent the future of technology."
Several companies take advantage of the talent pool at Grace Hopper. On Twitter, the @WeAreNetflix account showcased the streamer's strong presence at GHC, encouraging attendees to follow and connect with female employees to find whether the company would be the right fit for them. Several companies, including Disney, hosted coding challenges at the conference. "The future of technology relies on a diverse set of minds, which is why ARRIS has chosen to sponsor the Grace Hopper Celebration. As we look to the future, we will continue to put efforts behind diversity and inclusion initiatives like this as part of our commitment to advancing women in technology," said ARRIS HR svp Vicki Brewster. GHC 18 was the home of the inaugural AnitaB.org PitcHER Competition, with 10 finalists leading early stage tech startups that have a goal of empowering women and/or families competing for $65K in prize money.
The gathering is also motivational. The day after the historic Brett Kavanaugh hearing, Anita Hill spoke to the crowd. The events in Washington were a constant undercurrent. "Over the course of this week, it's been impossible to avoid what's happening in the world. We can't not think about it," said closing speaker Justine Cassell, associate dean of the School of Computer Science at Carnegie Mellon. "I do what I do because I have a commitment to creating a world where everyone's voice is heard."
Cassell is credited with developing the Embodied Conversational Agent (ECA), a virtual human capable of interacting with humans using both language and nonverbal behavior. When it comes to machine learning, she warned against only relying on large datasets and ignoring the knowledge of human behavior. "In most areas of life, social skills are what get work done. We have to remember that, and we have to remember it when we build technology."