US Advertising Increasingly High-Def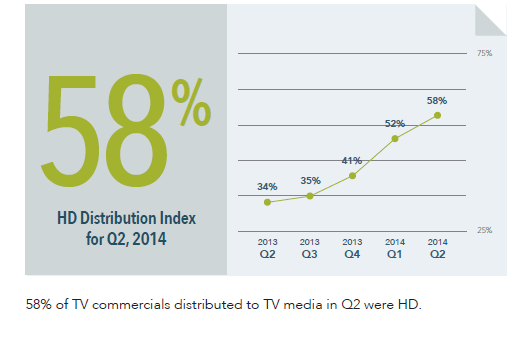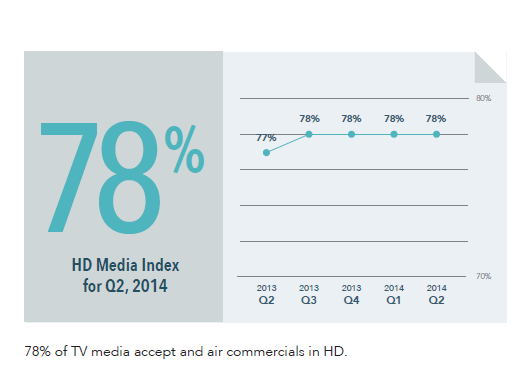 While HD has become pretty much standard for programming, it's taken a little while for advertising to catch up. But a new report indicates it's finally there, with Extreme Reach, which provides tools and software to advertisers, reporting that second quarter saw 58% of all TV ads delivered to TV media in HD.
That's up from 34% in the second quarter of 2013 and up from 52% in this first quarter of this year, the firm said. And HD is gaining, with Extreme Reach reporting that as third quarter comes to an end, HD advertising peaked at 63% as of late September.
Here's something that might be surprising: political marketers lead all other segments in the use of HD ads, with 77% in high-def in 2Q. "If your opponents' ads are still running in SD, you can stand out and realize significant advantages by implementing an HD everywhere ad program," the firm told advertisers. More expected: direct response ads lag behind on HD adoption, averaging just 27% HD distribution across the past five quarters.
Another interesting takeaway from the report given the increasing spend in the digital space is that about 90% of video ads that run online also run on TV. That helps explain why video that plays in 16×9 aspect ratio is becoming the default standard online as well.
The U.S. is not leading the charge on this. Canadian media has adopted HD more thoroughly and that has translated to the ad market, where 76% of second quarter ads were in high-definition. For the study, Extreme analyzed a sample of 5600 TV advertisers, 1880 video post-production studios and content providers, nearly every commercial TV and cable outlet in the 2 countries, including all major broadcast nets and 2021 digital media outlets and aggregators.
The Rise of Programmatic
Another trend in the ad space is the increased use of programmatic buying of media and automation of processes. New data from Interpublic's Magna Global estimates that 47% of non-search-based digital media will be bought programmatically this year in the US, amounting to $11.1bln total, +38% compared to last year's activity. Magna Global's forecast was raised from a previous $9.8bln estimate, and it sees non-search digital advertising rising to 70% by 2019.
"We think the increasing presence of these technologies allows marketers to express rising indifference with respect to where their media runs faster than might otherwise have been possible given marketers' focus on buying audiences rather than adjacencies," Pivotal Research analyst Brian Wieser said in a research note this week. "However, many practitioners whose opinions we value highly will argue otherwise."