Telcos Eye Innovative TV Apps
It's hard not to have an app if you are in the TV business nowadays. As cable MSOs roll out various TV Everywhere apps (check out our recent
story on MSO TVE apps
), telco operators aren't staying put. Companies like AT&T and Verizon are leveraging their strength in voice and data as they expand their TV app lineups.
Today, AT&T U-Verse launched its Easy Remote App, which makes it simpler for U-Verse customers, including people with disabilities such as vision and hearing loss, to control their TV using iPhone or iPad. The app was built with a commitment to universal design, according to Aaron Bangor, a principal member of AT&T Labs. Features include a voice command that allows customers to choose a show by simply speaking the show title or channel number into the device. The voice initiated remote control performs other commands, including Channel Up, Channel Down, Fast Forward, Rewind, Replay, Pause, Play and Record. The app also allows gesture command, which allows customers to control shows they are viewing with different gesture movements. Additionally, an iPhone Voice Over screen reader enables customers to hear TV show and channel information as they scroll through the programming guide. "We studied how people interact with technology," Bangor told CableFAX. "We want to make technology adapt to people," not the other way around.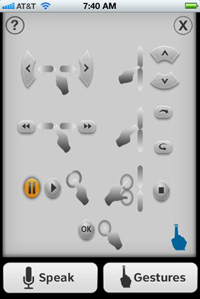 The voice command feature is based on AT&T's speech recognition platform developed by AT&T Labs. Dubbed AT&T WATSON, it switches between different communication modalities, allowing for humans and devices to interact more readily. WATSON has been used within AT&T for more than 20 years for speech analytics, translation, mobile voice search of multimedia data, video search, voice remote, voicemail to text, web search and SMS. "Voice command and one-touch access to closed captioning are just a few examples of how AT&T is using universal design to develop innovative technology to improve the TV experience for all customers with and without disabilities," said Maria Dillard, Vice President, U-verse and Video Products, AT&T Home Solutions, in a statement.
"AT&T is mobilizing everything about the TV experience," said GW Shaw, AVP Product Marketing, AT&T U-verse. "We're always looking to add even more content to enable our customers to watch the content they want, when and where they want it."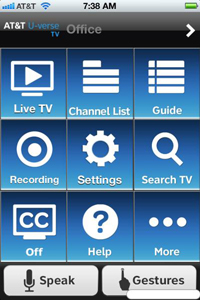 Verizon has its eyes on the "everywhere" experience as well, with its multi-room DVR enabling FiOS customers to watch everything on any TV set in the house. Beyond that, subscribers to FiOS TV and FiOS Internet can watch 26 live channels on their Xbox, Samsung smart TVs and Blu-ray players, and soon on their LG smart TVs and Blu-ray players. The company will be adding iPhones and iPads to that list, the spokesman said: "We plan to increase this number (26 live channels)."
In addition to live channels, subscribers can watch more than 26K FlexView movies and TV shows on iPads, iPhones, Droids and PCs. Meanwhile,
FiOS TV Online
offers apps from various content partners, making its programming available at any time, from any location with a broadband connection.