Sneak SCTE Cable-Tec Expo Keynote Peek: Dean Kamen Talks Green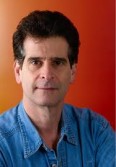 Tomorrow's opening SCTE Cable-Tec Expo general session in Orlando will feature a conversation between inventor and entrepreneur Dean Kamen (left) and Time Warner Cable Executive Vice President and CTO Mike LaJoie. Kamen is a perfect fit for SCTE because of his groundbreaking research into the practical uses of technology, including the Stirling engine, a device he says can convert almost any fuel into electrical power and, properly implemented, may do so in a system that is clean, quiet, easy to use, easy to maintain and with a long operating life. This mindset fits in well with SCTE's focus on green initiatives for cable operations.
In a recent conversation with Communications Technology editor Debra Baker, Kamen tipped his hand a little regarding some of the issues he plans to address during the session.
Why did SCTE reach out to you? What does this cable industry need to do regarding action on more sustainable green technology?
We're were working on a technology that wasn't being targeted at the telecom industry, but we realized this device (the Stirling engine) was small enough and energy-efficient enough to run on any fuel in a small environment. So we started talking to people. The communications industry isn't the power industry but it needs power. Time Warner Cable CEO Glenn Britt happens to be on the board of my FIRST program, and I was asked to talk to SCTE about it. Time Warner Cable thinks this is pretty good and wants others to think so, too, with no self interest. SCTE can introduce us to other companies, and we can get this done together. We will be beginning tests soon, and maybe by the show, I'll be able to announce them.
(Editor's note: The mission of Kamen's FIRST initiative is "to inspire young people to be science and technology leaders, by engaging them in exciting mentor-based programs that build science, engineering and technology skills, that inspire innovation, and that foster well-rounded life capabilities including self-confidence, communication, and leadership.")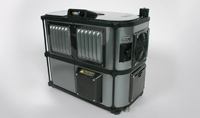 Can the engine scale from being able to power a Time Warner Cable to powering a Tier 1 or Tier 2 cableco serving rural areas?
It's ideal for both. It's as small as a home appliance, and that's the whole point. It's smaller than a refrigerator; you could put it next to a building, a hot-water heater, a furnace. It favors the microgrid.

But is it affordable?
Oh, it's very affordable. A typical power plant costs hundreds of millions or billions of dollars these days, and, at tens of thousands of dollars, it is quite affordable.
Would an operator need more than one?
A typical site won't need more than one.
Will this end up being a pretty easy sell? Is there anything that would prevent an operator from wanting to adopt this power technology?
There always are things that cause people to hesitate. Most people are comfortable with what they know and, while this is exciting, it's completely different.
Once you commence the trials, when do you think this device will become a reality in the cable industry?
We hope that, in a few years, there will be lots of them popping off the production line.
Outside of cable, how has the Stirling engine been used? Telecom? Utilities?
We are just starting out. This is the first time we've really talked about this as a potentially available technology. We haven't talked to anyone else yet.
What other points will you be addressing tomorrow during your keynote?
I think the idea of a distributed power system is important. If we do put a lot of these out into the environment, it will help guard against effects of natural disasters and could help with cybersecurity, and that's very important to this industry.