Q&A with Penthera Partners' Melani Griffith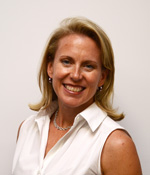 Melani Griffith
Former Insight exec Melani Griffith is working alongside former Insight CEO Michael Willner again. They went their separate ways after Time Warner Cable closed its acquisition of Insight last year. But last month, Willner recruited his former svp, programming and video product to join him at software development and licensing company Penthera Partners, where he serves as CEO. Penthera focuses on the movement of rich content over IP networks, between the Cloud and devices. Products include "Cache and Carry," which delivers HD video to Apple and Android devices for later playback, and "Ribit," a cloud-based video sharing service available in the Apple Store. Griffith spoke to us about her new role, including working remotely from Canada.
How did you come to be working with Michael Willner again?
At Insight, one big piece of my role was overseeing the programming deals. Inevitably, there were deals that expired at the end of the year. Michael was the person I worked very closely with when it came to negotiating those deals. We had this tradition where we were always frantically on the phone between Christmas and New Year's, and in particular on Dec 31. I don't think there was a 31
st
in the last 7 years that I didn't speak to Michael. We just continued the tradition. I called him and we were chatting, and from there he asked me about joining him at Penthera.
And what about the company attracted you?

I was head of programming, but also video products. I really was on the verge of trying to roll out a really exciting digital strategy for Insight. It is exactly the kind of product I would have wanted to offer. It's taking TV Everywhere to the next level in that you're truly untethered. You don't even have to have an Internet connection once you've downloaded content.
Everyone loves the idea of next-generation video consumption, but it seems to take so long for a distributor to roll it out. Why?
There's the infrastructure, and there are also rights that have to be negotiated. That's starting to get a lot of traction. We see all the time that operators are getting multiplatform rights and download rights. That doesn't happen with the snap of your fingers. There is tons of work being done. The wheel is starting to spin, and I think you'll start to see much more inertia in the next several months.
Penthera has products for content companies and distributors. Is it odd to now be selling and courting to programmers who used to be doing that to you?
Before I worked at Insight I was in affiliate sales for a long time. I cut my teeth at Discovery in affiliate sales, then I was at AMC in affiliate sales. And I was at Fox for ad sales. So, I spent a lot of time on the sales side of the table before I went over to the distribution side. It's a much easier transition for me, and in some ways, I actually think it makes me a better salesperson.

You've been in the business for a long-time. You're working primarily from your home in Montreal. We just saw Yahoo!'s announcement on teleworking. What are your thoughts on telecommuting and how it works in the industry?
We're a technology industry. It makes sense to me that we support that. I think working remotely can be incredibly positive and very successful in the right [circumstances]. Michael and I have a great dynamic. We understand each other, and we can get on the phone and communicate and it's seamless. It can sometimes be more challenging if you have no face time or you've never worked face-to-face before, but for me, it was easier because I was in the office and then I transitioned to a remote situation. I can get so much done. I'm so much more efficient. I think there is lots of talent that may or may not be geographically desirable, and you give that up if you're not supporting telecommuting.