Price Disparities In The Ethernet World
As enterprises around the world replace traditional SDH/SONET private-line networks with newer-generation point-to-point Ethernet over MPLS (EoMPLS) and port-based VPLS services, carriers have expanded their Ethernet network footprints rapidly to keep up with the demand.
As a consequence of growing EoMPLS service availability, competition is increasing and prices are declining around the world. However, data from TeleGeography's Ethernet Pricing Service show that great price disparities persist, both among regions and service providers.
Ethernet services are most readily available — and prices are lowest — in Europe and North America. In 1Q12, the median monthly price of a GigE EoMPLS pseudowire circuit between Frankfurt and London was $3,448, down 29 percent from 1Q11, while the median price from New York to Los Angeles was $8,000 per month, 12-percent lower than in the previous year.
By contrast, Ethernet circuits connecting to Asian cities remain much more expensive due to more limited service availability, less robust competition, and higher underlying transport costs. The median price of a GigE EoMPLS connection from Hong Kong to London in 1Q12 was $40,138, down 17 percent from a year earlier, while a circuit from Hong Kong to Tokyo cost $31,096 per month, more than five times the price of a comparable link on the longer London-New York route.
GigE EoMPLS Pseudowire Monthly Lease Prices, 1Q12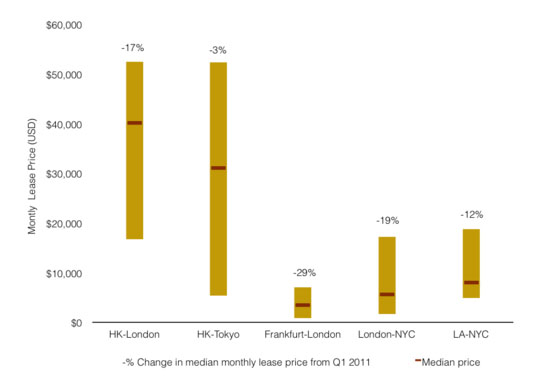 Source: TeleGeography
Price differences among service providers can be just as dramatic as price differences among regional markets, with the variance between the high and low prices on some lower-cost routes just as great, or greater, than on more expensive routes. For example, TeleGeography says that, in 1Q12, the high price of a GigE circuit from Hong Kong to London was $52,500 — approximately three times greater than the low price of $16,704. The range of prices on the much less costly London-New York route is far wider: the highest price quoted to TeleGeography, $17,250 per month, was 10 times more than the low price of $1,729.
Prices of enterprise WAN services often vary far more widely than prices of wholesale carrier services. While prices will continue to decline as wide-area Ethernet services become more standardized and availability grows, large price disparities are likely to persist for years to come, the group concludes.