Nielsen: Audience Behavior Depends on Device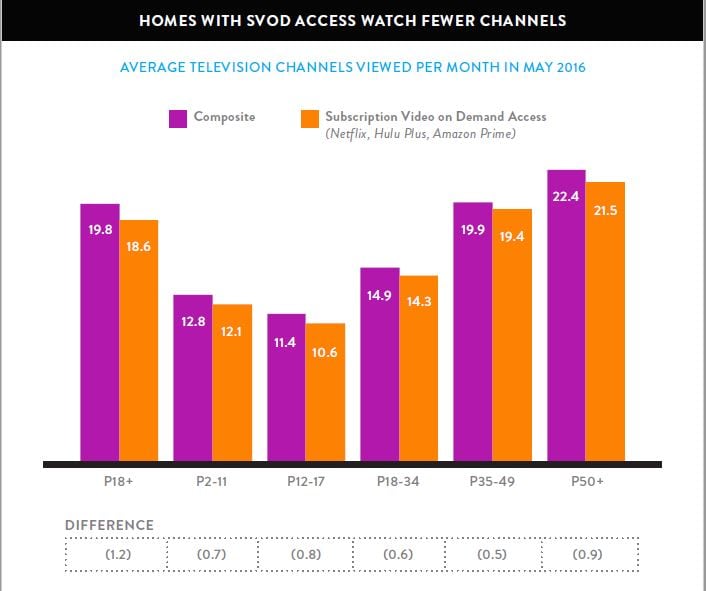 While the emergence of unlimited content options dominates the average monthly usage numbers, traditional platforms—TV and radio—still lead the length of time consumers spend with media, according to The Nielson Total Audience Report Q2 2016. Released on September 26, the report tracks changes in media usage and consumption in relation to newer and traditional platforms. In Q2 2016, consumer usage was dependent upon the device being used.
The average adult spends four hours and nine minutes per day watching live TV, a decrease compared to Q2 2015 (4:11) and Q2 2014 (4:19). Adults view an average 19.8 channels per month out of the 205.9 average channels received—thus 9.6% of received channels were viewed. This average has remained the same since last year yet has decreased compared to May 2014 (10.6%). Thus the number of channels viewed aligns with the amount of TV usage. Black adults watch the most TV (11.3% of received channels) and view the highest number of channels (24.6 channels) in comparison to the composite, Hispanic and Asian American populations. Furthermore, adults who use an SVOD view on average 1.2 fewer channels compared to the composite population. Homes with SVOD access tend to be younger and higher-income, characteristic of homes that watch less TV and thus fewer channels. Nielsen also reports that it is likely that increased device usage in SVOD homes reduces the number of TV channels viewed.
Digital platform usage continues to increase with the continued fragmentation of the media landscape. Adults visit 55 PC sites and 28 smartphone apps on average per month. These numbers are much higher compared to traditional platforms—adults view an average 20 TV channels and 7 AM/FM radio stations per month. However, the number of average radio stations tuned has increased slightly, thus negating the hypothesis that new platforms are encroaching entirely on traditional platforms. The average adult views 7.4 fewer sites on the PC and 7.5 more sites on the smartphone over the past two years. Nielsen attributes the increased smartphone usage partly to the new panel enhancement that was put into effect in March 2016 that removed the 30-minute limit usage for iOS devices.
Usage of traditional and new platforms varies by race and ethnicity. Black adults use the most mobile apps than the national average and view the greatest number of TV channels. Hispanics listen to the largest amount of radio stations. Asian Americans visit the greatest number of PC sites while viewing the fewest TV channels.
The report stated the more time watching TV, the more channels were viewed, which was consistent across all races, origin groups and age groups. For the entire 2016 Q2 report, follow the link here.