High-Tech Stickers For Adults: Bringing NFC Closer To Homes, Businesses
And now for something completely different. Samsung Telecommunications America (aka Samsung Mobile) says it's helping consumers realize the potential of near-field communications (NFC) technology today with the general release of Samsung TecTiles and the TecTile programming application.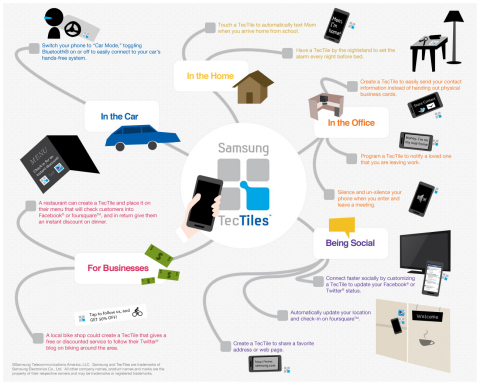 According to the company, Samsung TecTiles will transform how businesses large and small engage with consumers. On premise, TecTiles enable consumers to check-in on Facebook or foursquare, to connect to Wi-Fi or to download content. Off-premise, businesses can use TecTiles to market to and engage with consumers by enabling reward programs and to download discount offers or content.
With the largest user base of NFC-enabled devices in the United States and TecTiles available in all four major carrier stores (AT&T, Verizon, Sprint and T-Mobile) and at major online retailers at the launch of the Galaxy S III, Samsung's aim is to help ensure NFC becomes a part of daily life.
Here's how it works: With a simple tap of an NFC-enabled phone to a TecTile, consumers are able to automate such everyday smartphone functions as sending a "headed/at home" text message, silencing the phone when entering a meeting, setting an alarm, and dimming the display when going to bed.
"With millions of NFC-enabled Samsung Galaxy smartphones currently in the market and the arrival of our flagship device Galaxy S III, Samsung saw an opportunity to expand the value of NFC beyond mobile payments," comments Dale Sohn, president at Samsung Mobile.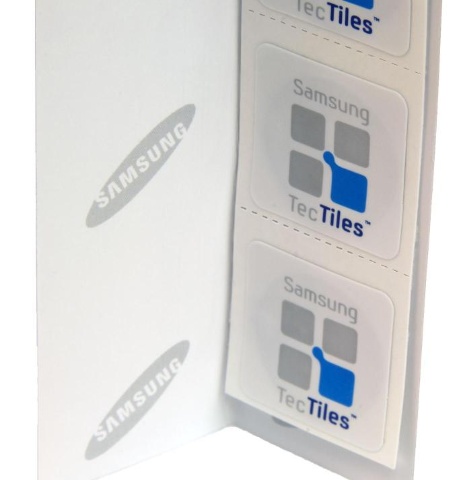 Priced at $14.99 for a pack of five, TecTiles programmable NFC sticker tags can be purchased online and in AT&T, Verizon, Sprint and T-Mobile stores. The Samsung TecTiles app is now available for download at the Google Play store.
Samsung TecTiles can be programmed with any NFC-enabled smartphone, including:
>> Samsung Galaxy S III on AT&T, Sprint, T-Mobile, US Cellular and Verizon
>> Samsung Galaxy S II on T-Mobile
>> Galaxy Nexus on Verizon, Sprint and GSM Unlocked
>> Nexus S 4G on Sprint
>> Samsung Galaxy S Blaze 4G on T-Mobile
Here are some of the TecTile functions:
>> Settings & Applications
Change phone settings (Bluetooth, Wi-Fi, ringer/media volume, screen brightness, etc.)
Launch an application
Join a Wi-Fi Network
Show a message
>> Communication
Make a call
Send a text message
Start a Google Talk conversation
Share a contact or business card
>> Location & Web
Show an address on a map
Open a Web page
Foursquare or Facebook check-in
>> Social
Automatic Facebook "Like"
Update Facebook status
Post a tweet or follow a contact on Twitter
Connect on LinkedIn