FCC Commissioner Clyburn—A 'Fighter' For Diversity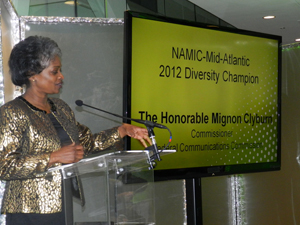 FCC Commissioner Clyburn accepts NAMIC's
Diversity Champion Award
A day after President Obama was re-elected, the NAMIC Mid-Atlantic Chapter presented FCC Commissioner Mignon Clyburn with its annual Diversity Champion Award at a reception Wednesday night. As chapter president Sherry Hubbard put it, Commissioner Clyburn has been a "conscientious advocate to encourage inclusion and diversity throughout the communications industry," from her days as a newspaper publisher and general manager to her work today at the FCC. Clyburn, along with former commissioner Michael Copps, shed some light on moving diversity forward post-election.
When it comes to diversity, "now it's time to deliver," said Copps, currently senior advisor for nonprofit Common Cause's Media and Democracy Reform Initiative. Diversity spoke convincingly Tuesday night, he said. "Diversity says do not take me for granted…Diversity is African Americans, diversity is Latinos, diversity is Asian Americans, native Americans, diversity is the disability communities, diversity is gay and lesbian communities and the list goes on and on…All looking for action…All looking for help…" he said. That means broadband infrastructure for everyone, justice in media ownership, and a commission that will enforce equal opportunity, rules and regulations, he said. "Diversity says if you want to give spectrum rights to a lot of people, make sure you play fair and square…" Diversity can't be delayed any more, he said. Calling Clyburn "a fighter" for it, Copps said the commissioner is leading the diversity effort at the Commission and "we should all be behind her."
However, the fight won't be easy and rewards "might not come when we want them to come," Clyburn said. "But don't give up. We don't give up…We move at a steady pace in order for us to realize these objectives," she said. "The seeds we plant now, the beneficiaries are children and grandchildren that will come behind us," she said.
According to a statement by NAMIC, Commissioner Clyburn has encouraged the introduction of private sector broadband adoption programs that target low-income families, such as Comcast's Internet Essentials program and the Connect2Compete program supported by the cable industry. In the area of media diversity, Clyburn has championed the need for more accurate and up-to-date data on the state of female and minority ownership in traditional and new media, and sought opportunities to improve the proliferation of low power FM stations throughout America. She continues to look for creative ways to promote increased minority participation as owners, operators and content providers in the digital age.
For well over two decades, Commissioner Clyburn has been actively involved in myriad community organizations. She is a Life Member of the NAACP, a member of The Links, Inc. and the South Carolina Advisory Council of the U.S. Commission on Civil Rights, and was past president of the Charleston County Democratic Women and Black Women Entrepreneurs. She supports and frequently speaks at events sponsored by organizations dedicated to advancing the cause of diversity in communications, including NAMIC and WICT.