Cisco Reports Global IP Traffic to Triple by 2019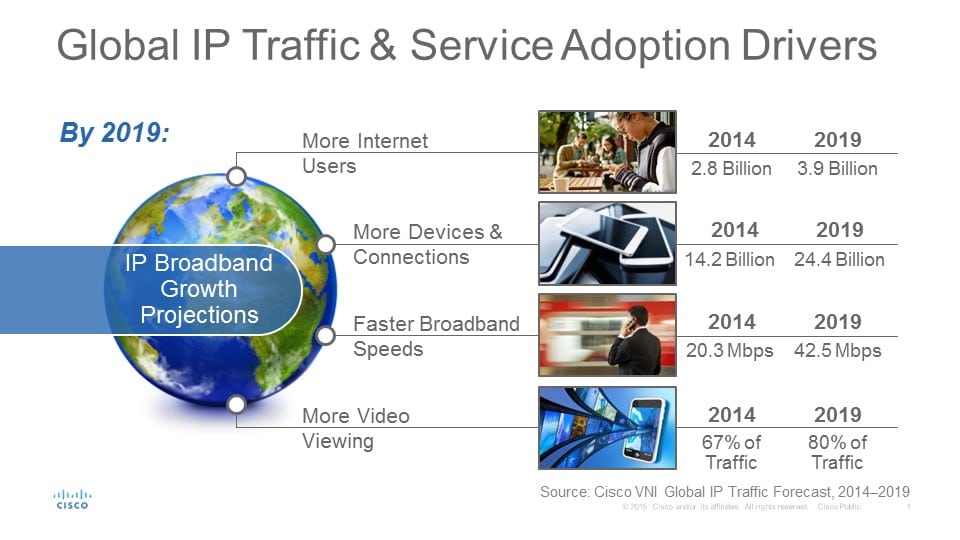 Thanks to the global expansion of Internet users, the adoption of advanced video services, the increase of personal devices and M2M connections, and faster broadband speeds, annual IP traffic will triple between 2014 and 2019, reaching a record 2 zettabytes, according to the 10th annual Cisco Visual Networking Index Forecast. By 2019, global IP traffic will reach 168 exabytes a month, up from 59.9 exabytes per month in 2014. Also in 2019, nearly as much traffic will traverse global IP networks than all prior "Internet years" combined (from 1984 to the end of 2013), Cisco said.
A key element impacting global IP traffic in the coming years is the growth of Internet users. Cisco estimated that by 2019, there will be about 3.9 billion Internet users, or 51% of the United Nation's projected population of 7.6 billion. IP video will account for 80% of all IP traffic by 2019, up from 67% in 2014, thanks in part to the expansion of advanced video services like UltraHD and increasingly video centric M2M applications. By 2019, HD and ultra HD Internet video is expected to make up 63% of Internet video traffic. Cisco sees strong demand for advanced video services from residential, business and mobile users across network and device types, with quality, convenience, content/experience and price being key success factors.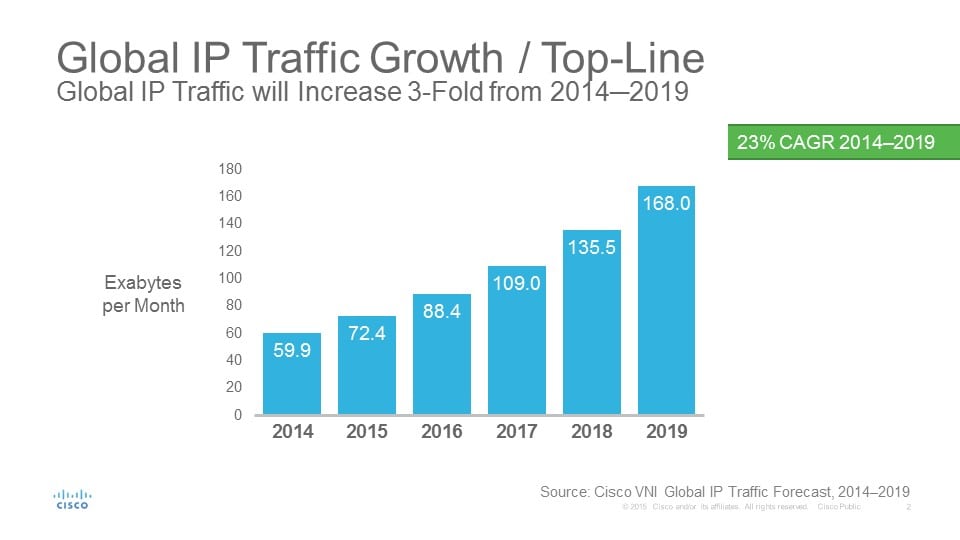 In terms of broadband speeds, fixed broadband speed is expected to increase 2-fold from 20.3 Mbps in 2014 to 42.5 Mbps in 2019, according to Cisco. By 2019, 33% of all global fixed broadband speeds will be faster than 25 Mbps, up from 29% today. The FCC updated the broadband definition in the U.S. from 4 Mbps to 25 Mbps earlier this year. When it comes to connected devices, Cisco expects 3.2 connected devices per capita globally by 2019, up from 2 per capita in 2014. Since most of the connections will require authentication, improving network management, intelligence and security are critical, Cisco said. In addition, "a comprehensive IPv6 strategy will be imperative for carriers to accommodate the volume and complexity of next-generation devices and connections." Cisco predicted that 41% of all fixed and mobile connected devices will be IPv6-capable by 2019, up from 22% in 2014.
With more pay-TV providers venturing into the Internet of Things and M2M space, Cisco expects significant IoT adoption across vertical industries such as agriculture, healthcare, manufacturing, retail and transportation, as well as connected home deployments. Among them, the connected health consumer segment is expected to see the fastest M2M connections growth, increasing 8.6-fold between 2014 and 2019. The connected home segment will represent nearly half of M2M connections by 2019. "It took 32 years–from 984 to 2016–to generate the first zettabyte of IP traffic annually. However, as this year's Visual Networking Index forecasts, it will take only three additional years to reach the next zettabyte milestone when there will be more than 2 zettabytes of IP Traffic annually by 2019," Doug Webster, vp of service provider products and solutions marketing at Cisco said in a release.