CFX TECH Spotlight: Antronix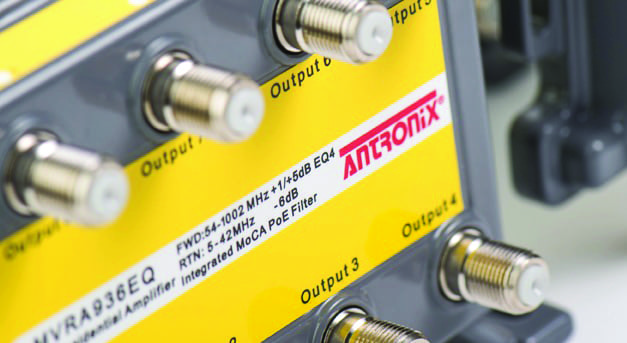 CFX Tech Spotlight, a once a month feature, profiles companies providing interesting, innovative and sometimes below-the radar technology across the video and broadband.
Company: Antronix
Antronix is a manufacturer and supplier of drop passives, mainline passives and multi-taps in North America. Headquartered in NJ, Antronix has 7 manufacturing facilities in China and Taiwan. Known for its multi-taps, residential amplifiers, line passives, subscriber passives, and grounding hardware, the company is launching in September a new PON hybrid fiber coaxial end-to-end broadcast access network platform. Dubbed Intercept eHFC, the product line will offer cable providers the capability to use high capacity PON links to enhance existing DOCSIS data capacity and provide multi-gigabit symmetrical data to subs without adding any additional QAMs or using legacy spectrum. The goal is to make moving into fiber much less expensive for cable operators. "We've had some initial discussions, and the response has been very favorable," said Dave Wachob, director of business development. "What we're trying to do is provide operators a way to increase their data reach, above and beyond even what DOCSIS 3.1 is promising. We've come up with a whole system transport that facilitates that both on the cable network as well as the in-home component."
Near-Term Strategy
With Antronix focused on increasing HSD rates, it's taking a look at the constraints cable has had providing symmetrical high-speed data. "The FiOSes of the world have jumped on that as a needed requirement. One could argue whether a consumer truly needs gigabit symmetrical data, but be that as it may, the competition has made attempts in convincing the industry that there's a true need for gigabit symmetrical data," Wachob said. Antronix's new offering doesn't require operators to give up DOCSIS, MoCA or anything else they're doing. "They can continue to pursue those paths. We've just come up with a way to add data rate and capacity above and beyond what he's currently using today or probably planning to do for the next 10 years." The company believes Intercept eHFC will alleviate many of the challenges with full scale implementation of DOCSIS 3.1, as well as expand the data spectrum for unparalleled data delivery performance in a platform that's compatible with DOCSIS and HFC Node +) architectures.
Customer Base
Antronix is talking to a wide range of operators—from large to small—about its PON hybrid approach. It has a big launch planned for September at SCTE Cable-Tec Expo. The current customer base includes all the major MSOs in the US and Canada, as well as small cable providers around the US, Canada and South America.
Competitors
Arris, PPC, Commscope, Extreme, PCT (for current product lines), Arris and Cisco (for Intercept)
Number of Employees
25 (does not include manufacturing)
History
Antronix is not a new kid on the block, having been created in the heydays of cable in the 1980s. It was founded by engineer Danny Tang, who passed in March at the age of 73. His son Neil Tang presides over the company today.