CableFAX 100 Profile—ACA's Matt Polka
Editor's Note: We'll be featuring profiles of executives honored in our 2012 CableFAX 100 issue. We asked each of them to answer a few lighthearted questions and we've shared their responses below. Here is what Matt Polka shared with us. Read the CableFAX 100 issue in its entirety here.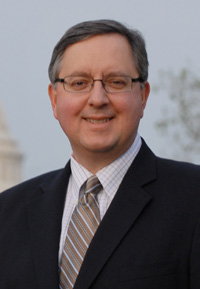 Matt Polka
President/CEO, ACA
The biggest innovation in cable over the last year has been: Over-the-top technologies, like AEREO, so called "disruptive technologies." I have enjoyed watching how disruptive they really are to the broadcasters who fear disruption to their retransmission consent (government-granted) business model. Here's to the "disruptive technologies!"
Early bird or night owl? More of a night owl, with the desire to learn how to be an early bird by the time I grow up.
The song I sing most often in the shower is: Usually something from the latest Broadway show/musical I saw or listened to. Last one is from "The Apple Tree," which my daughter, Annie, was in at Grove City College. I sang, "Oh, To Be A Movie Star," more than you or my family cared to know!
"The Voice" coach I'd like to work with is: I don't watch it, but I think the country music guy.
Gangnam style or Mozart? Or, Mozart (Gangnam Style), because, believe it or not, I have enjoyed both, even for an old guy!
Favorite fictional character? Many, but I have loved reading Robert B. Parker's wise-cracking private detective, Spenser, and his other flawed, but upright local police chief, Jesse Stone. RBP RIP. You were the best.
The potato chip flavor that needs to be invented: I'd definitely buy an Emeril-created potato chip using his BAM bbq sauce. To add a new one, how about pepperoni? That would be GOOOOOD.
I'd give up my cell phone for a week if: Everyone else did too. Hey, it's the world we live in, but I can't imagine being disconnected for that long.
The one thing I'd do differently if I could go back to high school: Try to act more confidently, even if I didn't always exactly feel that way, and maybe push the boundaries of my comfort zone a little.
My famous last words will be: Remember that the battle is not yours, but God's. Stand firm. Face your challenges. Position yourself. And wait for the deliverance of the Lord. (from 2 Chronicles 20:15-17)
One app I'd never put on my iPad: Anything from Pitt, the Ravens or Yankees. "Let's GOOOO (WVU) Mountaineeeeers!" "Here We Go Steelers, Here We Go!!" "The Bucs (Pirates) Are Going All The Way, All The Way, All The Way (Well, maybe someday…)"
When scientists from the future dig up a cable system from 2012, they will conclude that: Our unsung ACA members were as good or better technically than any other operator and really did create the wave that brought broadband to smaller markets and rural America.
Disney World or Universal Studios Orlando? Did both this summer and it's close. Have to give the edge to Universal for the Harry Potter ride and The Hulk. I LOVE thrill rides. But it's just an edge on the rides. Disney World is a true favorite for my family.
My trick for keeping my email inbox from filling up?
Wish I had one. I drown in email. If anyone has a life raft, please throw me one. Meantime, I will continue trying to answer them all!
Why isn't TV Everywhere … everywhere yet? Probably because the big content companies are really afraid of embracing it for fear of losing control to consumers' desires for more online content WHEN they want it and on the DEVICE they want it on.
The one topping that should never be put on a hot dog: Well, the nominees are endless, but one thing that, thankfully, died off, was green or purple ketchup. Even to this day the memory of this image skeeves me. I don't think they thought through how green or purple ketchup would look once smeared on the bun. Yuck.
My favorite restaurant: For my family, it's Rene's Restaurant in East McKeesport, Pa., home of the "Big Rene," a one-pound fish sandwich. Best fried zucchini appetizer in the world.
The one thing I tell my kids about success in life: See famous last words and best advice! But also to "Trust in the Lord with all your heart, and lean not on your own understanding. In all your ways acknowledge Him, and He will make your paths straight." Proverbs 3:5-6
Worst thing I've ever heard someone say in a meeting: I was general counsel of my cable company at the time, and I can't repeat it, because I am not willing to subject myself to my own sexual harassment lawsuit! I still can't imagine what that guy was thinking. Clearly, not much.
Bands I would actually go see live:
All the bands I would go see now are mostly now doing "farewell" tours! However, my current favorite "band" is the Grove City College Wolverine Marching Band (Way to go, Annie! – my kiddo)!
My favorite business and/or motivational book: CLUTCH, by Paul Sullivan of the NYT.
My favorite vacation spot: TWO — Thanks to the NCTC/ACA Independent Show for being there often over the years, my family and I have enjoyed Disney World more than you know. But NYC and Broadway are the places we want to be! We love the shows.
My favorite iPad app: Instagram @MMPNVPA, WW Mobile, and Twitter @MATTatACA. There's a great sim game I like too, called PILOT.
This incident from my youth taught me an important lesson. What was the incident and the lesson? As a kid like everyone who wants to be liked and accepted, I learned that in life you will have many acquaintances, but only very few true friends. As a corollary, I learned how important it was to treat people, particularly those younger or less experienced, with kindness and respect. Finally, I learned that at 4:59.5 p.m., the most important person is the filing clerk at the courthouse, and that we need to treat all of our colleagues and co-workers with respect, no matter who they are or what they do. It is all important to the TEAM.
My guilty television pleasure is: Project Runway, Glee and Top Chef. Oh, please don't print this, and Here Comes Honey Boo Boo. I'm so ashamed.
If I invented my own app it would: Intuitively know just how I wanted to respond to all of my emails, and then do it, sending me a summary of what I did at the end of the day!